By Yasmin Hashmi, KNXtoday.
KNXperience, which took place from 28th September to 2nd October 2020, was the first online global trade fair dedicated to KNX, organised by KNX Association. In last month's show report, we gave an overview of the show including the conference programme, networking opportunities, the KNX Awards ceremony and competitions/prizes.
This month, we pick out some product highlights from the twenty manufacturer Member companies who supported the show with their splendid booths, videos, documentation, chat rooms and, in many cases, conference sessions.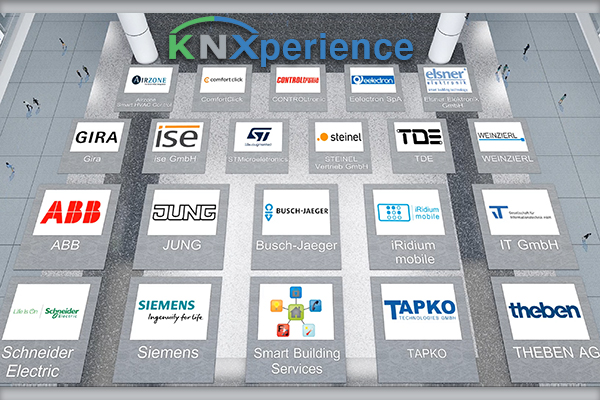 ABB
Among the products on show at the ABB booth for residential and commercial applications was the flush- or surface-mounting ABB Tenton three-in-one device that combines sensors for temperature, humidity and CO2 in addition to room control, in a wide range of design options.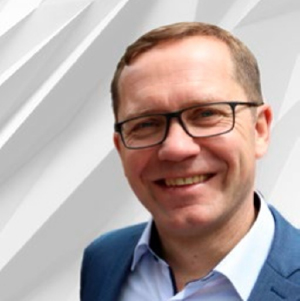 Also on show was the ABB RoomTouch super-slim capacitive multi-control panel; and the enhanced portfolio of Combi, Standard and Professional KNX switch actuators with a large selection of currents and wide range of channels.
According to Olaf Stutzenberger, ABB Global Marketing Communication Manager, Electrification – Smart Buildings, KNXperience provided a good alternative to an IRL (In Real Life) show. "Overall the experience was very good, preparation was rather convenient and the way it operated was really good. The booth and the webinars worked well, and our customers liked this digital version, but they also miss being face to face, so perhaps it would be good to alternate face-to-face with digital in future."
JUNG
JUNG was showing a range of products, including a new generation of KNX switch and blind actuators with increased reliability, better energy efficiency and numerous new functions; and the new KNX F 10 classic-looking light switches with intelligent KNX technology that is available in push-button and rocker versions.

JUNG was also promoting KNX Secure for these products as well as the JUNG IP-Router Secure, IP interface, power supply with IP interface, USB data interface, VISU PRO server, and IPS remote. In addition, apps for secure KNX commissioning included the JUNG KNX Secure scanner, JUNG KNX Secure Key Loader, and the JUNG ETS Service app.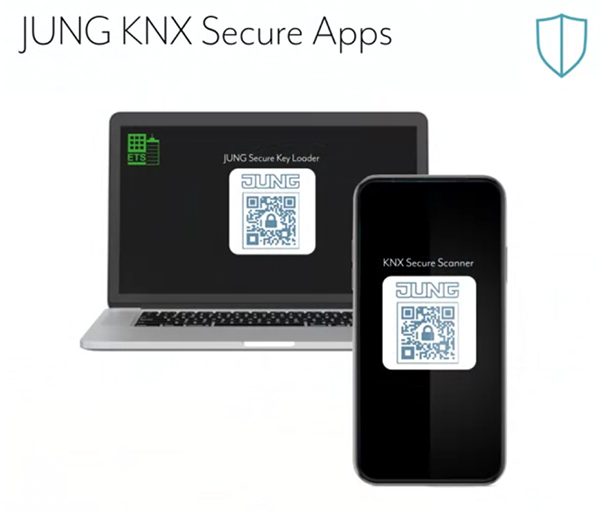 Weinzierl
Among the currently-available products on the Weinzierl booth were the KNX Modbus RTU Gateway 886 with 250 freely-configurable channels; the KNX DMX Gateway 544 compact gateway between KNX and the DMX 512 lighting protocol with up to 64 freely configurable channels; KNX TP Push Button 420 secure (MATCH 55); KNX TP Push Button Interface 420 secure (MATCH 55); and an update of the KNX IP BAOS 777 powerful web server for KNX for DIN rail mounting with very low power consumption. The update includes a re-designed web front end and many new functions and improvements.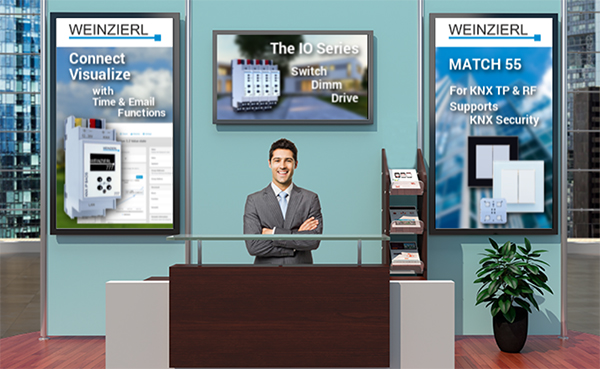 Also, on show were products planned for launch this year, namely the KNX RF Push Button 440 secure (MATCH 55) push button inserts for KNX TP and KNX RF/EnOcean with security; and KNX Blue IO LED dimmers for KNX TP, RF and IP for installation outside of the switch board.
Eelectron
Eelectron was showcasing the Multi.Sensor presence detector series that provides information on presence, brightness, humidity, temperature and sound. It can manage cooling, lighting, shading control and room optimisation, all within a flat compact 8cm diameter design. The KNX Multi.Sensor complies with LEED, BREEAM and WELL requirements for buildings and also supports various functions in combination with presence detection to allow, for example, increased lighting comfort that is closer to natural lighting, thanks to brightness control and circadian rhythm logic. It is designed to detect the tiniest movements and temperature differences, and has an integrated sound sensor for areas that are not totally visible to the infrared sensor.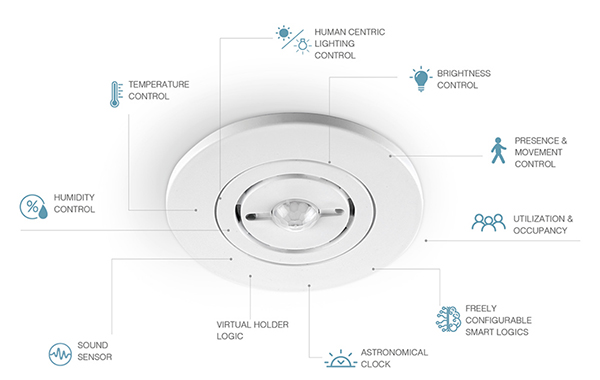 Gira
In addition to software updates for the Gira X1 and Gira HomeServer, Gira was showcasing the new Gira pushbutton sensor 4. Available in different designs, materials and colours, the Gira pushbutton sensor 4 allows a wide range of KNX applications to be controlled from a central point. These include light and lighting scenes, blinds, room temperature, entertainment and more.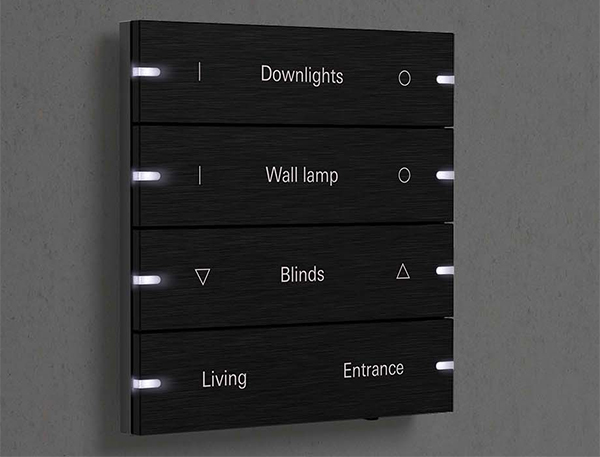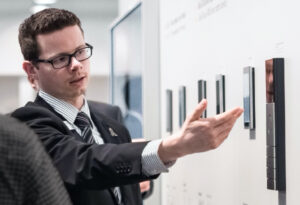 The software update for the Gira G1 adds KNX Secure so that the unit provides central control of a smart home whilst guaranteeing strict data security. The update also allows the Gira X1 to be upgraded by 125/250 functions and 500/1000 data points, making it suitable for use in large buildings. Seamless integration with Sonos is now possible, and an upgrade of the Gira IoT services allows voice control using Google Assistant and the cloud-based web service IFTTT.
The comprehensive software update for the Gira HomeServer also includes KNX Secure, as well as more intuitive and faster operation, a new editor to easily create the floor plan, straightforward integration of the Gira Alarm Connect security system, and more.
ComfortClick
ComfortClick was showing its servers for home or professional buildings, as well as wall panels and accessories for smart home and building control. The ComfortClick software platform enables full GUI customisation and advanced building automation logic implementation. The ComfortClick bOS (building Operating System) enables the user to control all devices in their smart home or building from a single app on a mobile device.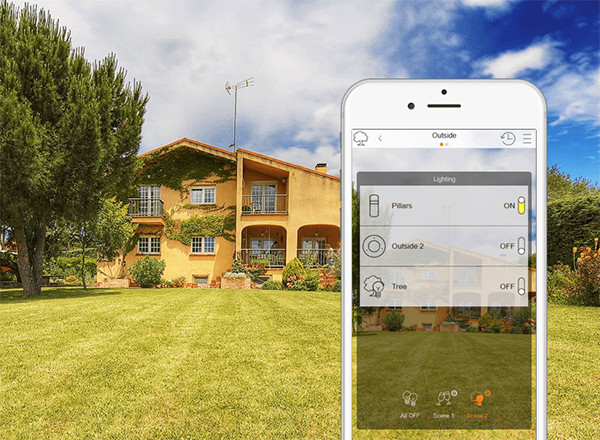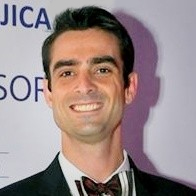 Commenting on the company's experience of the show, ComfortClick's Head of Sales, Flávio Sanches, noted, "Overall we had a good experience with this new format that is still evolving and we are excited to see the next steps in this virtual interaction. Alongside chat, I think it would be good if there were a way we could see and talk to each other when people come to visit the booth. I guess people will have to adapt to a new way of participating in exhibitions."
Steinel
Steinel was promoting its True Presence Multisensor KNX, which uses ultra-sensitive high-frequency measurement to deliver completely reliable information on human presence or absence. It reports as soon as breathing patterns are detected, and does so regardless of whether the person present is sitting, reading, resting or sleeping.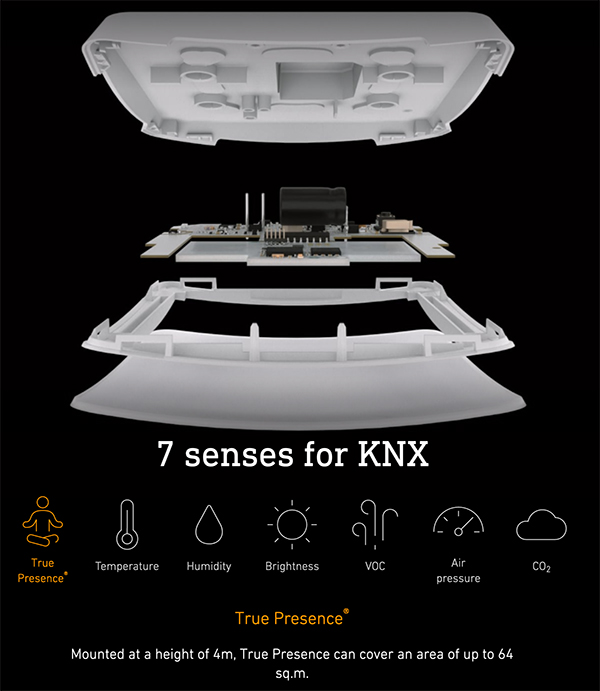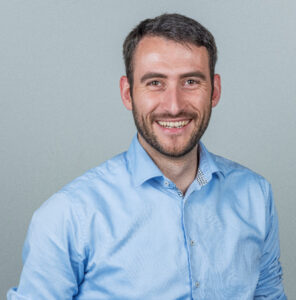 According to Steinel's Sales Manager Joachim de Backer, "We truly believe that True Presence technology is a revolution in the market, allowing us to define true presence and thus manage absence. With this knowledge of absence, the possibility to save energy is massive within a KNX-powered system. Furthermore, thanks to the Multisensor's capabilities, including temperature, humidity, CO2, VOC, brightness, and air pressure sensing, we can optimise user comfort, and in current COVID-19 times, provide support for a healthier environment, detecting when air quality becomes poor and a window should be opened."
Steinel will also be launching an updated sensor portfolio (IR QUATTRO HD-2 KNX and HF360-2 KNX) which are multisensors for light measurement, temperature and humidity.
Theben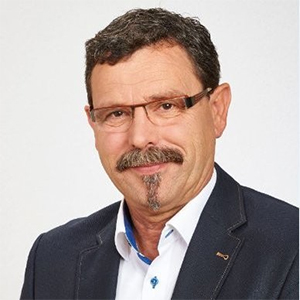 Theben's Head of Technical Service & Training, Elmar Loeffler, gave a number of fascinating conference presentations, among which was 'Theben KNX RF Secure – extend your project without cabling but with maximum security'.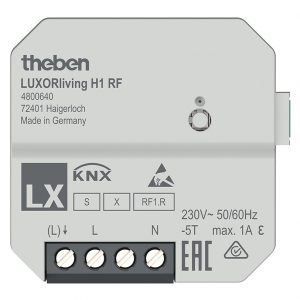 Elmar was keen to point out that the company's flushmounted actuators and RF Secure flushmounted actuators, include a safety feature that automatically switches the actuator off in case of an overload, thus preventing the device from being damaged.
Elmar also highlighted a specific solution Theben offers when it comes to the smallest flushmount, the Theben H1 RF. "The H1 RF is equipped with two inputs, one of which can be chosen as a temperature input. By applying a small temperature probe and setting the application to controller, you have complete room heating control. Desired values can be pre-set, and with your KNX visualisation you can perform modifications according to you desires. Small and fancy!"
TDE
Among new launches was the KNX Ultra Actuator from TDE. This 24-channel device has 16A relays in 6 different adjustable blocks which can be configured as: up to 6 fan coil two-pipe control; up to 12 shutter channels; up to 24 switch outputs; or up to 24 heating outputs. It also has two universal interface channels.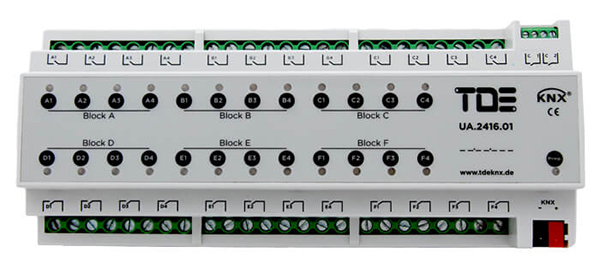 Airzone
For HVAC applications, Airzone was offering the Aidoo KNX Controller for integrating an inverter/VRF system with KNX using a simple communication gateway whilst maintaining all of the inverter/VRF features intact.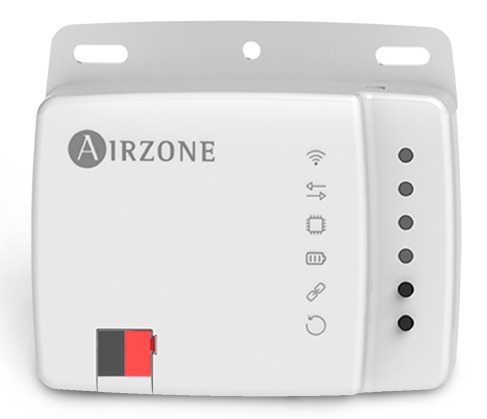 Schneider
Schneider Electric was focusing on new developments of the SpaceLogic KNX system for lighting and room control. These include a new line of actuators that will complement Schneider's recently-launched KNX IP Secure devices which are based on a master-extension concept for increased flexibility. Schneider also offers eConfigure KNX software for installers, and the InSideControl app and builder for remote control using smartphones and tablets.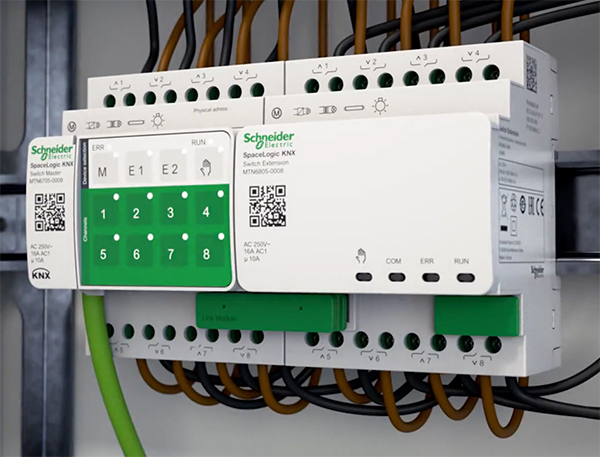 Siemens
Siemens was highlighting the new RDG200 KNX thermostat range. Featuring built-in sensors, control functions, input/output and flexible power supply in a new slim and smooth device, the RDG200 also sports touch buttons and a rotary knob, and fast installation and commissioning using the new Siemens PCT Go app. Other launches this year are a KNX/DALI gateway with tunable white; the WIDE range of presence detectors that sense temperature, humidity and CO2; and completion of the switching, switch/dim and blinds actuator range.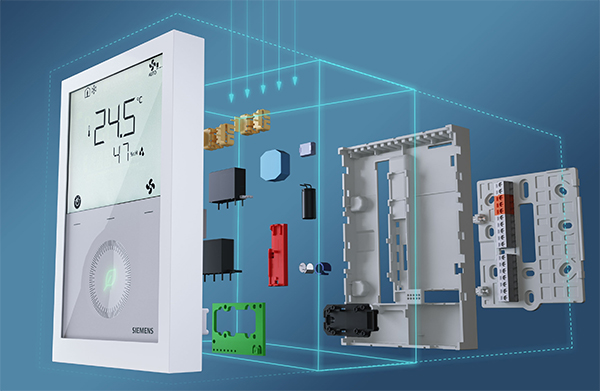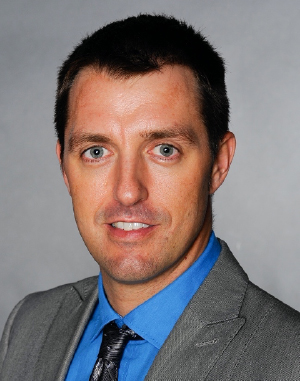 In response to how he was finding KNXperience, Siemens Global Product Manager, Jorge Sanchis Barcenilla (who also gave a presentation on 'Perfect Lighting Control with Tunable White') replied, "I have a positive impression of the event. I liked having the opportunity to talk directly to KNX Partners from all over the world, because this is one of the things I like most about my job as Product Manager. Online is not the same as real-life contact, but it is still nice. I had the opportunity not only of presenting product, but of having interesting discussions about KNX. I will be interested to know the feedback of KNX Partners to see how they found the event."
iRidium
Among the iRidium Mobile products on show were the KNX Home Server controller with an app for iOS, Android, and Windows that is designed to facilitate the creation of a KNX smart home in one day; the KNX Integration Server controller for integrating protocols, setting any logic, and creating customised designs; KNX visualisation pro for creating user interfaces; and hardware such as the KNX IP Hub pro interface, wall-mounted iRidium Panel 7 for visualisation, iRidium ETS Remote, and KNX IP interface.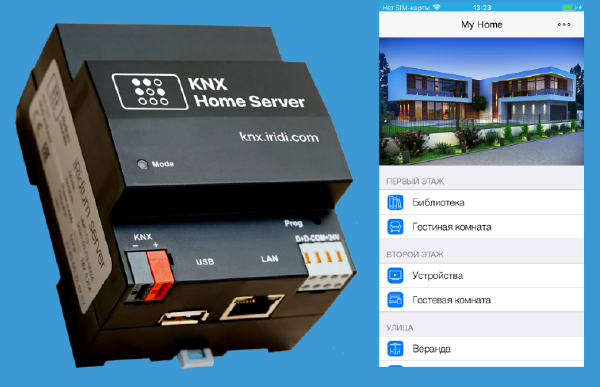 ISE GmbH
The focus for ISE GmbH was to facilitate quick integration of many different and previously-incompatible devices into the world of KNX. For example, the ISE Smart Connect series integrates Sonos audio, Philips Hue lighting, Vaillant heating and now Saunier Duval. In addition, using the ISE Smart App series, a range of different systems can be integrated into KNX such as network devices from the Axis Communications company, and then there are ISE KNX modules that integrate systems such as extraction hoods from Berbel.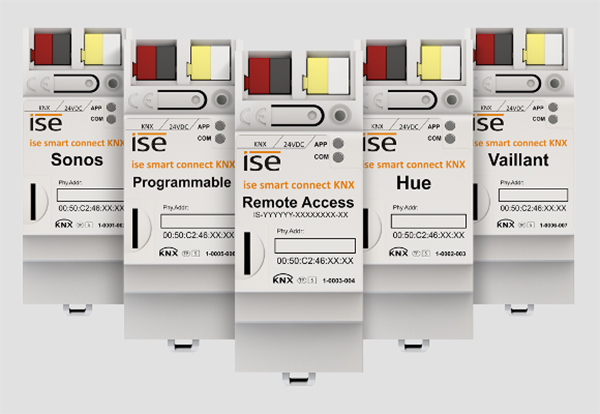 Coming soon from ISE is the KNX e-charge II for e-mobility, which will offer intelligent charging, an integrated switch (2 x RJ45) and Modbus RTU, dynamic load management, controlled charging times and monitoring through KNX.
IT GmbH
IT GmbH is known for its KNX programming tools, and this year saw the launch of the Windows and Linux-based Recorder software for analysing KNX telegrams. IT CEO Dr. Klaus Gütter did a splendid conference session on this too, under the title Professional Recording and Analysis of KNX Bus Traffic. Another tool on show was the Check and Improve app for improving the formal quality of ETS projects by spell checking with corrections and uniform naming conventions.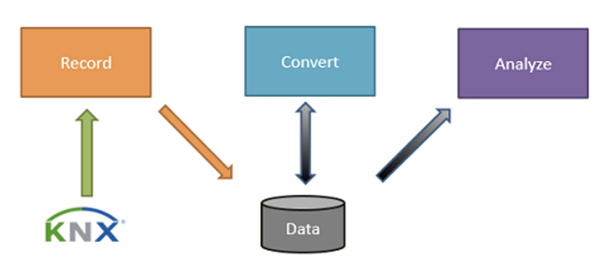 IT was also promoting Elvis, its building automation system since 1998. Now available in the third version, Elvis allows you to connect to different systems such as KNX, BACnet, MQTT etc, and choose from 4 different clients, namely Windows Terminal, Web, Mobile (IOS and Android) and the brand-new Elvis Wear OS client for smartwatches.
STMicroelectronics
STMicroelectronics offers complete KNX-certified chipsets and evaluation boards for RF, TP and IP. These include KNX-R/F built around S2-LP Sub-1GHz transceiver hosted by KNX RF standard and BlueNRG-2 Bluetooth Low Energy (BLE) system-on-chip or module; KNX T/P that combines the STKNX miniature KNX transceiver and an STM32 host microcontroller; and KNX I/P that uses the STMicroelectronics STM32 F series of MCUs.
The BlueNRG-2 is a very low power BLE single-mode system-on-chip, that is compliant with Bluetooth specifications, and enables the KNX network to provide iOS/Android smartphone Bluetooth Low Energy 5.0 connectivity. STMicroelectronics provides a combination of KNX-RF and Bluetooth for battery operated devices (switches).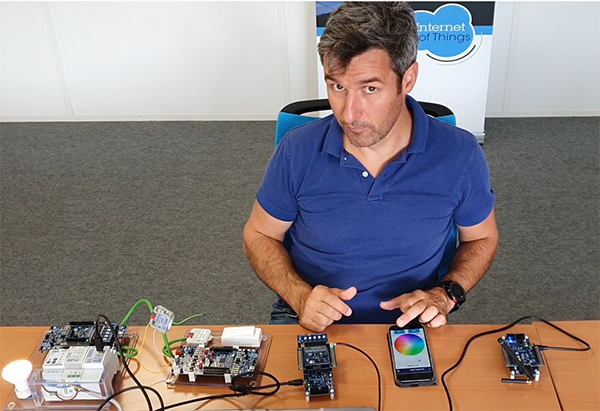 Smart Building Services
Smart Building Services was promoting a brand new KNX RF product, the KNXdrive4u, as the world's first wireless valve drive for convector radiators. Designed for optimal room temperature control and better room air conditioning, the KNXdrive4u uses KNX RF S-Mode technology and energy harvesting technology to load the battery during operation. It works standalone with an internal temperature sensor, within KNX-RF-only projects and also in combination with room controllers and a KNX RF media coupler on the TP network.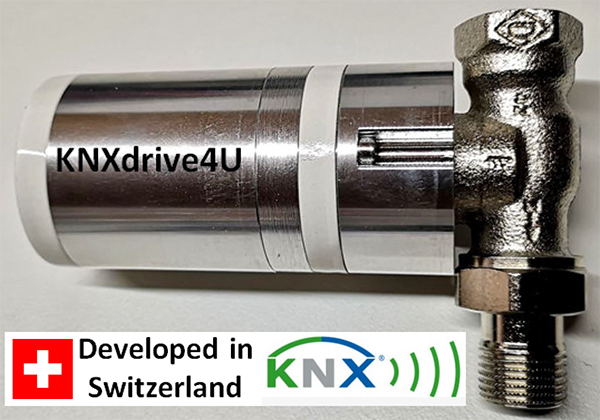 Tapko Technologies
Tapko Technologies was offering a wide range of system devices including reliable and intelligent KNX power supplies, universal interfaces and media couplers for TP, IP and RF, as well as KNX Secure devices (Data Secure and IP Secure). Tapko's highlight of the show was the MECps640, a combination of a 640mA power supply and a KNX line coupler in one housing of only 2 modules' width.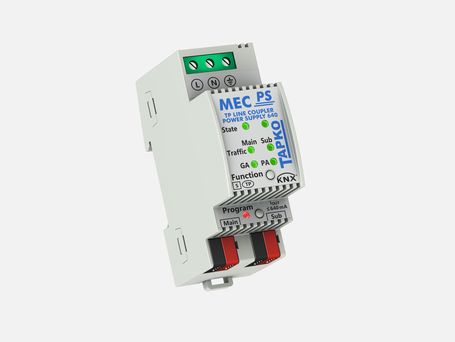 Managing Director of Smart Building Services and International Sales Manager for Tapko, Peter Sperlich, also gave a highly-informative presentation 'KNX IoT Services for Energy and Charging Management' on behalf of KNX Professionals. This showed how HEMS (Home Energy Management System) distributes the electrical energy generated from photovoltaics and wind energy and stored in energy storage devices, to different loads inside an energy self-sufficient building including an electric car.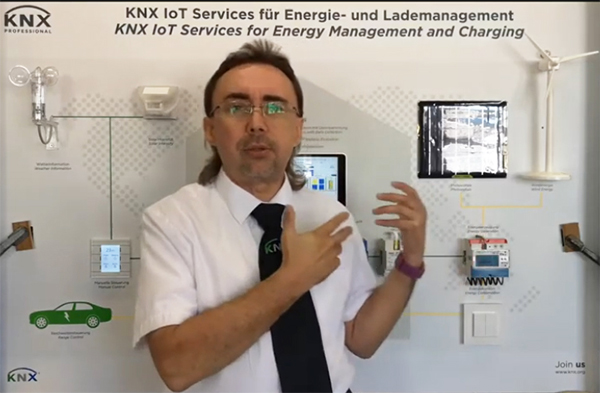 CONTROLtronic
CONTROLtronic was promoting a range of KNX products including the Living Emotions range of glass touch sensors and the Living Emotions app for visualisation and intuitive user interface for iOS devices for integrating all building control functions. Also on show were permanent super-flat wallmounts for iPads; the ScreenTronic family of blind control systems; and a selection of KNX components including power supplies, IP routers/interfaces and KNX configuration tools.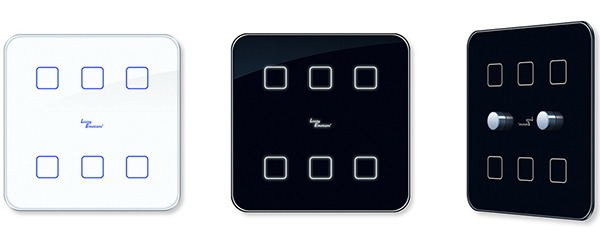 Elsner
Elsner was offering KNX TP and KNX RF devices ranging from room controllers with touch display and sensors for indoor and weather data, to actuators for drives, devices and lighting. The company was also promoting two variations of its CasaConnect preconfigured KNX starter sets that can be individually adjusted.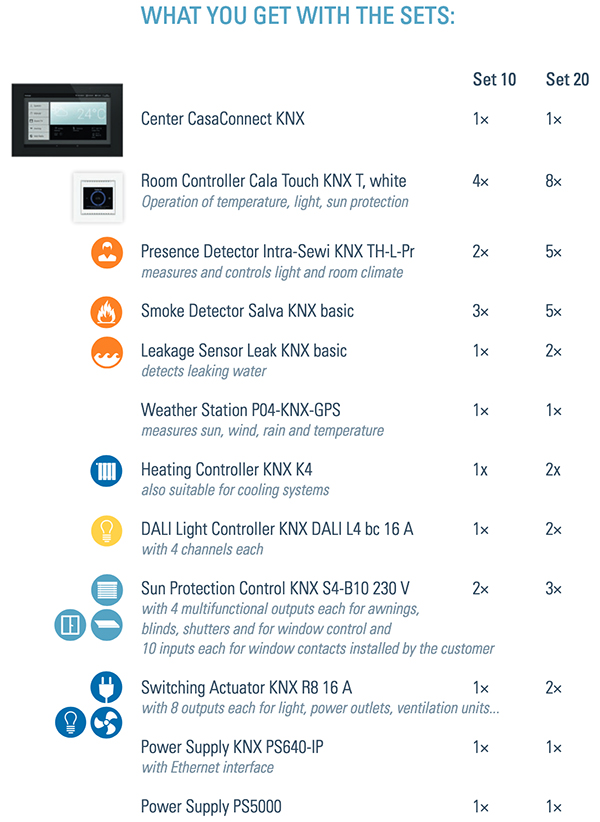 Each set contains selected KNX operating devices, sensors and actuators for automating lighting, heating, sun protection and ventilation and covers safety functions such as smoke and water leakage detection. Each set is also delivered fully-configured and addressed, so no ETS is necessary – the devices only have to be installed and will communicate with each other as soon as they are connected to the KNX bus line, which supplies them with bus and auxiliary voltage.
Conclusion
Given the short notice and the logistics, KNX Association and its Members did a remarkable job of bringing together an amazing range of products, presentations and networking opportunities. No one knew for sure how this would work out – it was a new and exciting experience for everyone. Clearly, the ability to meet face-to-face was greatly missed, but in return, accessibility for everyone was greatly increased.
We are all having to adapt to a new reality, and as with IRL trade shows, virtual ones will get better if we learn from our experience. There are of course issues such as time and language differences which may pose more of a challenge, but even when life returns to near normality, KNXperience has shown that the KNX community can get together in virtual space in a very productive way, and at greatly-reduced cost in terms of money, carbon and shoe leather. So, don't be surprised if this becomes a regular event – the genie is out of the bottle!