Zennio has released a whole new family of PIR detectors to replace its world-reknowned DETEC family, the EyeZen.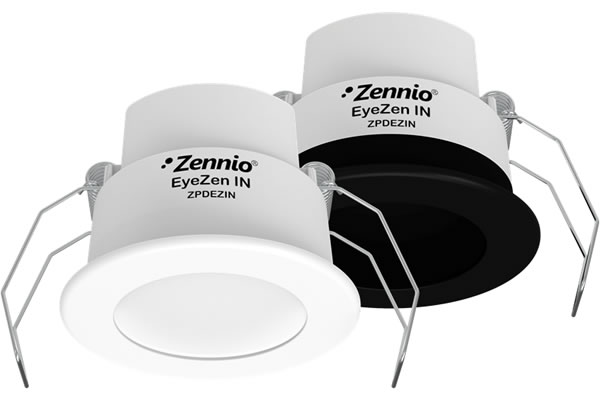 The main difference with its predecessor is strikingly obvious. Despite EyeZen being slightly bigger than the DETEC, when installed it sits flat in the ceiling, with just 2mm protruding. It comes in two finishes (white and anthracite), which makes it perfect to match to any room design, whether this is an elegant dining room or a bespoke home cinema where the only thing that should stand out is the screen.
Moreover, EyeZen comes as two different products, EyeZen IN and EyeZen TP:
EyeZen IN: The substitute of the DETEC-P. A PIR detector with luminosity sensor that is directly wired into the inputs of a Zennio device (just as the previous DETEC) and with the same configuration as the DETEC, which means you can just wire an EyeZen IN where the DETEC-P was and it is good to go. It maintains the 3 independent channels and the presence detection functionality with all its features, meaning the device does much more than just detect movement.
EyeZen TP*: A full KNX device with integrated BCU to be wired directly into the KNX Bus and with increased functionality such as 6 independent channels, 2 independent constant lighting control channels, occupancy detection, Day/Night configuration and white/anthracite selection in parameters. Available 4th quarter 2020.
Both products have the same external dimensions for ease of integration:
Ø58mm with a cut diameter of Ø51mm
41mm installation depth
Have you checked out the new Zennio website yet? Take a look at www.zennio.com to find out more about the EyeZen and many other novelties!
*All information regarding EyeZen TP is subject to change.
For additional information, email info@zennio.co.uk.