ABB RoomTouch® and IP touch 7" devices for smart homes and buildings celebrated by leading product design experts
ABB smart building products have earned two highly respected Red Dot Awards in recognition of their outstanding product design. The devices, the ABB RoomTouch® wall-mounted touchscreen control and the IP touch 7" visualization panel, help make buildings more livable and sustainable.
"Using design to change the way people think about their energy usage is an important part of ABB Electrification's Mission to Zero initiative," said Oliver Iltisberger, Managing Director of ABB's Smart Buildings business line. "ABB Smart Building devices are designed to help people make smart changes in the way buildings are used and operated."
Red Dot Design Awards recognize outstanding achievements in product design. The Red Dot jury, assess thousands of entries each year, selecting products that provide the highest levels of quality, craftsmanship, finish, ergonomics and functionality. The 2020 Awards placed a special focus on revolutionary designs.
The Red Dot Jury selected the ABB technologies for their exceptional combination of functionality, product and UX design. Both products provide elegant control for modern smart homes and buildings, giving end-users, architects and designers high levels of functionality in one innovative device.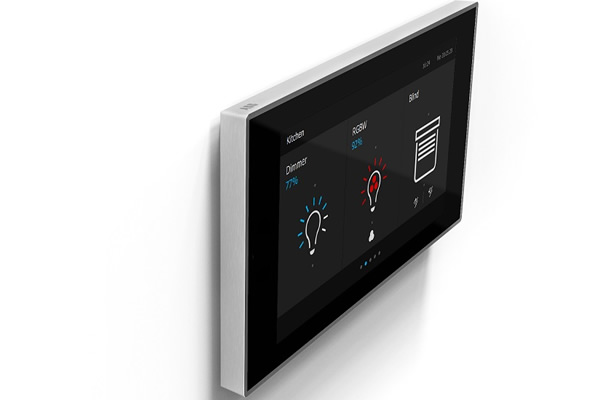 The ABB RoomTouch® for smart rooms balances streamlined design with high levels of intuitive functionality in a slim, 5-inch screen. The device can be mounted in either portrait or landscape mode to give designers and architects more design freedom.
The ABB RoomTouch® activates automatically as you approach, ready for users to control lights, blinds, audio, heating and air conditioning with a simple tap or a quick slide through the menu. With the device's scene functionality, users can create their own custom moods, for example, dimming the lights and lowering the blinds for a more comfortable movie experience. In low light conditions, the ABB RoomTouch® also automatically switches from day mode to night mode.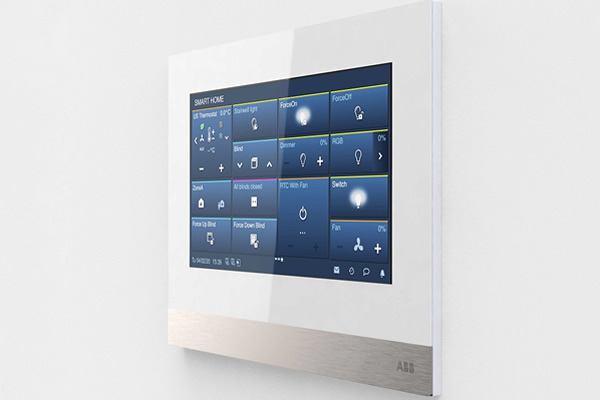 The IP touch 7" visualization panel combines ergonomics, technology and inspiring design to provide exceptional ease of use and user experience. The device gives users complete control of their entire environment: adjusting lighting, HVAC, audio, blinds and other applications from a single, intuitive interface. The display also enables users to control door communication using the ABB-Welcome IP system.
The IP touch 7" visualization panel is available in black and white and works with both the ABB–free@home and ABB i-bus® KNX smart building systems. The elegant touchscreen also provides an induction loop for hearing-impaired users.
"For cities to become smart cities, we need smart buildings to deliver. All our solutions are designed to make smart buildings more livable, intuitive and efficient. From the physical product and the user experience to the installation and operation of the building, ABB designs solutions that make every step easier," added Oliver Iltisberger.