By Simon Buddle, Future Ready Homes.
So, I have officially ridden more miles on my bicycle this month than I have driven in my van, and with this hot weather, the shower has been in use a lot. We have been encouraged for years to have a shower rather than a bath – and for good reason. Although arguments rage about the amount of water used for each process, it is generally acknowledged that a shower uses less water.
There is something very luxurious and indulgent about a bath, particularly if you can lock the door and spend a blissful hour with a book or some music. As a child, one hour was the norm for a bath, time spent practicing holding my breath, whilst constantly topping up with hot water. A fundamental requirement of a bath, for me, is that it was blisteringly hot.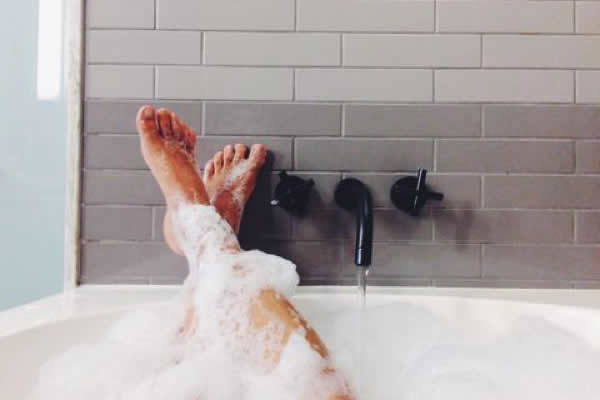 From an installers perspective, hot water is a truly clear line that we need to make a business decision about. Do we control the hot water or not? Of course, this is further complicated by the control of the heating which is probably using the boiler as the heat source in part or all of the home.
Future Homes Standard
Last year, the UK saw headlines that gas boilers would be banned from 2025. Nobody ever said it, but this is the interpretation that the industry made. What was said, by Philip Hammond MP, was "We will introduce a Future Homes Standard mandating the end of fossil fuel heating systems in all new homes by 2025". So, what happened to that? Did the work surrounding Brexit mean that it got left in the filing cabinet?
Well no. Part one of the Future Homes Standard was published late last year and the push is most definitely on for low-carbon heating systems in the home. This does not, however, necessarily mean the end of the road for the gas boiler. Currently, the standard requires anyone who wishes to have a gas boiler has to install solar PV or to add in some other form of low-carbon heat source, such as a heat pump, to run alongside it. This can work well with the heat pump providing the primary source or bulk of the heat, whilst the boiler is used purely as a back up to provide the top up for those last few degrees when required. On the screen shot below, the green lines indicate the boiler usage for a property that uses an air source heat pump (ASHP) as the primary heat source. During the cold spell at the end of December you can see the boiler was on regularly. Through January it was rarely used.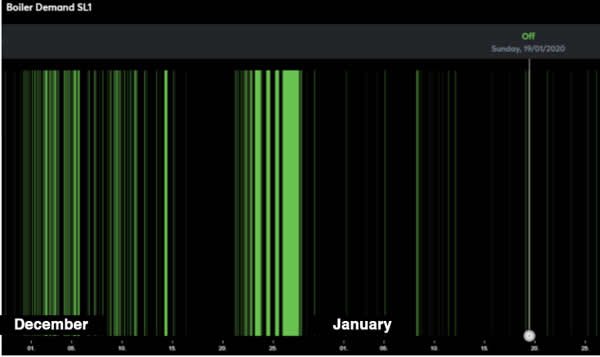 Part two of the Future Homes Standard is not due for release until 2025, which means that there could be significant changes between now and then. Electricity is now seen as a greener energy source than gas, which is the primary driver in this whole piece.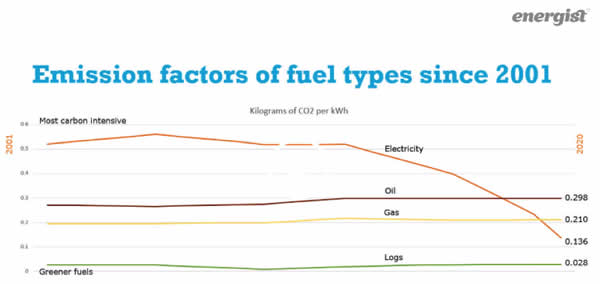 The Future Homes Standard is not live, yet, but it will be at some point. It will affect Building Regulations Part L 1A 'Conservation of fuel and power in new dwellings', and it is thought that we may see an updated version of Part L within 18 months. The Health and Safety Executive states, "Hot water should be stored at 60°C at least in order to kill legionella bacteria". This is a temperature few heat pumps can achieve – in fact I have yet to see one do this. I have a system with ASHPs that maintain a steady temperature of 52°C.
Is the all-electric house a realistic proposition?
As a generalisation, a heat pump can deliver 4kWh of energy for every 1kWh of electricity used to power it, so it is 400% efficient. That makes for an enormously powerful argument for such pumps to be used. For reference, a boiler is at best 100% efficient but typically much less. Bridging the hot water cylinder temperature gap is still a challenge, but that can be solved by use of the traditional immersion heater. Electric underfloor heating, such as the Lamina heat system and infrared heating are becoming more commonplace. We are moving slowly towards the all-electric house.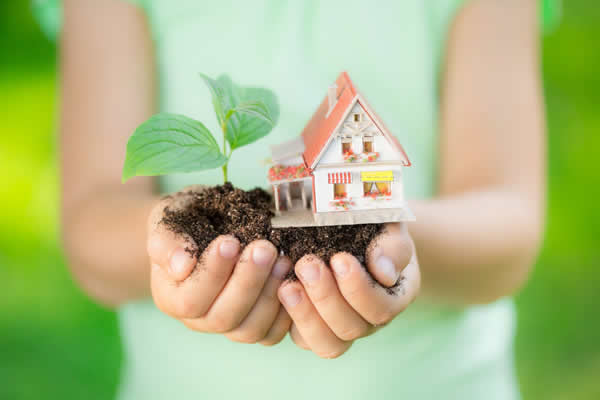 Conclusion
As we edge ever closer to a low-carbon home, the need for more complex systems and the control of them will increase significantly. There are two fundamental keys to the success of the all-electric house. The first is good system design and specification early in the projects design life cycle. This requires a change in mindset from many trades, from the M&E consultant to plumbers, electricians and homeowners. The old luddite ways must make way for the new, for innovation, for change, for a shakeup.
Secondly, we need a workforce that can design, install, maintain and demonstrate the effectiveness of these new hybrid multi-disciplinary systems. To install and control is only the first part of the challenge. To prove concept and efficacy is the way to change the mindsets at the design stage, and in order to do that, someone must make the leap and provide the data. KNX professionals are perfectly placed to do just that.
Simon Buddle CEng MIET, is a consultant for Future Ready Homes, a specialist in BMS and ELV services system design.