By Simon Buddle, Future Ready Homes.
Whether as individuals, or on a corporate level, we all need to take climate change seriously. For my part, it's time to change the company van, so naturally I've been toying with the idea of getting an electric car. There are a few available now, but they seem to sit in one of two camps: massively expensive, or so tiny you couldn't fit a laptop and a set of screwdrivers in it at the same time. The motor shows are full of new models soon to be coming to a forecourt near you.
Yesterday's van journey was a five-hour, 180-mile round trip, and I didn't see many charging points on the way. For me it's just too early to get an EV (Electric Vehicle) right now. Come 2022, when I need to revisit my transport options, I hope the world of electric vehicles will be firmly established as the mainstream choice for everyone.
The UK Government's advisory Committee on Climate Change (CCC) recommended no new homes should connect to the gas grid by 2025 – that's only two vehicle changes away! So, it looks like the gas boiler is finally on its way out. The traditional gas boiler has had a good innings. Invented by Benjamin Waddy Maughan in 1868, the Geyser was the first incarnation of the gas boilers we know today.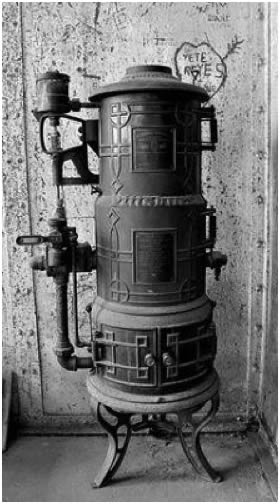 Practical issues with heat pumps
The renewable boiler replacements, either an air source heat pump (ASHP) or ground source heat pump (GSHP) are great and are gaining traction daily. However, both have drawbacks if space is limited. With the GSHP, if you don't have an outside area roughly twice the size of your total home's floor area, you'll need to drill bore holes down 60 or more metres into the ground. That becomes expensive, although the RHI (Renewable Heat Incentive) payment scheme will offset it to some extent over time. An ASHP is relatively easy to install, albeit, arguably, less efficient in the winter months, but the outside units tend to be noisy, akin to an AC condenser. That won't please the neighbours when it runs from October to April.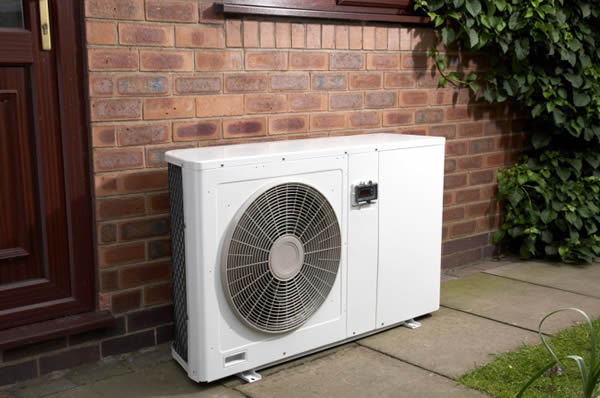 Thermoplastics – an emerging alternative to wet wetunderfloor heating
There is a new alternative to wet underfloor heating being manufactured by a company called Lamina Heat . Still very much in the 'early adopter' phase of the product's lifecycle, it could be a real game changer. The technology is a 1mm thick flexible sheet made of carbon fibre insulated with a polymer. It is said to be 99% efficient. The composite material was originally developed to form aeroplane wings and wind turbine blades, some up to 18m long. The truly amazing part is that it gives off a completely uniform amount of heat across its entire surface. It can be laid over an entire floor, sits directly below carpet or floor surface and comes to temperature within seconds of applying power to it.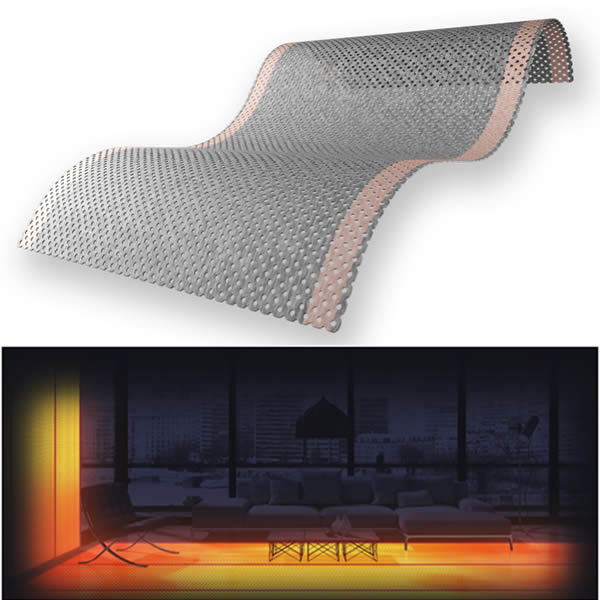 We've all done bathrooms with electric underfloor, and we're aware of the current draw issues that this brings with larger floor areas. The same is true for ComfortFilm. Each room or zone requires a transformer and individual cables to run the 48V AC power to it. The power consumption is 110W/m2, which soon adds up when you are doing the entire home.
When viewed against wet underfloor, it looks to be a compelling argument. There's no six-hour heat rise time and the floor is uniformly heated. Furthermore, ComfortFilm can sit directly below the floor finish, and it doesn't matter if you put a nail through it.
KNX is ready for the future
KNX makes control of electric underfloor straightforward. We'll need to swap out our low-current heating actuators for some high-current switching devices such as the Theben RM 8 H KNX 25A actuator or Jung 2308 16A actuator. The fundamental principles of how to control the heating remain identical, we're simply controlling a relay rather than a valve actuator.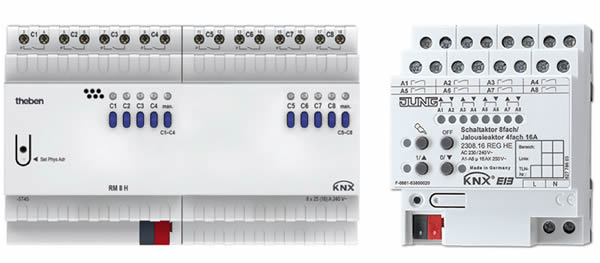 One area we will need to brush up on are power calculations, in order to work out the total wattage per room. Cable sizing should be calculated based on the load and supply side of the transformer in order to be sure that we have enough copper installed, and lastly, the in-room connection point onto the heating mat requires some thought. We are currently working on a project with this technology installed in every room, and I am concerned about the potential maximum current draw in the depths of winter. I'll report back next year.
Conclusion
The day of the boiler is done. It's an exciting time for all of us. New technology means new opportunities, and looking just over the technical horizon is part of our remit. Moreover, integrating that new technology so that it performs in a simple, intuitive and energy-efficient way for our customers, is what we get paid to do.
New methods of heating our water must come into play. Whether solar, GSHP, ASHP or electric, the era of the fossil fuel is drawing to a close. The world needs it, our children demand it, and finally, governments are being forced to make it happen.
Simon Buddle CEng MIET, is a consultant for Future Ready Homes, a specialist in BMS and ELV services system design.