Stand 9-F120, ISE 2020
Extending its product portfolio supporting open standards for home and building automation, the German based KNX specialist Weinzierl Engineering GmbH is showing its newest siblings at ISE 2020: smart push buttons wireless and wired in the new MATCH 55 series, all supporting KNX Security. As the name suggests the push button inserts fit in standard 55 mm systems which are popular in Germany and many other countries and thus are highly compatible with a broad variety of well-know design frames from different vendors. Remarkable is the soft and quiet keystroke which makes MATCH 55 devices perfect for the installation in premium areas such as sleeping and living rooms.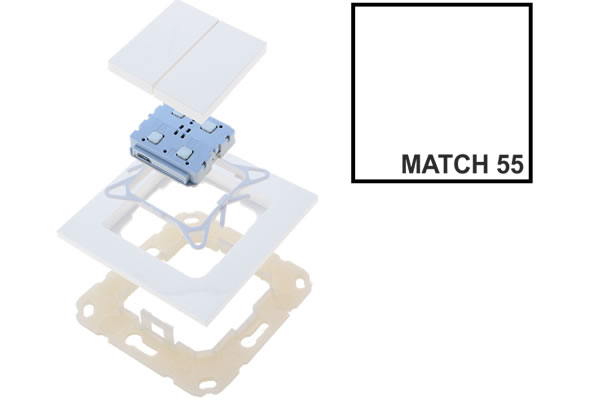 Two models, unlimited variations
Comprising two models – one each for wireless (hybrid KNX RF and EnOcean) and wired (KNX TP) – the push button inserts are available in versions with single rocker and double rocker and can be combined with different frames from the market or directly available through Weinzierl. The wireless KNX RF/ENO Push Button Insert 440 secure offers support for EnOcean and KNX RF in one device. The device operates in EnOcean mode without configuration (EnOcean Security is activated via a simple push button combination). By configuration with the ETS®, the push button switches to KNX RF mode and offers an optional support of KNX Security. In KNX RF mode the integrated USB interface can be used for ETS. The sister model KNX TP Push Button Insert 420 secure offers a solution with an integrated bus coupling unit for the KNX bus. This can alternatively be used as a 4-fold push-button interface.
KNX Blue IO is a new series of LED dimmers for KNX TP, RF und IP to be mounted outside the switch board.
Let there be (more) light
The successful dimmer family from Weinzierl has been expanded eightfold. The new KNX Blue IO 55X product range offers four low voltage outputs for dimming LEDs with functions for RGB/RGBW and TW (Tunable White). Each model is available in variants for constant voltage (CV) as well as for constant current (CC). The flat design is optimized to be mounted in furniture or ceilings.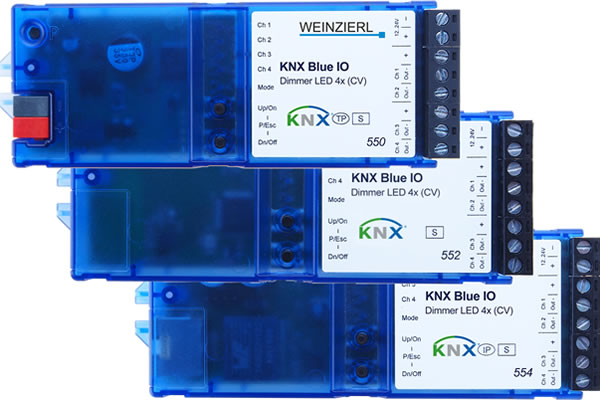 The KNX Blue IO are available for KNX TP, KNX RF and KNX IP. All types offer powerful functions, including scenes, staircase automation, snooze function and sequencer.
With KNX IP the dimming actuator can be directly connected to the IP network of a building with full compatibility with the KNX system and with ETS. With variants supporting Power-over-Ethernet (PoE) the LED lamps can be supplied directly via the network cable. They require only an Ethernet connection but no additional power supply. An optimal approach towards the so-called digital ceiling.
Visit Weinzierl on the KNX Association stand 9-F120 at ISE 2020.