ABB smart technology puts prestigious Bauhaus art in the right light at the new Bauhaus museum
ABB cooperates with Bauhaus Dessau to equip the new museum building with safe and smart building technology. On the occasion of the 100 years celebration the new museum building provides the appropriate home for prestigious art from several decades.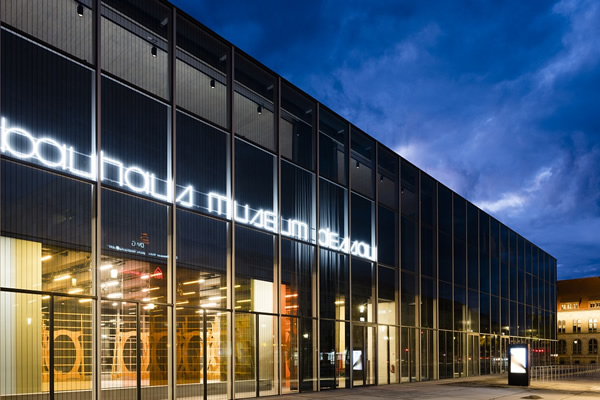 Bauhaus is one of the most important institutions for architecture and design of the 20th century. Founded by Walter Gropius as an art school in Weimar, Germany, in 1919, the Bauhaus style is seen as one of the most influential movements on architectural design, combining design with craft. In 1925 the school moved to Dessau, Germany, where the new museum will be opened on 8 September 2019, the centenary of the Bauhaus style.
The intelligence in the building is provided by ABB i-bus® KNX, allowing all electrical functions, e.g. lights and shades, to be controlled centrally. This will provide comfort and efficiency for the customer, while ensuring safety and convenience for visitors.
Putting the 49,000 art pieces in their true light requires specific attention: with ABB's DALI gateways the building benefits from the broad-ranging standard protocol in digital lighting. DALI (Digitally Addressable Lighting Interface) is a manufacturer-independent protocol compliant with IEC 62386, ensuring interoperability of lighting devices in a digitally controllable lighting system. Using ABB's DALI gateways all controllers, sensors and detectors can be integrated into one network. This enables programming and control of all lights in the building from the central control point, supporting a holistic art experience for visitors.
Respecting the design aspect of Bauhaus, the switches and sockets in the future linear® in matte black range, integrate smoothly into the atmosphere of the museum. The uncompromising, straightforward design of the future® linear light switches perfectly fits with the modern architectural style, providing safe and reliable functionality to users. Additional functionalities for power and communication outlets are realized with Busch-Jaeger's future® linear wiring accessories.
Construction manager Jens Funcke of Elektro Schulze GmbH said: "For the complete interior installation the client requested a distinct design, which would be in line with the Bauhaus style. As a technician I paid attention to the required functionalities within the smart building. With Busch-Jaeger's future linear® switch range we found the perfect match: the square design in matte black has the Bauhaus look while providing all smart functions. In addition, ABB / Busch-Jaeger was very supportive during the planning and implementation of the installation."
Combining functionality with modern design is at ABB's core, so the cooperation with Bauhaus extends this motivation to the arts sector. The centenary of Bauhaus was celebrated with a festival from 11 to 15 September, the new museum opened its doors from 8 September.