TV is becoming an important element in the intelligent home. This is made possible by the IoT-KNX gateway 'APP MODULE' and the new smart home app 'Panasonic Connect' – the result of a new partnership between Panasonic and BAB TECHNOLOGIE. Combined, the gateway and app enable the integration of TV sets into building automation via the established KNX standard.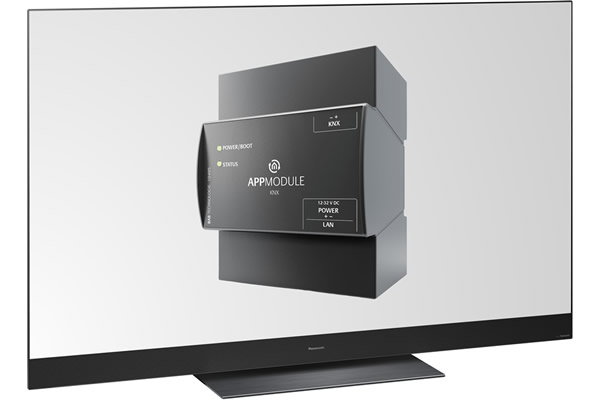 KNX is the leading European standard for building automation and is represented in over 40 countries. With the IoT-KNX Gateway APP MODULE and the Smart Home App Panasonic Connec, Panasonic and BAB TECHNOLOGIE now offer an uncomplicated and cost-effective integration for KNX installations.
The seamless KNX connection with Panasonic Connect enables the control of TV sets with all smart home components, such as wall buttons or building visualisations. In addition to the basic functions, such as switching on and off, volume control or channel selection, it is also possible to switch TV inputs via KNX commands. If desired, the TV can be integrated into entire smart home scenarios. At the push of a button, the blinds are lowered, the ambient lighting is activated and the TV is switched on with the desired source selection and volume.
"With the IoT Gateway APP MODULE and the Smart Home App 'Panasonic Connect' we offer a unique integration solution for Panasonic TVs in KNX systems. The ability to combine all functions of the TV sets with other apps installed on the APP MODULE makes it possible, for instance, to connect to IFTTT, IP door stations, Philips® Hue lights and many other IoT component," explains Stefan Mainka, responsible for Business Development and Marketing at BAB TECHNOLOGIE.
"We are very happy to have won BAB TECHNOLOGIE as a strong cooperation partner who, just like us, has the ambition to focus on the users and on their individual needs. We have found an important partner who shares our values and is distinguished by its innovative technologies," says Dirk Schulze, Head of Product Marketing TV / Home AV at Panasonic Germany.
Price and availability
Gateway and Smart Home App are available now for all Panasonic 4K HDR TVs from GXW804 series.
The Gateway (APP MODULE) is available at BEMCO for £298.00 in the UK.
The Smart Home App Panasonic Connect is available for instant download at www.bab-appmarket.de at a price of 49.99 Euro.
Available configuration parameters of the 'Panasonic Connect' Smart Home App
Basic Functions
Switching Tv On / Off
Channel Forward/Backward
Set Channel
Volume Control
Activate/Deactivate Sound
Request Sound Status
Increase/Decrease Volume
Set Volume Value
Query Volume Value
Tv Modes
Lastview Mode
Reception Modes
Tv Inputs
Av And Component Inputs
Inputs HDMI
Media Control
Start/Pause Media
Stop Media
Media Forward / Rewind
Media Forward/Backskip