Progress as tradition: JUNG has revised the Smart Control control panel. Furthermore, the cooperation with SENEC makes it possible to use energy more efficiently in the Smart Home.
Visualise and control the entire building technology using one device – with the JUNG display devices it is simple. The display devices are available in various formats, sizes and equipment features, completely according to individual requirements.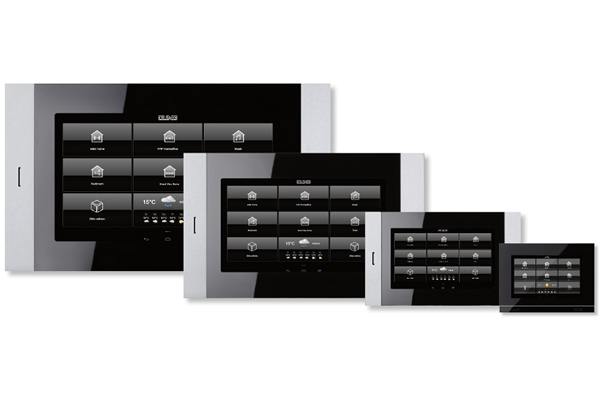 The new introductions in summary:
• Higher screen resolution – new electronics for a more detailed display: The revised display of Smart Control 7.1 now shows the processes in the Smart Home at a resolution of 1024 x 600 pixels.
• New brightness sensor – JUNG has also revised the Smart Controls with the displays in the 10.1, 15.1 and 19.1 sizes: These operating panels have been given an energy-saving sensor that automatically adjusts the brightness to the light conditions.
• New proximity sensor – simplified operation: The Smart Controls 10.1, 15.1 and 19.1 now have a proximity sensor. The devices automatically wake up from standby as soon as someone approaches.
The server-client principle
A networked world requires high connectivity. With its system technology, JUNG particularly meets the requirements of digitisation. For example, Smart Home residents can access their digital home with the intuitive touch displays of the Smart Control range. Both Visu Pro Server, Smart Visu Server as well as eNet SMART HOME are optimised for operation with Smart Control. The software (server) runs on them while the Smart Controls are responsible for the decentralised operation (clients).
100% compatible thanks to Siedle system technology
The use of Siedle system technology is the basis for the combination of Siedle door stations and JUNG indoor stations. The JUNG indoor communication stations are compatible with the door stations from Siedle and vice versa, through the In-Home bus with automated set-up by means of plug & play.