ABB will provide ABB i-bus® KNX intelligent building control system for Shijiazhuang Metro Line 1 phase II and two-direction extension of Line 3 Phase I, integrating DALI (Digital Addressable Lighting Interface) Control Unit to realize smart management of station lighting, improve efficiency and reduce operation costs. This investment will eventually provide a solid guarantee for constructing green transportation systems.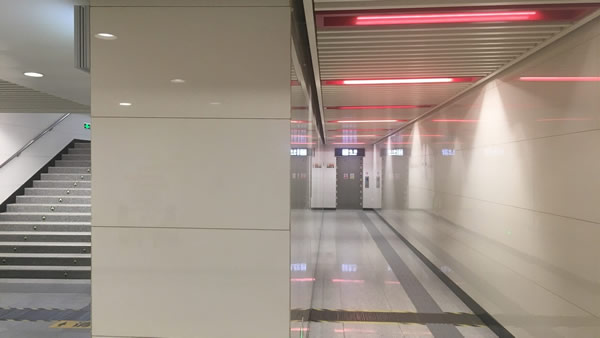 The intelligent ABB i-bus® KNX building automation system adopts KNX bus standard and realizes smart control of lighting, temperature, ventilation and shading environment of buildings through management of various terminal electrical equipment within buildings. The system meets the requirements of modern buildings and has high reliability, flexibility and expansibility.
DALI is an advanced digital lighting control system. By installing DALI ballasts in lamps, single lamp control can be realized, and centralized management can be carried out. KNX can integrate DALI system, which is adopted by ABB i-bus® KNX, to realize digital lighting control.
Oliver Iltisberger, Managing Director of ABB's Smart Buildings business said, "ABB is a global technology leader with forward-looking vision and open solutions. Our various digital product portfolios are compatible with third-party systems and devices and can connect electrical equipment in various applications to simplify system operation process, improve efficiency and reduce power costs, bringing a smart experience to operators and comfortable experience to citizens."
ABB i-bus® KNX intelligent building control system was adopted by 26 in-use stations and control centers of the Shijiazhuang Metro Line 1 and Line 3 Phase I. The intelligent lighting system of each station communicates with the integrated monitoring system through a third-party gateway and can be automatically managed by the integrated monitoring system while maintaining manual control capabilities. Five of the stations used the DALI dimming system to control about 2,000 LED lights, saving about 4 percent of the daily power consumption with intelligent lighting mode timing control.
In addition, the electrical installation is equipped with ABB's proven miniature circuit breakers (MCBs) and residual current devices (RCDs) to provide line protection and safe use of electricity.
Shijiazhuang Metro is an urban rail transit service in Shijiazhuang, Hebei China. The first two lines, Line 1 and Line 3, started trial operation on June 26th, 2017. With a total operating mileage of 30.3 kilometers, the two lines effectively alleviate urban traffic and inject energy into the city's economic development. At present, there are four subway lines under construction in Shijiazhuang Metro, Line 1 Phase II, Line 2 Phase I, two-direction extension of Line 3 Phase I and Line 3 Phase II. It is expected that the operating mileage of Shijiazhuang Metro will exceed 80 kilometers by 2021. There are five long-term planning lines, the Line 4, 5, 6, 2 (North Extension) and Airport Line.
ABB is working also with KE Electric to provide low-voltage components for Shijiazhuang Metro and ensure a stable operation of the distribution system.
ABB's products and solutions suit the needs for various applications, including stations, vehicle depots, base stations, substations and locomotives, they comprehensively guarantee the construction of a green transportation system. In China, ABB has actively participated in Metro and light rail projects in Beijing, Shanghai, Guangzhou, Shenzhen, Nanjing, Changsha, Changchun and other major cities, ensuring the efficient and safe operation of trains while meeting the daily commuting needs of citizens.