Iddero has just announced the new Iddero Mobile app which lets users control their VERSO+IP touch panels from smartphones and tablets.
The VERSO+IP is an evolution from the popular Iddero Verso 4,3" capacitive touch panel. The new model retains the elegant design, attractive visualisation, and advanced functionality of its predecessor, and adds an Ethernet port for IP connectivity. The VERSO+IP is available in white or black finish, and can be installed in portrait or landscape mode, either surface-mounted (on standard square or rounded wall mount boxes) or flush-mounted, using Iddero's E-F401 mounting adapter.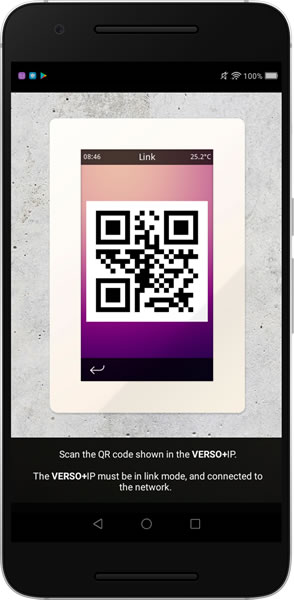 The Iddero Mobile app lets users control their VERSO+IP from smartphones and tablets. Both direct (LAN) connection and cloud-based operation are supported. No additional configuration is required: there is no need to worry about fixed IP addresses, dynamic DNS services, port forwarding, etc. The app automatically detects whether it can connect to the VERSO+IP directly over the home LAN; otherwise, it switches over to the cloud-based access service.
Setup of the Iddero Mobile app is straightforward. Users simply need to scan a QR code displayed by the VERSO+IP. The device is then linked to the user's idderocloud account, and will show up automatically on any smartphone or tablet where the user logs in; there is no need to repeat the linking procedure for every smartphone or tablet. Of course, as many devices as required can be linked to the same account.
The Iddero Mobile app closely mimics the user interface of the VERSO+IP, so no additional learning is required. Push notifications are supported and allow users to get notified immediately if an alarm is triggered, even if they are not actively using the app.
Needless to say, all communications are fully encrypted according to the latest security standards and recommendations.
The Iddero Mobile app is available now for Android devices through Google Play. An iOS version is under development and will be available soon.