At IFA 2018, the world's most important trade fair for consumer and home electronics, ABB showcases its latest innovations and bespoke solutions with focus on digitalization, safety and security and interoperability within the smart home sector
From August 31 to September 5, in Berlin, Germany, intelligent and connected devices for residential homes, artificial intelligence and the latest consumer electronics are among the top trends at IFA, the world's most important trade fair for consumer and home electronics.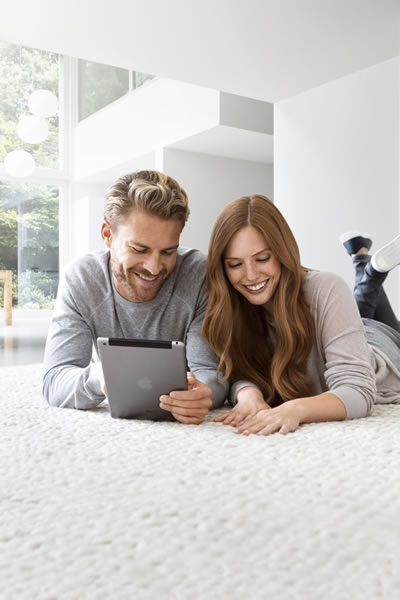 From its 420 square meter exhibition space (hall 2.2, stand 104), the pioneering technology leader ABB, is showcasing a virtual house which demonstrates the different solutions and possibilities of a smart home. This enables visitors to see how to improve sustainable energy usage, safety and security and comfort within the home.
ABB-secure@home provides safety to both a building and its occupants. ABB-secure@home is a new, user friendly intrusion and alarm system for residential properties, which integrates with ABB's existing home automation solution and is shown in the "entrance area" of the virtual house on the booth.
Meanwhile, in the "living room" ABB presents its KNX based solutions including the new ABB-tacteo KNX sensor, an individually-configurable control element for intelligent building control of luxury hotels, public buildings and high-class residential buildings.
Also on display is ABB's Busch-VoiceControl® KNX, a new voice-activated KNX control system capable of managing up to 150 building functions. It is the first to be compatible with the big three market leaders in voice control devices – Amazon, Google and Apple.
With the end user in mind, ABB's smarter homes and buildings solutions deliver industry leading energy savings. For example, installing a photovoltaic system that uses REACT 2, ABB's new high-voltage solar energy storage solution, home owners can achieve 90 percent energy self-reliance. When used in combination with ABB's home automation system, ABB-free@home®, home owners can also increase control over their electricity usage, avoiding consumption peaks by spreading the load to keep within their generating capacity.
And for homeowners' keen to integrate sustainable mobility into their daily routine, ABB's new electric vehicle charging solution, EVLunic, for homes will be shown in the "garden" area.
Oliver Iltisberger, Managing Director of ABB´s Building Products business said: "The top trends like voice control, digitalization and artificial intelligence are increasingly connecting products and markets. Modern homeowners want to be connected at all times and they can now control every element of their property – from lighting through to heating, air conditioning, door communication and indoor 'scenes' – at the touch of a button."
ABB is at the forefront of delivering affordable smart home technology with the best possible products for installers and the ultimate smart home experience for the end user.
Indeed, as interoperability is getting more important, even for end users, ABB is extending the appeal and functionality of its MyBuildings portal, a secure online platform powered by ABB`s cloud-based, industry-leading portfolio of digital solutions, ABB Ability™. With the new functionality, Miele and Bosch (Home Connect) home appliances can be easily integrated and controlled via the ABB-free@home system.
Another step towards a fully connected smart home is the collaboration between ABB and Signify (formerly known as Philips Lighting) by participating in Signify's Friends of Hue partnership program for Philips Hue. ABB's new range of Friends of Hue smart light switches will integrate seamlessly with the Philips Hue lighting system via the Hue bridge. This allows users to set up their light switch in the Philips Hue app and control and personalize home lighting and ambience via an ABB Friends of Hue switch.
Visitors, who would like to get more information on the planning of a smart home, can access the advice of experienced ABB representatives in the "home office" area.