Pairot is the only device you need, to link your KNX installation to Apple HomeKit, Amazon Echo or Google Home.
"Okay Google, set the thermostat to 20 degrees!"
"Alexa, please turn on the lights!"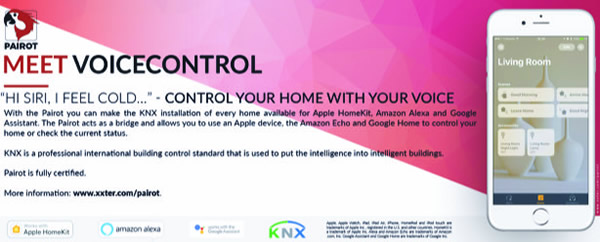 Since Pairot was launched, the xxter development team has been working on support for Google Home/Assistant and Amazon Alexa.
Now, with this free-of-charge OTA firmware update, Pairot can communicate simultaneously with the three protocols. The Pairot has been certified for all three protocols, so the device works seamlessly with all of these available speech assistants and is future proof.
The Pairot is also KNX-certified, and is connected to the home network and the KNX installation by the installer. With simple configuration, all available components in the home can be voice-controlled through Apple's Siri, Amazon's Alexa and Google Assistant using products such as iPhone, HomePod, Amazon Echo, Google Home and Android phones.
In the UK, xxter is working closely with My KNX Store. The www.myknxstore.co.uk shop has Pairot devices in stock for fast delivery and they can help with the device configuration.