By Simon Buddle, Future Ready Homes.
There's something amazing about the fairground when you're young. It comes once a year and is the only place to be during its time in town. The smell of candyfloss mixed with generator fumes. Pure joy coupled with terror as rides spin, whirl and accelerate at mind-bending speeds.
Centrifugal forces pin you to the edge of spinning cages as the floor falls away. The screams of thrill-seekers can be heard for miles around. For that one week of the year, the dull orange glow over the town from the low-pressure sodium lamps, is taken over by garish pinks, neon blues and pulsing red and white from the rides. The youths of the town are captivated – well there wasn't much going on in the '70s in Lincolnshire.
Colour temperature
The advent of LED lighting brought about awareness of colour temperature of lamps. First it was forced upon the market and then it became a customisable option. Lamp options enabled colours such as warm white at 3700K or cool white at 6000K. In addition, LED has brought coloured tapes and RGBW lamps. The colour palette is vast; almost any colour is a possibility for our customers' homes. If the light is to be one static colour, then it's a straightforward job: match the light source electrical requirements to the driver's output capabilities – job done.
Tunable white
Tunable white provides a great way to optimise the colour temperature of LED lighting. It operates via a DALI gateway and compatible DALI drivers, but they must meet the DALI DT 8 driver specification.
Tunable white enables the lamp's colour to be set and/or changed to suit the mood. This has been shown to affect the body's circadian rhythms – the body's natural time clock that tells you when to sleep, wake and relax. Warmer colour temperatures will tend to relax the body – think of evening sunlight/sunset. Whereas blue-white light, such as bright sunlight in the middle of the day, will make us more alert. Tuning the white light could also be useful for making children more alert when doing homework and then relaxing them ready for bed.
I have also heard of a dealer who used it to help with jet lag to help the customer adjust their body clock. So, for example, using a time clock we could start off with the lights at 5000K, gradually ramping up to 8000K mid-afternoon and slowly dropping all the way down 3000K late in the evening, giving the ambience of the sun slowly fading. This is known as 'bio-adaptive lighting'.

All the colours of the rainbow
There may well be times when the client wants to have something other than white light, maybe something that changes – their own little piece of the fairground. There are two ways to approach this: RGB/RGBW drivers or the traditional DMX512 control.
DMX512
DMX512 started life in the theatre and is still widely used as the default for stage show lighting. Just like DALI, it will require an interface between the KNX bus and the DMX. Using individually-addressed red, green and blue lights, it is possible to mix any colour permutation. Now we have some very cool lighting effects, so, for example, I could scroll through all colours of the rainbow by setting up a sequence triggered by a switch or maybe a PIR.
With a little bit of clever programming, it is also possible (on long LED tapes or runs of lamps) to create the effect that the light is moving along the tape in the room. Often, we are not responsible for supplying the DMX side of the system, so it's worth speaking to whoever is supplying that part to check that they are not doubling up on controls. You don't want a separate laptop or USB dongle that has the DMX controller built in as a piece of software. You want to be the DMX controller.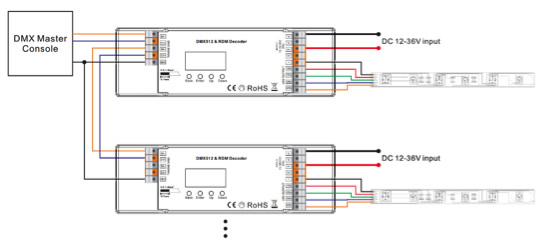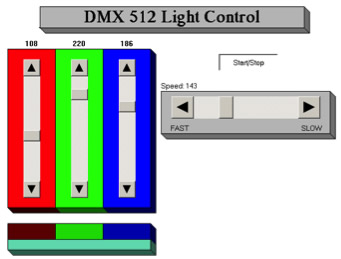 RGB drivers
RGB drivers are another great way to add colour into the installation. There are many flavours to chose from. You should be aware that this may seem expensive to the customer as it will mean changing all of the drivers (for colour change fittings), so the cost can soon rack up if you need to change a lot.
Just like DMX, you can send sequences of colour. If you are not up to speed on LED lighting, it's worth a bit of bedtime reading. You have both constant current and constant voltage drivers, so be sure to match the driver type to the lamp type. And, of course, always test the lamps and drivers before making any promises to the client.
LEDs are not simple resistive loads like the bad old incandescent, and they do not all perform the way you might expect. Test it, test it, prove it, document it, show the customer, install it, and check it against the original tests!

Brains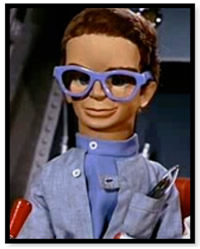 Setting up sequences for bio-adaptive and/or DMX lighting is possible just using KNX bus devices alone. However, if you want to start doing very clever stuff or the customer would like to be able to change colours, speeds and times themselves, you'll almost certainly need to have a brain or logic engine of some description in the system. That way, they can play with it to their heart's content and save the sequences and other such parameters back to the PC.
Conclusion
Lamp technology has moved well beyond 'warm white'. There are huge opportunities available to use because of lighting controls, LEDs and coloured lamps. It's affordable and easy to do using KNX as the backbone. It's both fun, and with bio- adaptive lighting, can provide improved health and wellbeing, creating a better environment for our clients to live in.
Simon Buddle CEng MIET, is a consultant for Future Ready Homes, a specialist in BMS and ELV services system design.