Stand C06, Hall 11.1, Light + Building 2018
At Light + Building, Basalte presents its new KNX visualisation for iOS & Android, called Basalte Home. They also introduced Ellie, an elegant on-wall touch panel that hosts Basalte Home. Together, they complete Basalte's offering of design controls for KNX home automation, also including design switches, elegant thermostats, flush motion sensors and more.
Basalte Home is an elegant and versatile visualisation for the KNX home automation system. Through the beautiful user interface, you can easily control lights, shades, scenes, music, HVAC, cameras & more at the slightest touch.
Basalte Core
At the heart of Basalte Home is Basalte Core. This server is born from Basalte's multiroom audio system and makes music inherent to your smart home and comfort scenes. Furthermore, Basalte Core provides the visualisation, a logical engine, custom notifications and third-party integrations with Philips Hue®. With Basalte Home, smart home owners and system integrators don't need to worry about being deprived of size or functionality, as you can add multiple servers in one system.
Basalte Home is conceived to complete the Basalte user experience in a KNX home, as well as the new Ellie touch panel, which will seamlessly integrate with Basalte Home.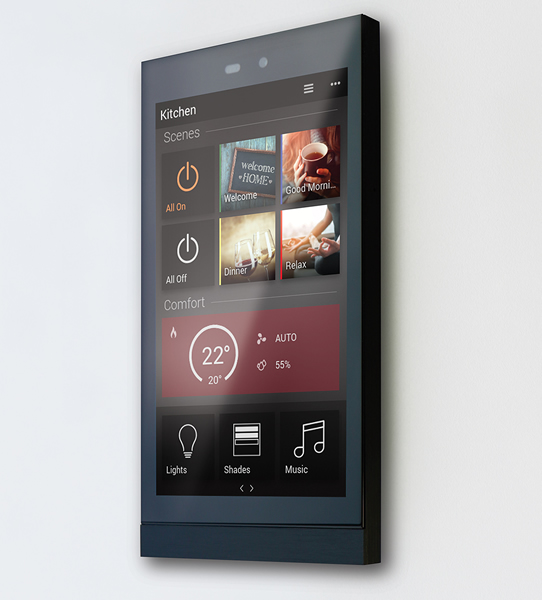 Ellie
Ellie is an on-wall touch panel with a 5.5" OLED touch screen in full HD. It's the thinnest touch panel on the market with a thickness of less than 1 cm once installed. Ellie is designed with the same finishes as the Basalte design switches & sockets, to blend seamlessly into any décor.
Ellie shows the complete Basalte Home app, originating from your Basalte Core server. This way, you have access to all controls in the room and even the entire house by touch. You can also personalise the smart home experience for each user, by adding custom restrictions for controls & functions in certain rooms.
Ellie is very easy to install in a single gang European wall box. It's low voltage powered using Power- over-Ethernet and it communicates with Basalte Core over IP.