Stand G48, Hall 8.0, Light + Building 2018
At Light + Building 2018 (Frankfurt, 18-23 March), B.E.G. will showcase a new range of advanced KNX Generation 6 Presence Detectors which include a version that, for the first time, has built-in logic, sound and temperature monitoring.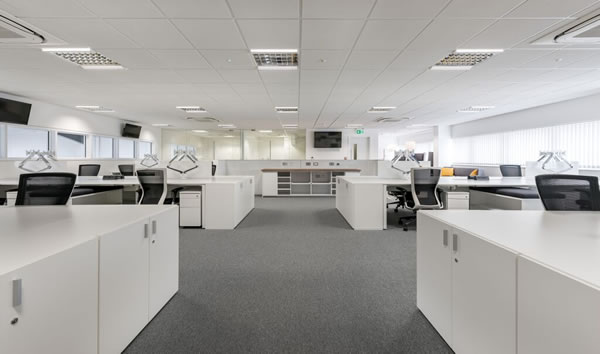 Building on its popular and well-proven range of presence and motion detectors, the German manufacturer has launched updated versions of the majority of its PD2, PD4, PD9 and PD11 products in Basic, Standard and Deluxe variations depending on the application.
The Deluxe version will offer a premium solution for KNX integrators facing more demanding applications with extra functions, which can include a logic module, sound sensor and temperature sensor. The PD2 and PD4 versions include all three features – an industry-first for the KNX market.
The logic module is independent of the detector operation and has proved to be most useful to integrators. The integrated sound sensor can be used in areas where there are restrictions to the normal presence detection such as a toilet cubical.
If configured the sound sensor will activate, but only after motion is detected. Run-on times are configurable. The built-in temperature sensor will send temperature reading to the KNX bus to be used by HVAC actuators. This means separate temperature sensor do not have to be fitted to the wall, saving installation time and expense.
B.E.G. offer some Basic versions in addition to the Standard versions of the PD2, PD4, PD9 and PD11 sensors. The Basic product offers a lower cost simplified device for basic functional requirements. The Standard product will offer an upgraded Generation 6 software version of the previous product offering.
The new KNX Generation 6 Presence Detectors mean B.E.G. now offers flush fitting and surface mount options on nearly all of its devices with different levels of functionality, giving the widest choice of detectors on the market.
All B.E.G. KNX Generation 6 detectors can be configured to be fully automatic or semi-automatic, which is sometimes referred to as absence detection, via the ETS software or optional remote controls. The sensors include lens shields to obscure parts of the detectable area, which is useful when detection is not required in certain sections of the space.
The B.E.G. PD2 presence detector is a ceiling-mounted presence detector and widely used for commercial projects such as open-plan office areas, with a maximum detection range of 10m. Available in both flush and surface mounting versions.
The B.E.G. PD4 presence detector has a much larger detection range of up to 24m across. There is a corridor version of this product which can cover up to 40m, greatly reducing the number of sensors required. B.E.G. also offer a PD4 sensor for greater heights (up to 14m height) for sports hall or warehouse applications.
The B.E.G PD9 presence detector has the smallest detector head in the B.E.G. range, but still covers a maximum range of 10m making this a powerful device, with optional cover rings both in size and colour. There is also a greater height version which can reach 10m.
The popular B.E.G. PD11 presence detector is a completely flat, flush fitting occupancy sensor with a thickness of less than 1mm, which is hardly visible once it has been fitted into the ceiling but still detects motion and light within an area of up to 9m. PD11 KNX is now available in an IP54 version, which makes it suitable for areas like bathrooms and changing rooms. As well as standard white there is an optional black cover ring.
B.E.G. Sales Director for UK & Ireland, Paul Jones, said: "B.E.G. is leading the way with the widest choice of presence detectors to suit most types of requirements in the UK. Our new KNX Generation 6 range offer more choice in operational height, detection area, installation and functionality than ever before. We even offer different colours.
"B.E.G. continues to be at the forefront of lighting control design and the B.E.G. KNX Generation 6 Deluxe versions is another excellent example of this. For the first time, there are products available on the market for KNX integrators to use, which can substantially reduce costs by sensing occupancy by presence and sound and then combining this with temperature monitoring and logic function."