KNX & DALI. Better together.
Include the world's international standard for lighting control into your KNX automation solution with the revolutionary HDL M/DALI.1 KNX DALI interface.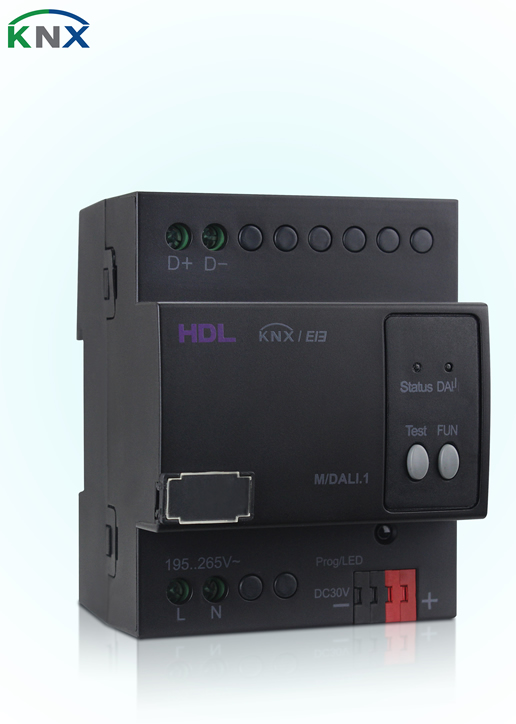 Able to control a massive 64 DALI devices even the most complex lighting installation can now be managed by a standard KNX automation system.
Quickly install onto a standard 35mm DIN rail, turn on or off 64 lighting targets, and adjust their relative and absolute dimming levels with ease.
In the event you need to modify your DALI setup, simply use ETS software to re-program the HDL M/DALI.1 module. With changes being made through the ETS terminal, the time consuming and complex re-wiring process can be completely eliminated.
For true freedom in creating your ideal lighting solution, the HDL M/DALI.1 is capable of handling:
• 22 Control Channels
• 16 Group Channels
• 32 Lighting Scenes
• 16 Staircase Lighting Groups
• 16 Customizable Lighting Groups
• 16 Emergency Lighting Groups
Each lighting group can be integrated into one of the 32 lighting scenes, to create a truly customized lighting solution.
Perfect for dynamic lighting control, the HDL M/DALI.1 is ideally suited to conference rooms, homes, cafeterias, offices, and other spaces which demand unified KNX lighting management.
To safeguard your DALI system, the HDL M/DALI.1 module also features a triple fault detection functionality. Able to sense a fault in the DALI system itself, a malfunctioning lamp, or a faulty ballast, your lighting installation can be automatically protected before further damage can occur.
In the event a fault is discovered a notification can be sent to the KNX system, so that the user is always aware of any issues.
With no outside DALI power source needed, the ability to control 64 individual DALI devices, and a truly customizable approach to lighting management the HDL M/DALI.1 takes KNX DALI interfaces to a whole new level.
To learn more about the HDL M/DALI.1, please visit: