The only KNX interface you will ever need.
Powerful. Practical. Precise.
Able to effortlessly manage an entire building or a single room, the HDL KNX DLP Modern is the ultimate KNX user interface.
Capable of controlling lighting, shading, heating, ventilation, air-conditioners, audio, and other connected KNX solutions, the DLP Modern unifies KNX installations for a truly holistic automation experience.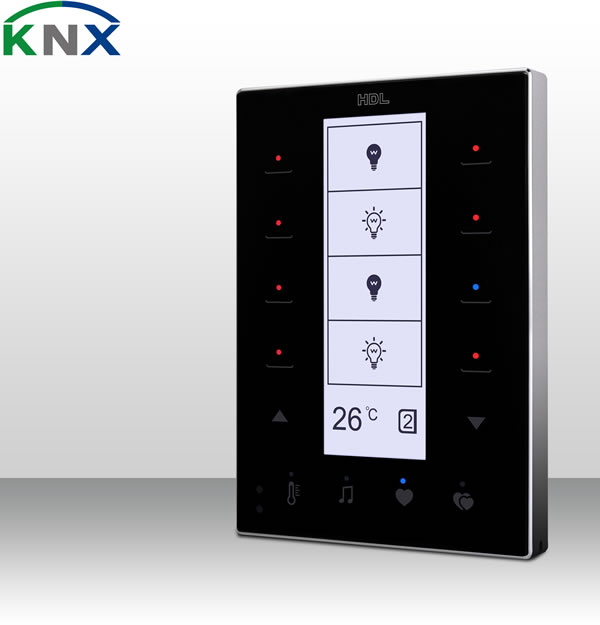 Ultra clear display.
Packing a high contrast white on black energy efficient LCD display, the KNX DLP Modern lets you see what systems are active with a single glance.
So that you can always tell what's what, the 29x84mm display also boasts smart LED illumination and proximity activation. Simply walking up to the panel will cause the screen to activate, and the illumination levels to be adjusted for optimum visibility.
Seamless. Stunning. Strong.
With a smooth uninterrupted glass exterior and an aluminium unibody enclosure, the KNX DLP Modern delivers a seamless blend between wall and module. This combination of tempered glass and aluminium also makes the module scratch and splash resistant, so you can clean the KNX DLP Modern simply by swiping it with a damp cloth.
Save time with shortcuts.
Designed with the end user in mind, HDL engineers have included four dedicated shortcut buttons into the KNX DLP Modern, making whatever you want to control only a touch away. These customisable shortcuts are preconfigured to take you straight to the lighting, HVAC, audio, or shading control pages.
Take control with a touch.
The KNX DLP Modern is surrounded by fourteen capacitive pads, each with LED status indication for intuitive and effortless control. Easier to press than standard mechanical buttons, and with no moving parts for an extended service life, the capacitive pads recognise even the lightest of touches.
Customisable icons and fonts.
How a product functions and performs matters, but so does the way it integrates into its environment. That's why we've made the KNX DLP Modern fully customisable. From the language and icons, to the LCD illumination level and LED indication colours, the KNX DLP Modern can be configured to meet your exact requirements.
To find out more about the HDL KNX product range please visit: