Simply smart, simply safe and above all super simple to install: the new living comfort control LUXORliving from Theben. LUXORliving will be available in the XL version as of October 2017 and in the extended XXL version as of March 2018. The company will present a prototype at eltefa 2017. For anyone who is planning a new-build or total renovation, LUXORliving has arrived at just the right time. The Theben stand is well-worth a visit.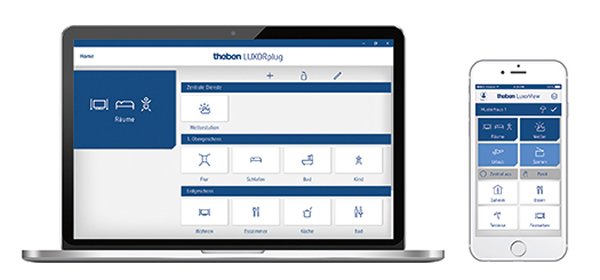 Smart light, heating and shade control
LUXORliving is fundamentally a certified KNX system. But contrary to a conventional KNX installation, LUXORliving only uses the functions that are absolutely necessary. This is what makes LUXORliving so easy to install and operate. Switching on and dimming lights, regulating heating and controlling shade, as well as using the clever panic function is all child's play. LUXORliving makes it happen. The show-stopper: LUXORliving saves the user patterns from the last seven days and repeats them when the occupants of the house are away.
Installing and using LUXORliving is a walk in the park – with LUXORplug und LUXORplay
LUXORliving is clearly a step up from the longstanding tried and tested living comfort control LUXOR from Theben. The prototype version in 2005 was one of the first living comfort controls on the market. One of its greatest benefits was and still is its easy installation. It was this ease of installation that added so much value to LUXOR. In the case of LUXORliving, the individual product components – the power unit, as well as the sensors and actuators – can be easily wired to the system controls and configured using the operating software LUXORplug. Programming is not completed with ETS and no prior knowledge of programming is necessary. For this reason, LUXORliving is extremely appealing to electricians. They can offer their clients: developers, home owners, construction firms an intelligent and simple solution. And furthermore, a particularly safe one, as users are able to safely control all functions using the LUXORplay app via smartphone and WLAN.
Smart, safe and extendable
According to Thomas Vetters, Theben's Product Manager for LUXORliving, "Safety will be even more important in years to come. WLAN control prevents unwanted access from outside." Those who wish to control LUXORliving and use many other functions when they are away from home can look forward to 2018 when the XXL version is to be launched. Updating from XL to XLL is also possible.
If you are interested in keeping up with the new developments in LUXORliving, you can sign in for the LUXORliving email-newsletter at