By Yasmin Hashmi, KNXtoday.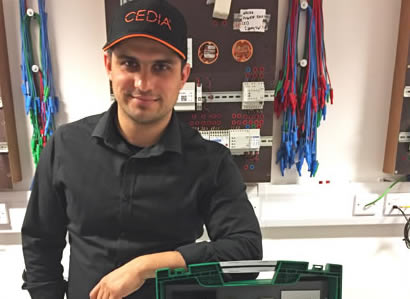 Rafal Borek is the director of Home of Technologies (HoT), a value-added distributor of electrical and engineering components with a focus on building and home automation. He is a KNX and PLC (Programmable Logic Controller) solutions expert and head teacher at the HoT training centre, and his main focus is to drive customer success and business strategy at the company.
Having enjoyed 35% growth over the past year, taken on more staff and recently moved premises to a larger space in South West London, Borek is busy developing new solutions, promoting HoT's existing product portfolio and working hard to expand the number of KNX systems integrators and projects through the online and in-house HoT Academy. "My dream is for KNX to become part of the AM2 electricians course – even if it were only a brief introduction that then encourages them to get more specialised training."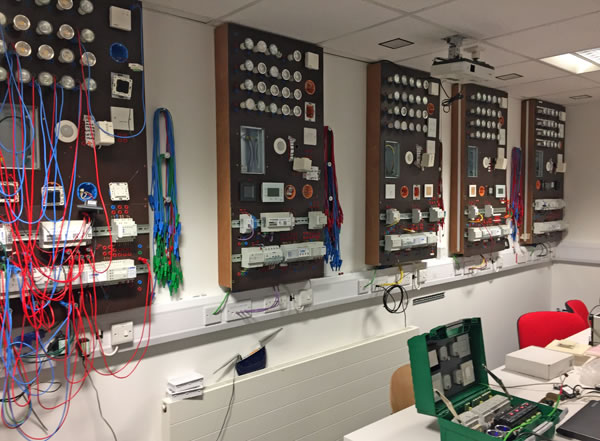 Making KNX accessible
HoT is among a small band of pioneering distributors in the UK who are enthusiastic about KNX technology and determined to see it succeed. The use of KNX is growing in the UK, but it is far from ubiquitous, and there is much work to be done.
Borek's vision for the UK is that ultimately, as much as possible should be automated for energy efficiency, so he is always looking for ways to make things easier for installers. This includes project consultancy for all types of customer, from M&E professionals to end-users, with services ranging from design briefs, specifications and help with tenders, to various levels of project support. HoT will also build and test distribution boards for customers, and provide installation manuals and on-going support. Core brands distributed by HoT include Tense, Eelectron, Divus, CJC Systems and NETx. HoT also handles Simet surge protection and impulse meters, as well as completely non-flammable backboxes that help in protecting KNX installations.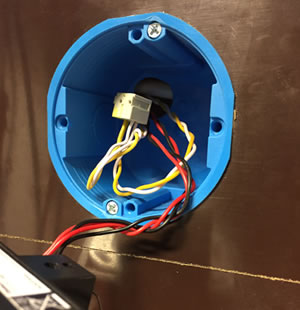 On the programming side, HoT offers products to accommodate a range of abilities, from the experienced KNX systems integrator to the newly-qualified. As Borek puts it, "We are flooded with Apple and Chinese products that will not reach maturity for another ten years, so in the meantime we need something to help the mid-market with automation." He points to the Lingg & Janke 'KNX Quick' Solution. "This makes it possible to commission a four-bedroom house in half a day. It comes with a three-page manual and involves manually setting addresses to control most functions. It does mean that you have to rely on the default parameters of the device(s) to be controlled, although these can be changed by connecting a laptop and changing the panel of the Quick device." Borek goes on to explain how HoT recently trained a plumber on the Quick Solution, who subsequently commissioned a house within two hours and was able to charge GBP£2000 for the job.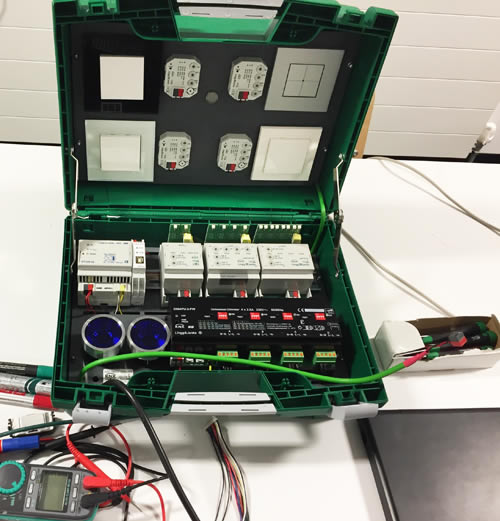 For remote learning, HoT has developed a number of tutorial videos that can be accessed from the HoT website and the Home of Technologies YouTube channel. These include how to start KNX projects and how to provide a one-room solution for GBP£400. As Borek insists, "We believe that the knowledge should be free, and the solution should be chargeable."
Product development
Borek is also excited by HoT's new product, the HoTBox. Currently under development, HoTBox is a standalone heating control system that natively integrates with KNX, Z-Wave and many other systems. It is designed to work with XML over IP, and has a range of helpful features to make it suitable for installers and developers. These include the ability to work with cost-effective thermostats, operate remotely via a web browser, control third-party heating systems through RS485, learn behaviours over ten days and compensate for slow-response systems such as underfloor heating.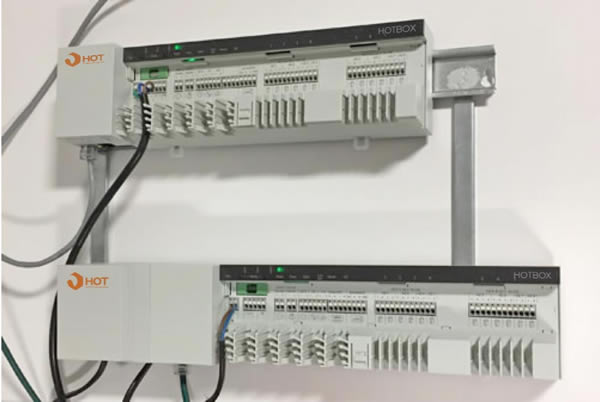 Reaching out to developers
Borek sees developers as key to getting KNX involved with new-build projects, but notes, "Developers are cautious about automation because they see it as too expensive, and they can sell properties without it – such is the demand for new homes." Borek points out that the key issues are price and having a reliable installer who will be around to provide post-installation maintenance.
HoT targets projects in the GBP2500–4500 range for a 2-3 bedroom apartment with a primary focus on heating, then lighting, followed by blinds and finally full integration including an A/V platform. Indeed with integrated speakers such as those from WHD that are KNX native, these types of installation can easily be up-sold to sophisticated multiroom capabilities.
ETS Inside
Now that KNX Association has officially launched ETS Inside which offers low-cost entry into the world of KNX, Borek sees it as a positive step. "ETS Inside is a great solution for the MDU market. End-users are craving control over their installations, and whilst maintenance contracts are a good idea, users resent having to wait for an integrator to come and change things that really should have been corrected during commissioning. Obviously things need to be fine-tuned over time, so if the developer can show the customer that they can control this themselves, that has to be a great selling point."
Thoughts on Brexit
Coming originally from Poland, Borek acknowledges that the UK has given him a lot, and that it was easier to open a business here. "In the short-term we are going to suffer due to a lack of educated labour, and it's going to take a generation to rebuild the base. We need better schools and inter-disciplinary engineering. We need to get KNX into universities like in Germany and Poland, where they teach KNX for a whole semester." Full of optimism, the indefatigable Borek concludes, "The last thing I want is a hard Brexit, but I think in the long-term, we can conquer the world!"