By Paul Foulkes, EchoHouse Energy.
Just before Christmas in 2015, the family and I moved house. The building we purchased required a lot of work – we knew this from the beginning, but it had a great 'footprint' and would become a wonderful home. The need for this work gave me an ideal opportunity to rewire the house. Of course I wanted to retrofit KNX. It wasn't a deep retrofit, (i.e. complete strip out and gut), and we would be living in the house during the work. Would KNX work in this situation?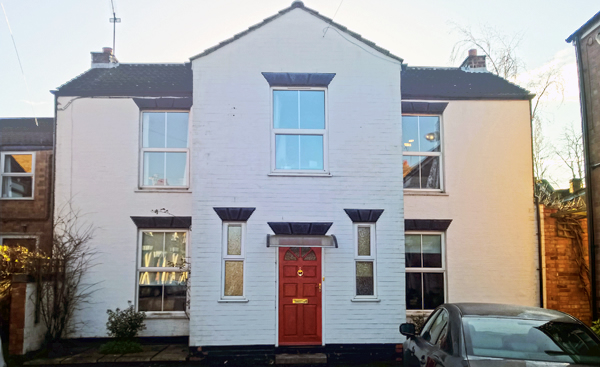 We had engaged an architect to ensure that the building work went smoothly and I would be acting as the project manager. Although I wouldn't be doing the rewire, I would guide the contractor and carry out the design, second fix and commissioning. I would also be carrying out the design, full install and commissioning of a mechanical ventilation heat recovery (MVHR) system to improve air quality and heating efficiency.
The job kicked off in spring, and the electrician – a young forward-thinking guy – was very much up for the challenge. He had installed 'smart' systems before and was expecting a CAT5-based installation with a lot of cable runs. After I explained the simple nodal system that is KNX, he was intrigued. It seemed so simple.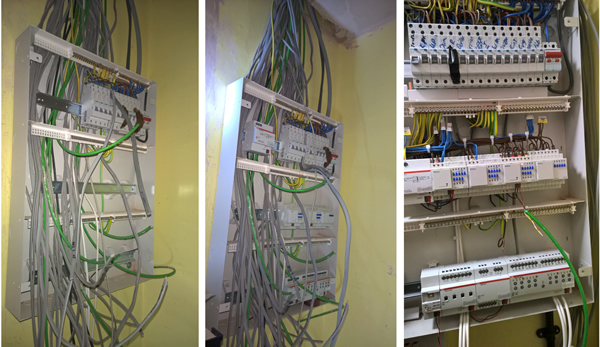 Flexibility in locating switches
I had sketched out some ideas – switch locations, movement detectors, how to interact with the under floor heating (UFH) and the remaining radiators, but, crucially, I kept the specification quite open. With KNX there is no requirement to plan exact locations for two- or three-way switches to allow for strappers and returns, or differentiate ceiling cabling for a PIR or a smoke detector.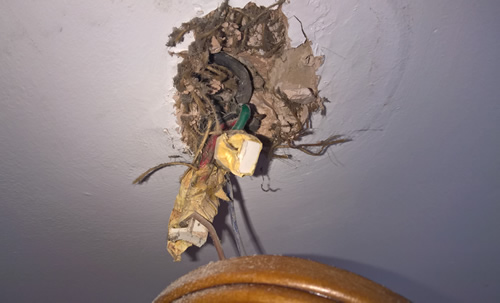 This ultimate flexibility of install planning was highlighted when three-quarters through the job I decided to add a complex switching position in the hallway. I simply dropped a KNX cable from the nearest location, which happened to be a PIR in the ceiling, and after a bit of a fiddle around a steel it was in. Cue an impressed electrician's apprentice!
Mains voltage device monitoring
The 240V socket ring mains have remained the same, with certain additions for office, bedroom and kitchen. Certain devices in the kitchen, such as the dishwasher and fridge, which would normally be on the ring, I asked to be run on spurs so that I can implement energy monitoring and current draw. This is particularly useful on a fridge to identify if the door is open or the motor is failing.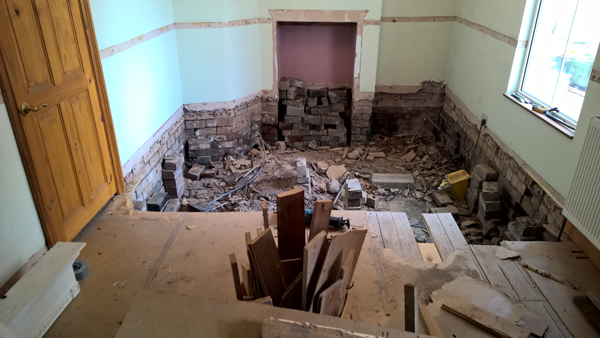 Lighting
It was necessary to run all lighting circuits as spurs back to the consumer unit. This was surprisingly easy. My best advice for this would be to wait until the original circuits are removed (and the family is living by torchlight – it is amazing how much you use overhead lights!) and then plan routes for your groups of cables. This is handy if you need to run additional control cable or IP distribution CAT5.
Adapting over time
This new home is intended to be a 'forever' home. This means I do not intend moving again! So I wanted to think about changes or adaptations I might need to ensure we can stay here as we age – possibly as our physical and mental capacities change or even deteriorate. This was very apparent to me as, at the time of starting the work, both of my parents were in their late 80s and their demands of their accommodation were changing. They were in sheltered housing, but even this specialist accommodation had some challenges for them.
I wanted to try and foresee certain needs, to prepare my house, but, being only 50 and still active and healthy, I did not want to turn my home in to an obvious retirement home – for instance, I don't need a stairlift yet, but I wanted to ensure I could fit one later if required.
KNX is independent of telephony requirements, making it secure and robust, but by adding an IP link it would mean certain tasks can be actioned, or monitored from a distance. This can be part of a strategy to allow for remote care monitoring later on. I chose the ABB Control Touch as it is app-based, although there are other excellent solutions available such as the Gira X1.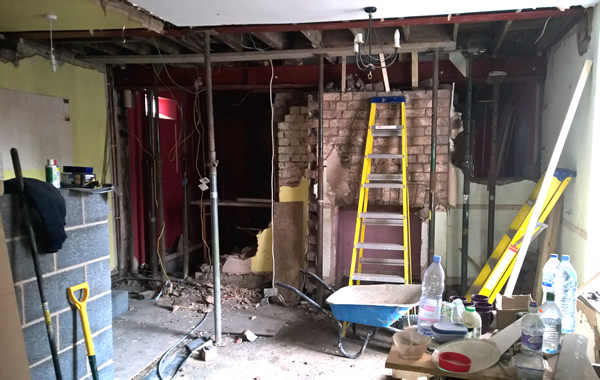 The Control Touch will work in a complementary role with other app-based solutions such as calendars, Skype, photo albums, music and TV access, which, in the future, will allow me to stay in touch with family, keep track of medication, order food, control my entertainment and remain engaged with society – all things that become important as we age.
In certain locations in the house I included blanked KNX cable connections for items such as pull-cord and push-button alarms. Although I have opted for some stylish switch interfaces and designed a technology-laden screen interface, these are all interchangeable and adaptable if my needs were to change, whilst retaining all of the functionality.
There are limitations, but they are architectural. The house is not suitable for wheelchair access, but most needs as we age can be accommodated.
Cost-effective heating
Having a house in which a heating system that is not wasteful and provides a suitable temperature, is attractive to everyone. As we age and possibly become dependent upon fixed pension incomes, then the advantage of the automation options offered by KNX for control, comfort and money-saving are evident.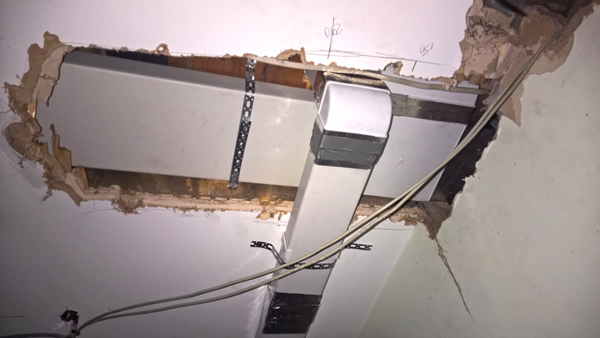 MVHR gives full-time ventilation and heat recovery throughout the building, which, in theory requires few control inputs. As I had the opportunity, I installed a humidity monitor in the bathroom, and by linking this with presence detection, I have an MVHR that is effective and even more efficient, whilst remaining discrete during quiet hours. With running hours monitoring, it also lets me know when I should check the filters. The element of automatic servicing actions is carried through to the radiator and UFH valve purging.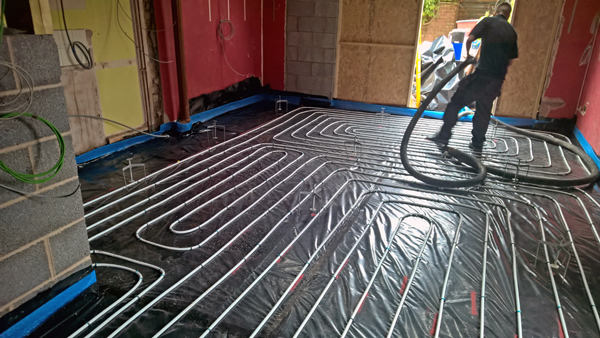 Conclusion
The answer to my original question is yes, KNX does work in this situation. Thanks to KNX, all of the automation, control, monitoring and adaptive pre-empting was possible in a standard house retrofit. We lived on site during the work and, given a good build team and electrical contractor, there is no reason not to consider installing KNX.
Cost is always one of the key questions. This is very subjective dependent upon client choice for final switches and level of automation. Looking at the cabling cost alone then my electrician said that there were additional costs for running the spurs to each of the lighting outputs but savings on control circuits – no strappers etc. He mentioned that the install time was considerably quicker, and the flexibility given by KNX for both client AND installing electrician were considerable. Also, he said, given the level of additional functionality offered, for any complete rewire it was a great option.
I still have not finished the commissioning of the install – much to my wife's chagrin. Or is it that I just enjoy tinkering with the settings?
Paul Foulkes is an engineer and KNX consultant for EchoHouse Energy, with the ambition of integrating technology and community and making our living environment better. He is also a Business Development Manager for Entech Ltd.