The Future of FCU Control
HDL has just announced the launch of its new KNX FCU controller, the HDL FCHC Actuator. Bringing KNX users a powerful control solution for air conditioners, fans, compressors, and underfloor heating, the HDL KNX FCHC Actuator supports up to seven digital temperature sensors, while utilising unique active and passive control states.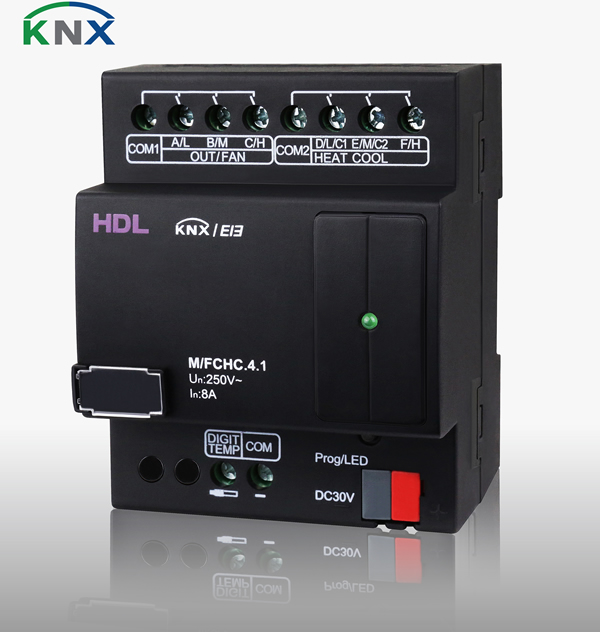 Ideally suited to KNX installations which need precise temperature management and energy efficiency, the FCHC Actuator lets you take complete control over your HVAC solutions with the most advanced FCU controller HDL has ever created.
With the ability to be retro fitted into an existing KNX solution, or installed into a brand new KNX system, the FCHC Actuator brings KNX users:
• Efficient and intuitive HVAC system control
• The ability to combine KNX sensors and HVAC for on demand energy usage
• Precise thermal control
• Precise ventilation control
• Energy savings through optimized energy expenditure
• Revolutionary active and passive control capabilities
Able to be fully customized via ETS software, the functionality of the FCHC Actuator can be set without specialised knowledge or additional applications. This allows the module be tailored to the exact demands of each installation, resulting in a completely unique control solution.
This customisability extends further than the ETS programming though, as the FCHC is capable of both active and passive control.
When the module is set to active control mode, it can work in conjunction with a HDL control keypad/panel without needing a PI algorithm. When used in passive control mode the FCHC module is provided with the capability to work with any panel which utilizes a PI algorithm.
With dual panel support, the chances are that whatever existing KNX control interface your installation has, the FCHC Actuator can support it.
Smart output technology enables the FCHC Actuator to output either eight amps AC, or five amps DC. Whether it is adjusting the underfloor heating, or turning the AC on, the FCHC Actuator is perfectly suited to a wide variety of control applications. This makes direct control over virtually any HVAC equipment possible, while serving as either a standalone controller, or as part of a wider KNX installation.
Because the FCHC Actuator is also fully compatible with all other KNX modules, additional FCHC functions and features can be can be achieved by simply adding KNX accessories.
Installed onto a standard DIN rail, the compact FCHC Actuator can also be mounted easily, thanks to embedded spring lock rail clips. This enables an installer to mount the module with one hand, and effortlessly adjust its position within the distribution box.
To further aid the installation process, HDL has also designed the FCHC so that all output and input terminals are located on the front of the module. This guarantees that distribution box clutter is minimized, while increasing safety through clear output/input separation.
Like any HDL KNX module, the FCHC Actuator features as standard LED status indication lights, a manual control programming button, and an ID tag holder so onsite configuration can be expedited.
Bringing a new level of flexibility and versatility to FCU control, the multi-role HDL FCHC Actuator is the ultimate in HVAC management.
Compact, simple to install, and ultra-reliable the HDL FCHC Actuator has been designed specifically to meet the demands of KNX professionals.
To learn more about the HDL KNX FCHC Actuator, and other HDL KNX solutions, please visit: