By Mark Warburton, Ivory Egg.
Having spent an afternoon at Construction Week working on the KNX UK stand, I was reminded of some of the key benefits of the KNX system. Inevitably we were surrounded by proprietary systems, from simple thermostats to whole-home control systems. They all have fantastic well-designed products, and when viewed in isolation, they seem like great solutions, so it is no surprise that people would approach the KNX stand excited and enthused about the possibilities.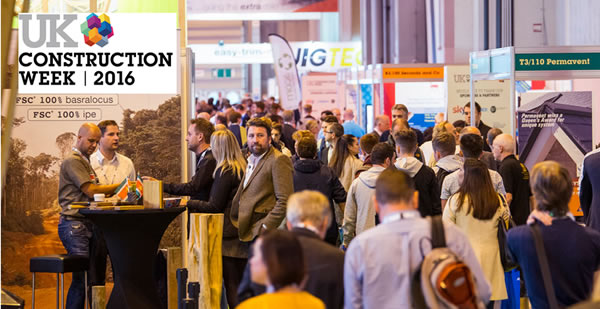 It doesn't take long for their perceptions to change to the next level once the virtues of an open protocol, decentralised, multi-manufacturer, multi-function system are explained. Without even showing any product, we were able to quickly get the point across that KNX is really the only viable system if you want assurances of flexibility, reliability and redundancy.
Once these underlying benefits have been explained, the conversation can quickly turn to what can be achieved with KNX. For an integrator, being able to select products based on specific features is empowering, particularly when compared to the limited options available when using a proprietary system. This flexibility ensures that any project brief can be met with no compromises on the efficacy or usability of the system
After some positive feedback from last month's article, here are some further examples of different device features. This should provide a good reference point when looking to specify products either from the manufacturers below or from others. The following examples offer a good mix of features.
IP Routers
It is rare to find a KNX system nowadays that doesn't use an IP router, either as a bus interface or interface to another system. Apart from supporting the standard KNXnet/IP multicast connection, each of the devices below offers a different set of features.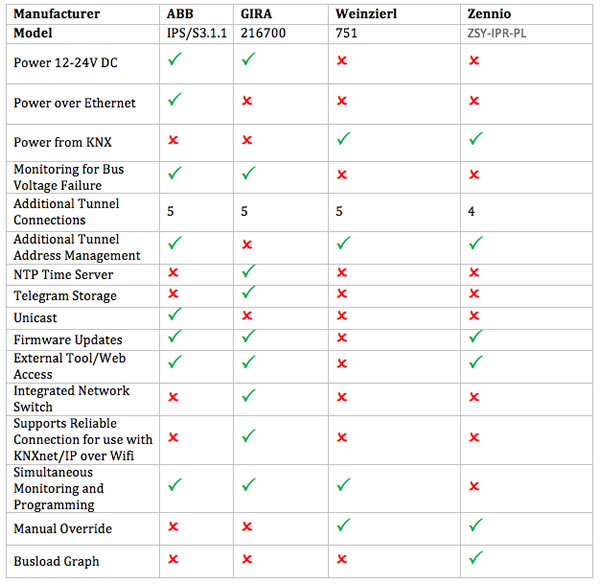 One of the main considerations is whether you want to power the device with 12-24V DC, PoE or KNX. The devices that are powered by KNX lose the ability to report on bus voltage failure which may be needed in a project that requires advanced monitoring and security.
Some features relate to fault diagnosis, such as being able to store bus telegrams onto a local SD card or view a graph of the bus load. These are great features that make troubleshooting easier, but ideally, they need to be configured before any problems occur.
If you are looking to use the additional tunnelling connections, then having control over the addressing is a key feature. As the Gira product can have its firmware updated, hopefully this will also have the feature added on a future release.
ABB has a unique feature offering the ability to link up to 10 area/lines using unicast. This makes it ideal for installations where multicast cannot be used due to network restrictions.
DALI Gateways
Last month we covered mains dimming, but DALI is still regularly specified on both residential and commercial projects. As most manufacturers have a range of DALI gateways supporting different DALI configurations, I have only selected gateways that support group control of a full DALI universe made up of 64 ballasts or ECGs.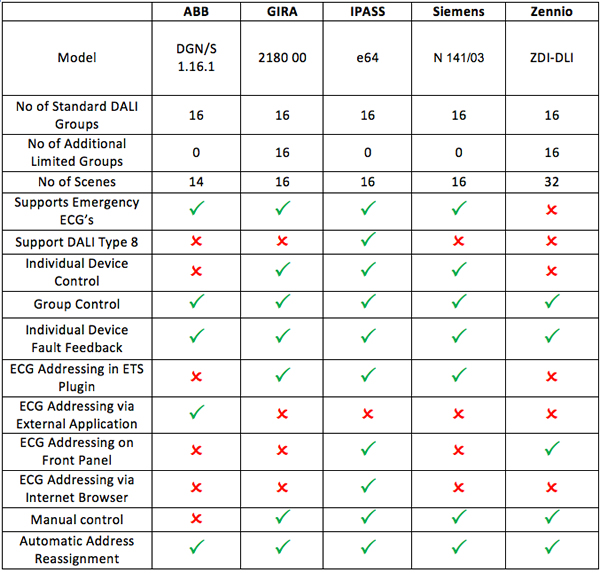 Although most of the main features are standard across all gateways, there is a couple of points to consider. The Siemens gateway has always been popular on commercial jobs given its early support of emergency ECGs, but with ABB, Gira and IPAS also supporting this, other factors can be considered.
The ABB, IPAS and Zennio gateways offer different methods of addressing the ECGs, which makes commissioning and installation easier, particularly if you are instructing the electricians to complete this aspect. Being able to readdress ECGs from the front of the unit makes replacing them simpler, although it is great to see all gateways supporting automatic address reassignment.
If you are using DALI in a residential environment, then the number of supported scenes must be considered. Although multiple rooms can be on one DALI line, this can cause a lot of programming issues as most gateways only support 16 scenes. Zennio is the only manufacturer to offer 32 scenes, which is a big step forward.
Finally, the IPAS Gateway supports control of DALI type 8, which is used to change the colour temperature of fittings. This can be used to create human-centric lighting scenes which can have a huge positive effect on office productivity and mood levels.
Conclusion
In both the IP router and DALI examples, the differences between the devices is quite astounding, and this is only a sample of the products available. It is reassuring to know that at a communication level, all of the devices have been proven to adhere to the KNX standard. It is this diverse range of functions and features, with a guarantee of interoperability, that really makes KNX stand out from the crowd.
Mark Warburton is the Technical Director of Ivory Egg (UK) Ltd, a supplier of leading KNX products and provider of KNX training courses. Mark is also a regular contributor to KNXtoday magazine.