By Bhavesh Doshi, Entelechy Systems.
The Garden Factory is the fourth manufacturing plant and a new global parts centre for Hero Moto Corp, the world's largest two-wheeler manufacturer. Spread across 80 acres in the historical city which is now the industrial hub of Neemrana in Rajasthan, India, The Garden Factory is based on the core principle of sustainable development, with the commitment to maintain the highest ecological standards.

With an investment of more than Rs550 crores (~73M Euros), the aim of the new building was to bring together innovation with nature. It is India's first Platinum-rated green plant. Vegetation surrounds the workplace, penetrates inside to the assembly line, and makes its way onto the roof; enhancing at every level ambient temperatures, air quality, and the visual environment. The design includes rainwater harvesting and 100% water recycling, and the entire plant structure is orientated diagonally to follow the path of the sun, thus maximising the efficiency of its 1.5MW solar PV modules.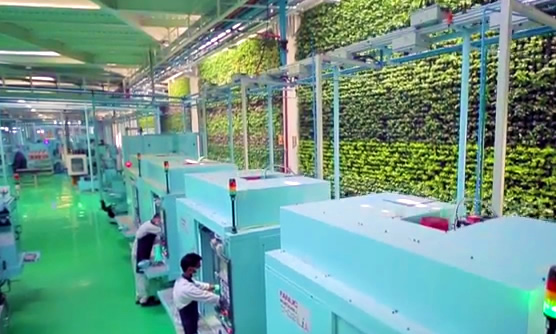 The Brief
We were tasked with providing an energy-saving lighting system with the following features:
1. Centralised monitoring and control system using visualisation.
2. Integration with HVAC (Heating, Ventilation and Air Conditioning), SCADA (Supervisory Control And Data Acquisition) and BMS (Building Management System) systems.
3. Efficient control of DALI-based lighting using local as well as central timer controls.
4. Optimum use of daylight for achieving energy efficiency.
5. Illumination comfort in all areas.
6. Immediate notification of alarms for timely action.
7. Creation of a cost centre for lighting energy consumption.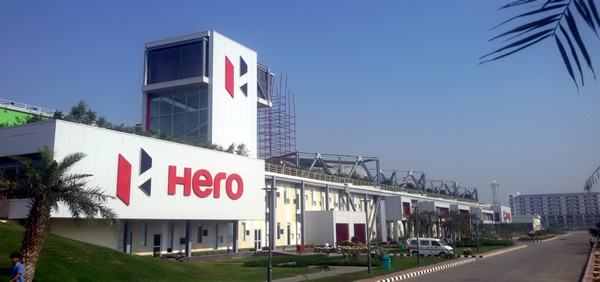 The Solution
KNX was chosen for this industrial environment because we needed 24/7 robust operation. The system includes a built-in OPC (Open Platform Communications) server, and there are hot redundancies between the main and backup server.
The LCMS (Lighting Control Management System) was designed to interface with the BMS and HVAC, whilst also offering stand-alone operation with full automatic control and monitoring. Time- and event-based controls are defined in the LCMS for automatic and manual override.
We used 550 KNX components supplied by Schneider Electric, and NetX BMS Server 2.0 visualisation from NETxAutomation. Functions such as history, trends, reports and alarms are all available to the user through a simple GUI.
We used a DALI gateway for dimming and actuator switching, and a lux/occupancy sensor for motion and daylight control. Lights can also be switched through local push buttons in zones and centrally through the visualisation software.

The system also provides a re-lamping schedule as well as remote maintenance capabilities. It supports alarm management and fault monitoring, including various remote fault mode philosophies and system monitoring such as failures in bus voltage, KNX device, DALI bus, lamp/control gear, LAN network and server.
Challenges
Providing easy monitoring of the lighting in two large buildings across 80 acres, individually and also from a single location through central visualisation software, was certainly a challenge. We ran a huge fibre optic LAN ring network as a backbone for KNXnet/IP that connects the two
buildings into a single network.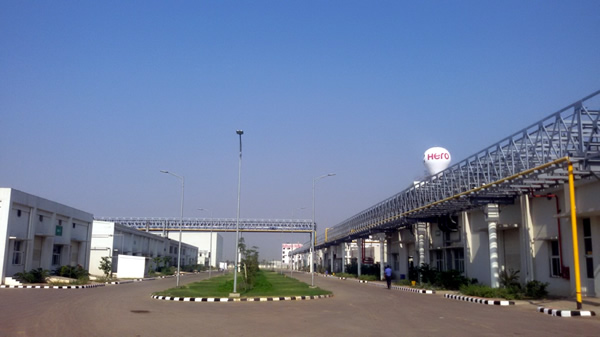 A lot of consideration was also given to creating comfortable working conditions, both in terms of optimum illumination as well as HVAC, and wherever possible, we looked to make energy savings through time programs and sensor-based lux level controls. We also had to create a cost centre without the use of metering.
Indeed we faced many challenges with the installation, but thanks to great team work and the simplicity of the KNX system, we managed to commission the system and satisfy the project's core requirement of sustainable development, as well as meet the customer's expectations.
Conclusion
Due to various logic functions and better monitoring of energy usage, the KNX-based LCMS has actually helped in reducing the ROI period and helped The Garden Factory to achieve a Green Building rating. Thanks to KNX technology, the system is also easy to modify.
With the industrial plant buildings being so large and spread across 80 acres, implementing
visualisation was extremely important, and has proven to be very helpful in critical preventative and
corrective maintenance. Operating statuses are easy to check, and faults can be remedied quickly.
Our consistent, ergonomic operating concept means that the two buildings can be operated just as easily as one, so this project clearly demonstrates how several sites, using KNX technology, can be incorporated into a single, centralised energy management system, in line with the 'sustainable city' concept.
Bhavesh Doshi is the CEO of Entelechy Systems, an integrator of intelligent buildings based on KNX technology.