Detecting everything in a wide range
With theLuxa P300 KNX, Theben presents a true all-rounder among the KNX external motion detectors: Apart from the large detection area and the pivoting sensor head for wall and ceiling installation, the new theLuxa P300 KNX scores with logic, universal, and motion channels, with scene functions, a time switch function, and an integrated temperature measurement.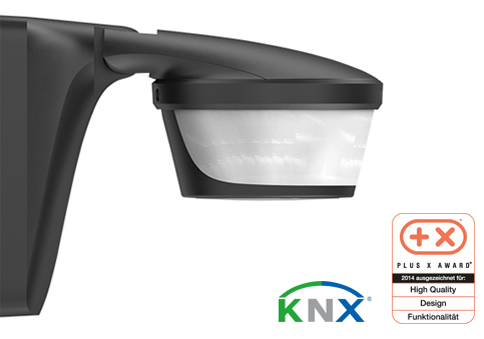 The four motion detector channels of theLuxa P300 KNX from Theben can be linked in a time-dependent manner for various lighting applications, such as switching or dimming. Without extensive programming, functions such as 'orientation light' can be implemented quickly and easily in the ETS. Furthermore, functions such as 'short-time presence', 'master/slave', 'fully automatic/semi-automatic device' and two switchable time delays can be configured. Four universal channels respond, independent of movement, on brightness and/or temperature, and can thus also be used as a twilight switch, for instance. Another four independent logic channels allow 'AND', 'OR', and 'XOR' operations and can thus respond to current bus events in the entire KNX system. As initial object, switch commands or percentage values can be sent, among others. The motion detector has an integrated brightness sensor, which can be used as a twilight switch. Via the integrated temperature sensor of theLuxa P300 KNX, temperature-dependent operations can be implemented.
Time and motion dependent scenes
With regard to scenes theLuxa P300 KNX four motion channels can be incorporated into scenes, such as 'locking', 'permanent ON', 'brightness threshold', and 'change over time delay' in a most versatile way. All these scenes can be linked with the events of the motion channels and can also be called up time-dependent with a simple weekly program via the integrated time switch function.
Flexible installation, convenient setup, safe detection
The new theLuxa P300 KNX for outdoor lighting control (IP 55) can be mounted on the wall or under the eaves. Alternatively corner bracket and spacer frames are included in the box. The spacer frame makes installation easier in situations which require more room for laying the cables. It is also useful when inserting cables from the side, above or below. The corner bracket allows installation in inner or on outer corners. Mounted this way, the detector covers two facades. The sensor head can be swiveled horizontally and vertically and offers full freedom for mounting. The large terminal area, a socket, and terminals labeled from the top facilitate safe and quick installation. Starting up the KNX motion detector is as easy as its installation: With the practical teach-in function, the current lux value can be permanently saved. With the remote control, settings can be made and 2 scenes can be called up, conveniently from ground level. With its detection area of up to 16 m, and with a detection angle of 300°, the KNX motion detector reliably covers large areas. If theLuxa P300 KNX detects more than desired, its detection area can either be limited partially by using cover clips, or the detection sensitivity can be adjusted via theSenda remote control.
theLuxa P300 KNX from Theben is available in white and in black from now on.