DIVUS TOUCHZONE received the prestigious PLUS X AWARD "Best product of the year". The Plus X Award distinguishes products that are innovative and viable for the future and possess at least one "Plus X" factor – the additional value of a product. The jury consists of international and independent panel of judges from 25 industries and 22 competent partners. DIVUS came first in four categories – 'High Quality', 'Design', 'Ease of use', and 'Functionality' and all that together earned the prestigious award.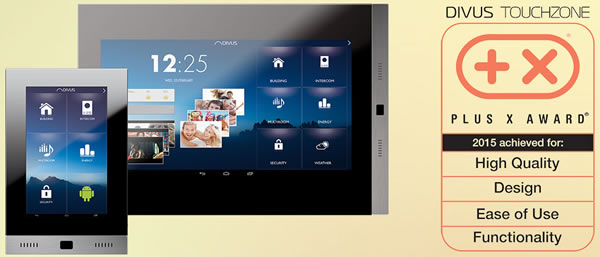 The DIVUS TOUCHZONE combines functions of a smartphone with building security functions. The touch screen can be designed individually, where all ideas and visions can be implemented with the Android system. All system integrators and building users want a solution that allows free and individual scaling and definition of control elements on a touch screen. Thanks to the multi-touch display, labels, texts, and icons can be displayed in a size that enables even children and the elderly to read and understand the display and use it in a sure-footed manner.
The device is powered by the building network via PoE (power over ethernet), or via a 12 to 32 volt DC power supply, which is also compatible with the electrical systems in event trucks, mobile homes, ships and yachts.
Communication with the KNX bus is enabled via network and a KNX gateway. The LAN interface serves as the data interface for multiroom, internet and other controller uses. Two USB ports and four digital input and output ports are available on the rear of the device for specific data and signal communication. Behind the decorative covering on the front of the device is an additional USB port for data communication (in accordance with USB OTG specifications), as well as a microphone and speaker with echo cancelling for intercom. The system memory can be enlarged via a micro SD card. Display brightness is controlled by a intelligent regulation, such that the display remains readable at all times and shuts off when not in use.
DIVUS TOUCHZONE is available in sizes – 7", 10", 15", 19".
DIVUS products are distributed in the UK exclusively by Home of Technologies Limited.