The JUNG company presents a further development of its Colour Touch Panel IP with the KNX Smart Panel 5.1 for flush mounting. With its integrated operation software, the functions and scenarios can conveniently be regulated by touch on the 5″ TFT display in an aspect ratio of 4:3. This enables the display and operation to be carried out intuitively through the uniform JUNG user interface. This is quickly generated through the Smart Panel designer. A freely designed user interface can also be used as an alternative or addition. This makes it possible for the users to realise their own individual display.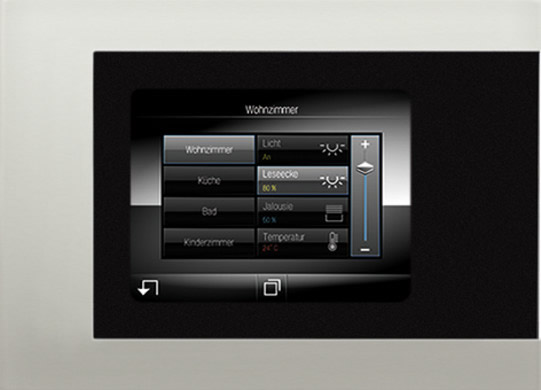 Useful additional features
In the intelligent KNX Smart Panel, the built-in alarm system ensures greater security with up to 40 warning devices for internal and external perimeter protection. Extra functions such as the 64-channel weekly time switch with random and astro-functions, the preconfigured light scenario management, the logger for usage data, the limit value modules as well as logic and time gates optimise the features and are quickly integrated.
Simply retrofitted
A great additional advantage is the option for retrofitting without any drilling or chiselling work. With installation in the well-known JUNG EBG 24 flush-mount housing, any existing signal panels are quickly and cleanly exchanged for the Smart Panel. The right version can be selected to match the atmosphere and purpose from a choice of eight different design frames.