By Giangiacomo Pastore, Eelectron.
The Vox Hotel in Jönköping, Sweden is a new hotel where a high level of automation is matched by beautiful environments, high-end finishes, and a green attitude. The hotel looks out onto Lake Vättern, and boasts 143 premium rooms as well as communal areas. The owner had high ambitions for the hotel, and commissioned our Swedish partner 2CTRL, with whom we worked closely, to provide an automation system.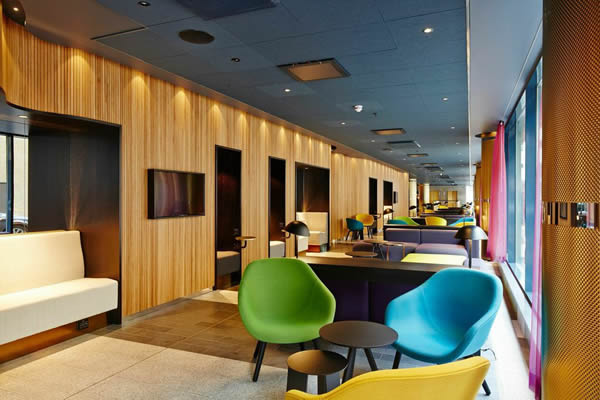 The Brief
The brief was to provide large energy savings, reliable and simple supervision software to manage clients' requests, and a simple way for guests to control their rooms and communal areas.
The Solution
2CTRL decided to use KNX for this project due to its flexibility within complex environments. 2CTRL opted for the Eelectron Synchronicity range of access, supervision, and HVAC control, and Eelectron's backbone actuators to control shutters, dimming, lights and fancoil speeds.
The Synchronicity KNX range is dedicated to hotel and facility management, comprising two-module round and square in-wall boxes or three-module boxes. The solution is integrated with the eSuite software management tool and products for temperature and HVAC control, lighting and load management such as input and output modules, digital/analogue mixed modules, dimmers and shutter modules, as well as visualisation and control through touch panels and PDAs, and communication with other protocols via gateways.
Planning and Design
Our technical team was directly involved with 2CTRL in the planning of the installation. We acted as consultants to the whole KNX installation, and were involved with local meetings and visits with the architects and planners in order to ensure that hardware, software and special design and finishes of the products matched their requirements.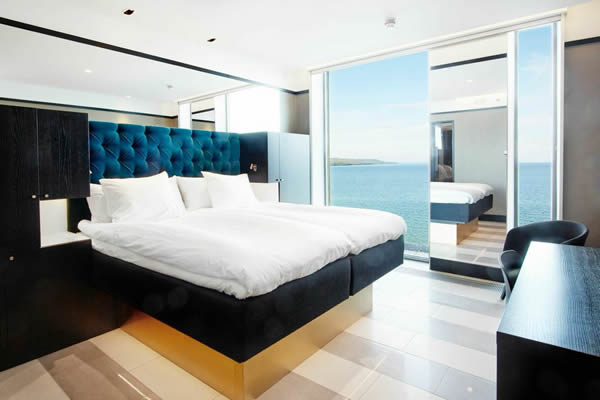 Access Control
The first phase was to provide KNX-based access control. We equipped all of the rooms with an outside transponder reader and an inside transponder holder that were customised with special LED lights and a glass finish as requested by the architects. Both products have two digital inputs and two relay outputs that were used, in this particular case, to manage courtesy lights and television activation on guest entry.
The outside reader was programmed to differentiate between guest and service/maintenance access, and to display 'Do not Disturb', 'Make up Room', and 'Service call' signals.
The transponder holder has been used mainly to activate and deactivate the energy saving mode in the room when the guest is present, which is kept in standby mode on maid entry.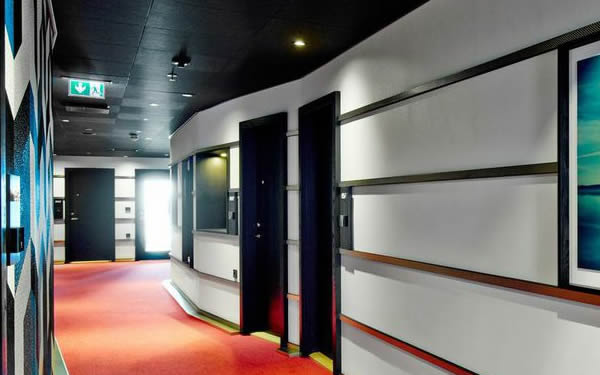 Software Management
Full hotel supervision is provided by the Eelectron eSuite software tool, interfaced to a local BMS system provided by the client. The main feature required by the Vox Hotel is Check in/Check out which allows the reception to create cards for guests and maintenance personnel using a transponder encoder that is directly connected to the reception's PC.
HVAC Control
All of the 143 rooms and common areas are also equipped with the Synchronicity Thermostat in a glass finish. This manages the temperature and speed of a fancoil unit in every room.
The four pipes and three speeds of the fancoil are managed through an 8-input/8-output actuator in fancoil mode, that allows control from the room controller. The thermostat is equipped with one digital input to connect a window sensor so as to inhibit HVAC activity when the window is open.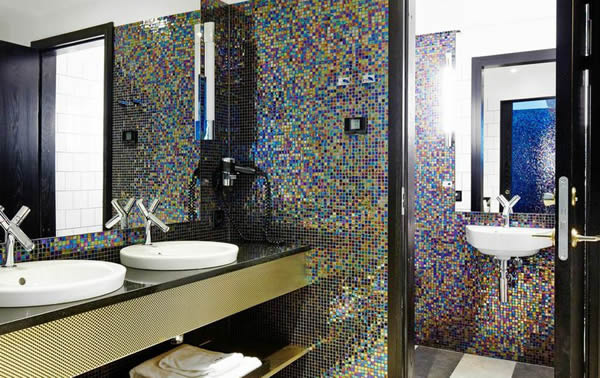 Light and Shutter Management
Lighting management was an important part of this project, and we were asked to control LED lights in every room, in communal areas and in the basement. We provided constant lighting management through dimming in every room, which was based on presence detection and the room's ambient brightness.
Shutter control was decentralised to distributed intelligence, using a 3-input, 2-output module installed in the false ceiling, for every shutter motor.
Experience from the Project
The Vox Hotel project was a quick and well-executed project, taking us around 1.5 years to complete from concept to commissioning. It was a great experience thanks to the professionalism of the whole team that cooperated with us, including integrators, installers and, of course, the end-client who had a clear idea of what they wanted. The hotel is now open and the feedback from the owner and their customers has been very positive.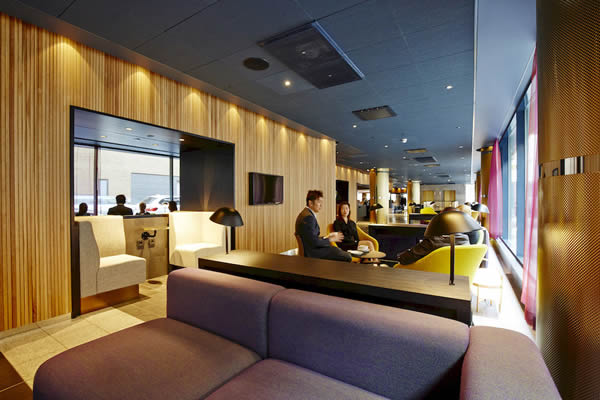 Conclusion
Environmental needs are changing the standards of project design, with challenging goals that require high-performance technology to deliver a client's long-term energy-saving, comfort, aesthetic and ease-of-use requirements.
This project has demonstrated that KNX is the best solution for managing a complex environment, and that highly-skilled personnel with an understanding of the application, combined with clear specifications and requirements from the clients are key to a successful outcome for all concerned.
Eelectron Equipment List
TH22A11KNX – transponder holder black – customised.
VT15A13ACC – glass support frame black.
TR22A11KNX – transponder reader black.
VT15A12ACC – glass support frame black.
TM11C11KNX – thermostat black – customised.
VT15A11ACC – glass support frame black.
CD00A01TRC – tranponder cards – custom design.
TE00A01KNX – transponder encoder.
SW06D05KNX – embedded PC with eSuite software – over 150 rooms – full package + 2 clients.
SW00D04KNX – eSuite interface to management system.
LC00A01KNX – line coupler.
IO88E01KNX – universal 8-in/8-out.
DM03C02KNX – dimmer 1-10V 3-out KNX.
IO32D01KNX – in-wall 3-in/2-out.
Giangiacomo Pastore is Head of Marketing for Eelectron spa, an Italian company that produces KNX-standard electronic hardware and software devices.