By Andrew Taylor, JUNG.
In 1912, Albrecht Jung GmbH & Co. KG was founded in Schalksmühle, Germany. Over the last 100 years, the company has become established as a specialist in electrical switches and systems under the motto 'Progress as a Tradition'. Having its own subsidiaries and represented by a number of agencies all over the world, JUNG is firmly established in the industry on an international scale.
Form Meets Function
The JUNG F50 range is the latest development of the successful F-series (F20, F30 and F40) push-button interfaces for KNX room control. The range still benefits from the award-winning design for which JUNG is internationally renowned, but it incorporates additional features and functionality to provide improved configurability and unique installation advantages.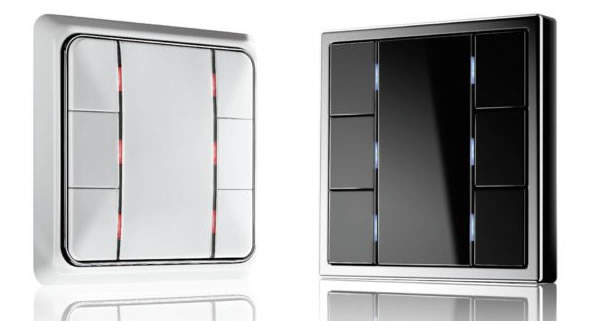 Aside from the technological advantages, the F50 range can be finished in any of the 'Le Corbusier' colours. Le Corbusier is arguably the most important architect of the 20th century. His work continues to have considerable influence on architecture and design today, and his colour keyboards are used extensively in the architectural and design worlds. JUNG has an exclusive licence to offer this unique service – the LS990 model in the F50 series can be finished using a special process that renders a silky matt finish.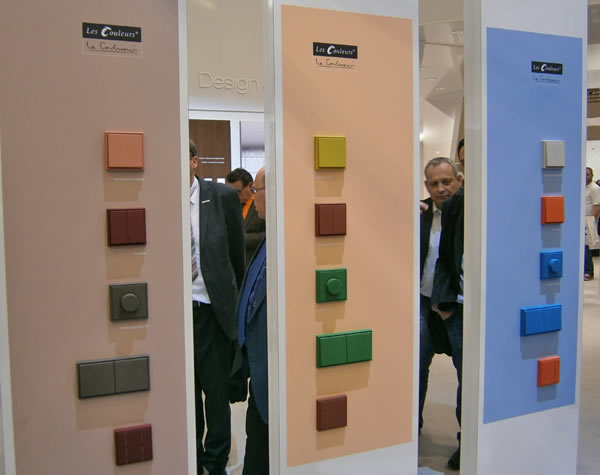 Fewer Parts
Those of you who have been around long enough will know that there is always the possibility to forget a part when specifying and ordering for a project. So it is good to know that the bus coupler of the F50 is integrated into the application module, as with the F40 series, which means that there is one part less to order (or to forget).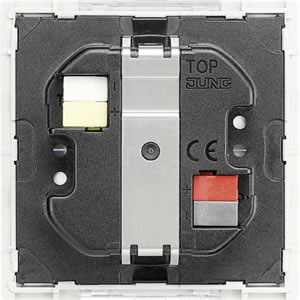 In fact, there are only three parts to think about for any recent JUNG devices:
• The base module (or insert) – a rocker switch, or, in the case of the F50, a universal push-button module. In fact there are two versions of the F50 base module, namely Standard and Universal, and I will describe these shortly.
• A cover kit (or plate) in the finish you require, such as white, stainless steel, aluminium, etc.
• A frame to match or complement the finish of the cover kit.
For those of you who are unfamiliar with JUNG part numbers, they follow a logical structure, and you will be an expert in this by the time you finish this section! Let's use a typical part number, LS5094TSEM, as our example.
The F50 module part number consists of three parts:
Part 1 (one or two letters) – this indicates the design range, which could be AS, A, CD or LS. This is important to get right as the footprint and shape of the module are different for each range.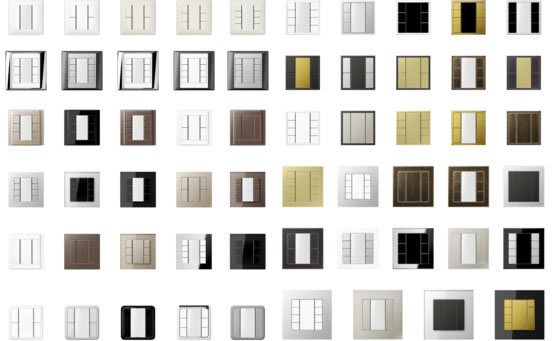 Part 2 (four numbers) – for the F50, the first two numbers are always 50, denoting this series. The third number indicates whether it is a Standard version (7), or a Universal version (9). The fourth number shows how many button pairs there are, so 1 = one-gang, 2 = two-gang, 3 = three-gang, etc.
Part 3 (three or four characters) – this indicates where it is a Base module (TSM) or an extension module (TSEM).
Comprehensive information on any device can be found on the JUNG website. To search for a part, just put in the part number without any spaces. The KNX application software is also available from this same search, under the 'INFO' box. In addition, an online graphic tool is available to label the push-button interface as required.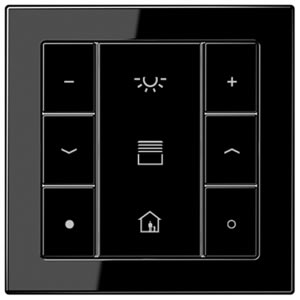 Versions
As mentioned above, the F50 is available in Standard and Universal versions, as follows:
Standard – this can be used as any normal KNX switch. You have the option for configuring the buttons individually or as a rocker operation using:
• Switching
• Dimming
• Venetian blind
• Value transmitter (1 byte)
• Scene extension
The feedback LEDs can only be set as 'red', 'green' or 'blue' for all buttons on the device (not individually per button), and there is an 'energy saving mode' which deactivates the LED operation after a given time or via a KNX object.
Universal – this has the same features as the Standard version but is packed with other useful functions. In addition to the button (or rocker) configuration options, there is also:
• Value transmitter (2 bytes).
• Two-channel operation.
With the Universal version, you are able to set the colour of the LED feedback buttons individually, which is useful for identifying their individual functions, for example lights = green, blinds = blue, or however you standardise your project.
The other major advantages are:
• Scene – this allows you to set up scene sending operations.
• Alarm Signal – a visual light prompt (triggered by a KNX object) so the user can see that an alarm has been activated in the finished KNX installation.
• Extension module option – unique to the KNX world, this allows you to install an extension module up to 30m from the base module via the second pair on standard KNX cable. This provides savings of up to 40% when installing push-button interfaces in a project.
• Temperature measurement – an internal temperature sensor allows you to send values to your room temperature controller.

Room Temperature Controller
While a room controller display is currently being developed for the F50 series (the F40 or OLED can be used in the interim for this purpose), a 'display-less' room-temperature controller is already available.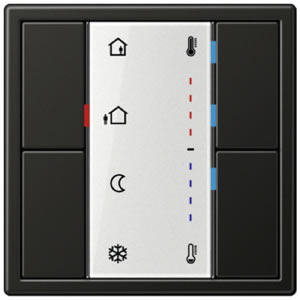 This is an ideal solution for secondary rooms that do not require a temperature display. It features an in-built temperature controller and temperature sensor, and the user can adjust temperature set points using the feedback LEDs as indicators. You can also configure buttons for lighting if required. The module part number is XX5178TSM.
Conclusion
There are several advantages to specifying the JUNG F50 in your next project. It offers an award-winning design, a lower overall interface cost by being able to locate the extension module up to 30m away from the base module, and it has large surfaces for professional labelling with the graphics/text you require. The JUNG F50 combines form with function for flexible and stylish control via KNX, from an established and reliable manufacturer.
Andrew Taylor is responsible for UK Technical Sales for JUNG. JUNG has 100 years of experience as a specialist in electrical switches and systems.