By Yasmin Hashmi, KNXtoday. 
This year's Light + Building took place between 30 March – 4 April, had a record 2458 exhibitors and attracted a record 211,500 trade visitors from 161 countries, with nearly half coming from outside Germany.
Admittedly, a lot of the exhibition space at Light+Building is dedicated to electrical equipment and decorative and technical lighting products, but if you were wondering how important KNX is, this will rid you of any doubt.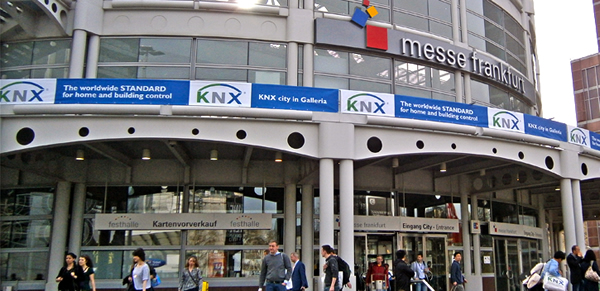 KNX was Everywhere
It started at the railway station, carried on at the messe's entrances, and was visible throughout the show on specific stands that were located in various halls, and on give-away bags.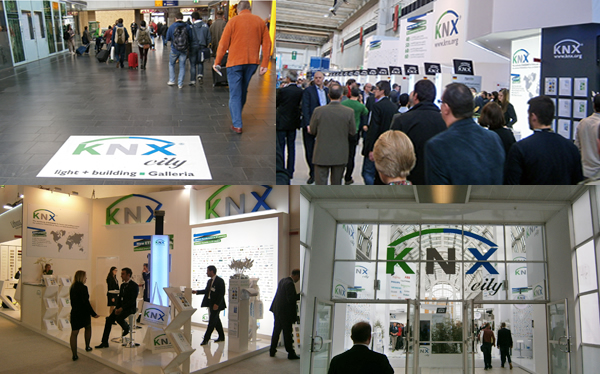 The KNX logo was ever-present, on regular sized stands to stands that were huge and rumoured to cost multimillions. Our mission was to see as much KNX technology as possible, and although we were not able to see it all, we got a good flavour of what is currently on offer, and what to expect in the coming months and years.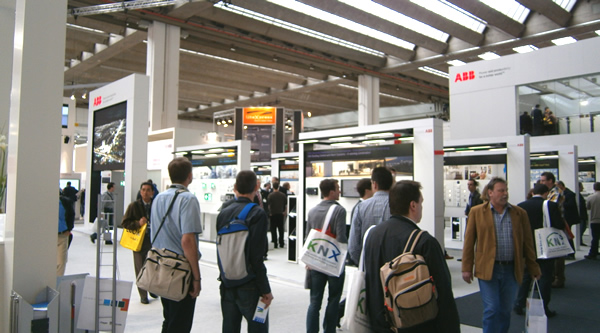 KNX City
The KNX Association also had its own 'KNX City' in the Galleria between two halls, featuring technology, presentations, a magician, and the occasional carnival dancer in celebration of the standard's success in Latin America. It was a good place to meet and to get up-to-date with all the latest developments.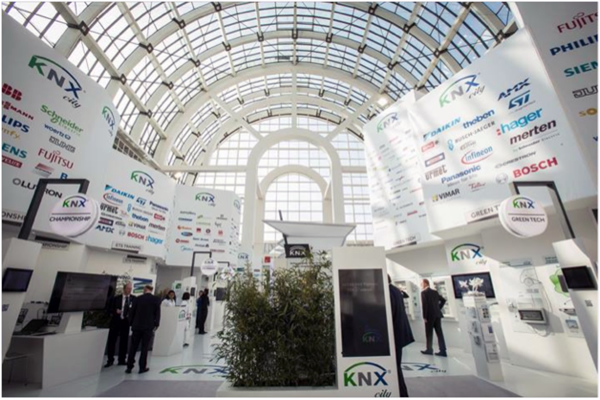 KNX Top Event
The KNX TOP Event took place in a large ballroom on site. It comprises entertainment, presentations, KNX awards, and the chance to socialise afterwards. This year our hosts were KNX Association CEO Heinz Lux, and Laura Bohorquez from Colombia. KNX President Franz Kammerl explained how the Internet of Things will give KNX a boost, and how he sees an increasing amount of Internet-based functionality being used by KNX Partners.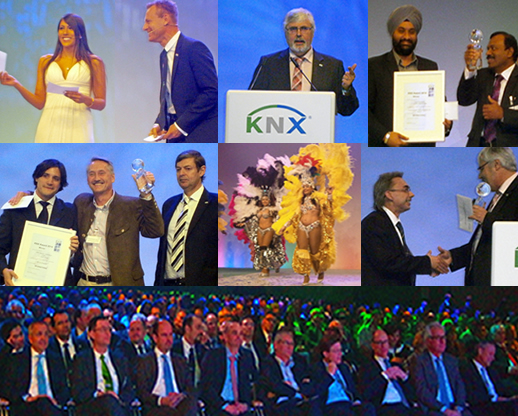 ETS5
Franz Kammerl also introduced ETS5 as smart, embedded and wireless. Due for release in October 2014, ETS5 support RF, is designed to be quick to install, has an optimised user interface, does not use an external SQL database and supports diagnostics via USB, with no cable required.
ETS5 is being received with great enthusiasm. The message coming from Weinzierl for example, was pretty clear: KNX is now complete thanks to ETS5. The company is releasing a completely new stack and tool chain for increased productivity that it maintains will cut development costs in half.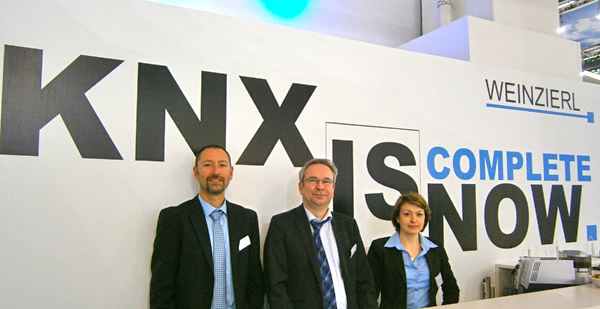 The Big Players
Some of the stands were so large that it is impossible to capture them in a picture. Suffice it to say that some of the bigger players' stands included zoned exhibition areas, well-equipped meeting rooms and cafeterias.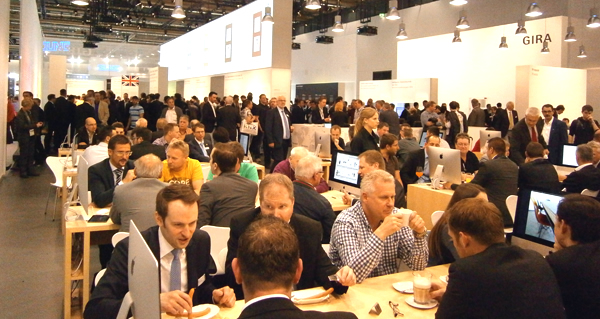 Here are some highlights from the larger stands:
There was plenty to see on the Gira stand, including the Gira Esprit switches that will have a linoleum finish by the end of the year, and the G1 touchscreen that is native KNX and has an optional temperature sensor. Planned to be available in the UK by 2015, this whole-room controller connects through a Gira IP router and uses PoE.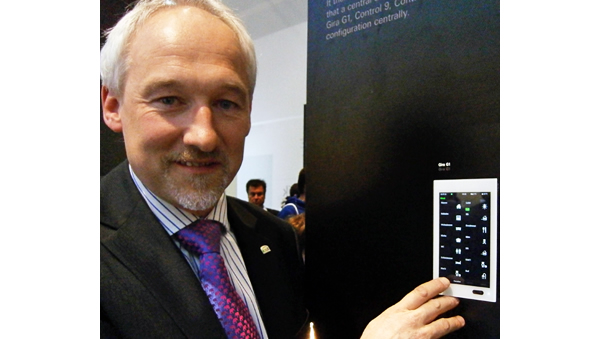 Among the products on show at the Theben stand was the theServa S110 KNX visualisation app for lighting, blind and room temperature control via smartphone or tablet. theServa S110 KNX system has the ability to prepare buildings to take advantage of anticipated weather conditions by responding to an electronically-transmitted forecast signal. Also on show was the new MIX2 range of modular actuators and dimmers. The base devices come with a conveniently-removable KNX bus coupler unit (BCU) and can be flexibly combined with MIX2 extension modules.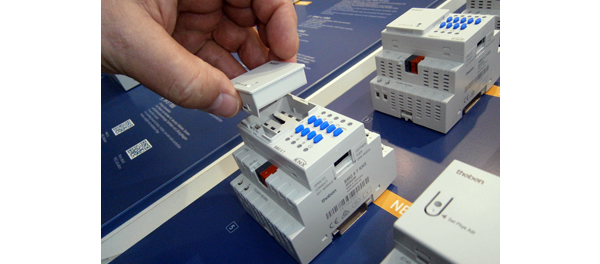 Siemens was showing web operation of integrated KNX applications featuring the new RDF800KN, a touchscreen-based thermostat to which fans and valves can be connected directly. It is simple to commission, using DIP switches, although a list of around 100 parameters is available.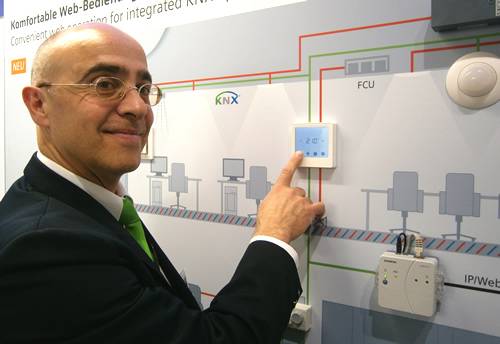 Among the new products on show at Jung was a range of push-button room controllers including the F50 that can be used for temperature sensing and control, or as a light switch. A pushbutton extension module can be located up to 30m away from the BCM, which can reduce costs significantly.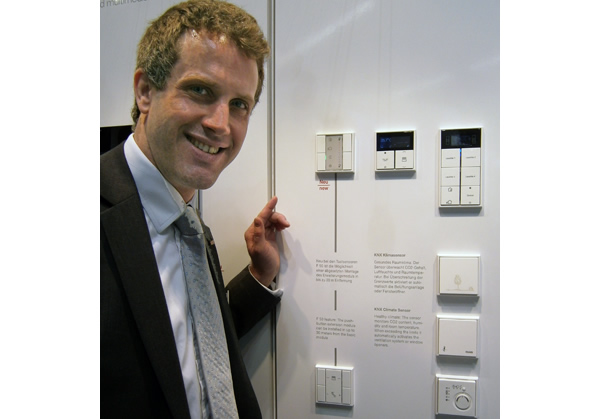 Among the products on show at ABB were the Millenium KNX sensor – winner of the KNX UK Product Award in 2013; an ABB dimmer that works with all Philips Master LED luminaires; door entry and access control systems, and the MOOOVn GROUP software for visual programming of ETS4, that is available through the KNX Shop.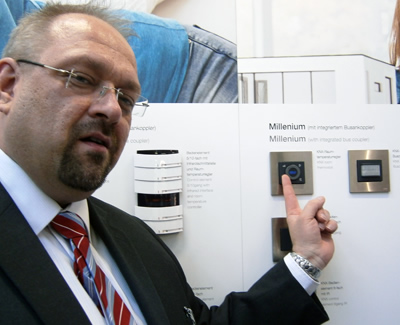 New on the Somfy stand was the Animeo KNX RS485 motor controller for perfect positioning of blinds and control of Somfy's relatively new very quiet motor. Up to six motors can be controlled in parallel. Also new was an EnOcean module for the Animeo 4 AC Motor Controller with radio module. The motor controller can also act as a gateway to the wider KNX system via an RF remote.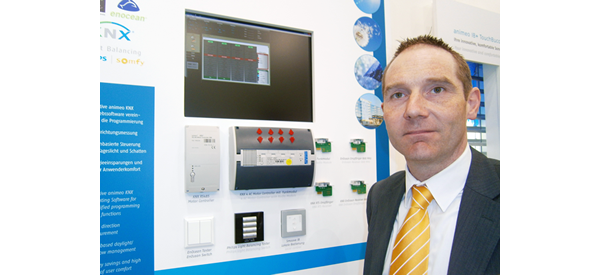 Apps
The message from this year's show was 'Explore Technology for Life – the best energy is the energy that is not consumed.' What is really impressive is that both the German Association of the Electrical and Electronics Industry (ZVEI) and the Central Association of the German Electrical and Information Technology Trades (ZVEH) were there in full force and driving the move towards greater energy efficiency.
The ZVEH's KNX-based E-Haus exhibit included several rooms arranged as a networked house connected to the smart grid, and which could generate its own electrical and heat energy using fuel cells, wind and PV. The E-Haus used just one app, namely iRidium mobile, to control A/V, webcams, security, HVAC, lighting and motorised window treatments, as well as monitor temperature, and energy generation and consumption, all from a smartphone or tablet.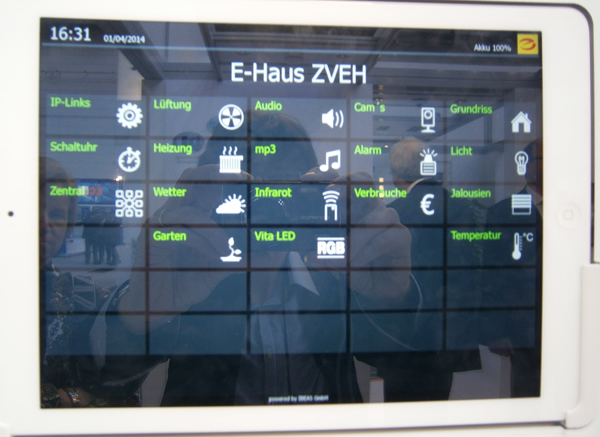 It was noticeable how many companies are now offering apps for smartphones and tablets, and how many have created graphical object-based interfaces, not only for control by the user, but to help the installer with programming too.
Control
As well as showing door entry solutions, Iddero, perhaps best known for its standalone touchpanel visualisation with integrated web server, was also showing the new Iddero Home Server web server for smartphones or tablets. The Home Server is planned for launch in Q3 this year.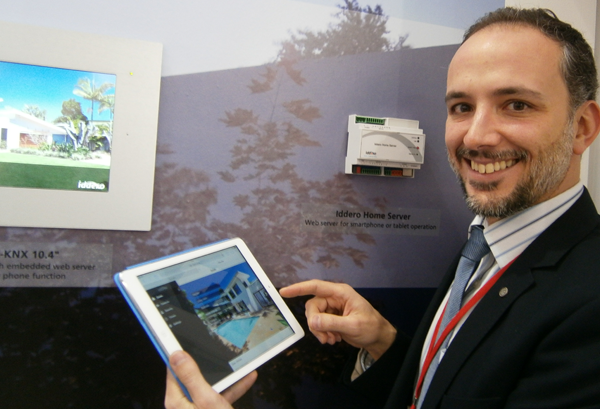 The Enertex SynOhr is a room controller with voice control. It has sensors for temperature, humidity, light, RGB and sound, and its touch-sensitive panel has push-buttons that allow set points to be modified.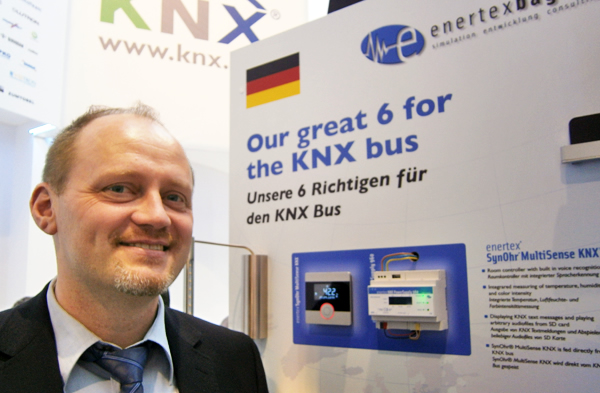 Controlling AV
The integration of AV control into KNX systems is an area for potential growth, and it was encouraging to see how many companies are tackling this issue. ThinKnx for example, knows what the challenges are, as it is also an installation company. It has therefore developed a visualisation system that is designed to be very easy to use and customise, and which can control everything including AV.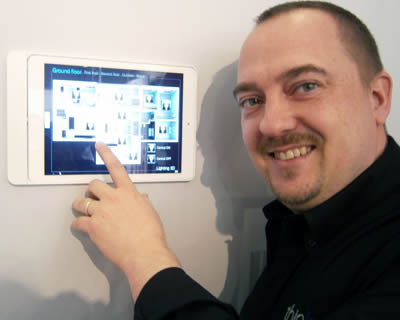 Intesis was showing HouseinHand, an app that controls KNX installations via smartphone or tablet. It requires no specific hardware and can communicate via any standard IP gateway for control of lights, HVAC, blinds, and much more, in real time. It can control AV equipment via IRTrans or Global Caché and can also visualise IP cameras.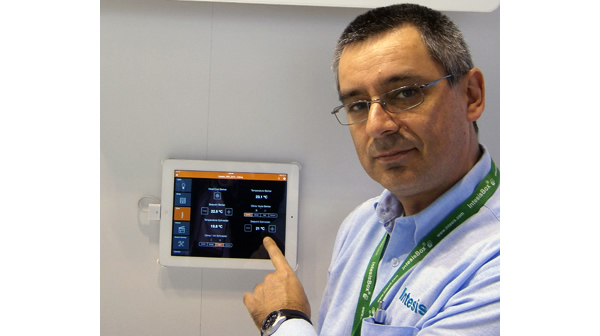 Gateways
There were plenty of gateway products to other building control protocols on show. EAE for example, was showing a DALI gateway that connects to any DALI system, and B-control Alliance was also showing its Multi-I/O that can connect KNX and DALI. This device has a wired back plane that unclips from the processor unit for easier installation.
Meanwhile, FieldServer was showcasing the QuickServer KNX Protocol Gateway that enables data access from KNX networks to devices and networks using open and proprietary protocols such as BACnet, Modbus, LonWorks, Metasys N2 by JCI, EtherNet/IP SNMP and more.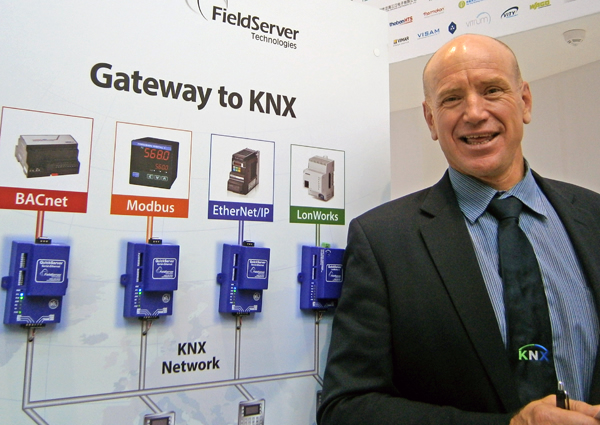 Sensors
Whatever your requirement, there seemed to be a sensor for it. Elsner for example, was showing a line of products that can react to the weather. The weather station Suntracer KNX sl monitors wind, rain, brightness, temperature and air pressure, and includes GPS and shade control. The outdoor sensor Vari KNX is available in different versions, with sensors for brightness, humidity, temperature and air pressure in various combinations.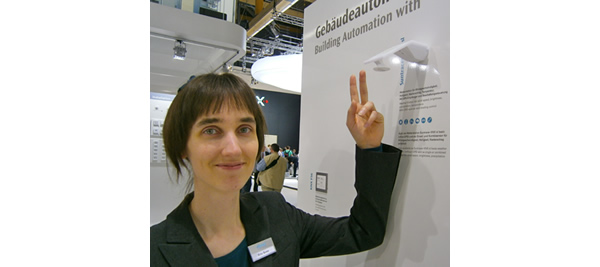 Steinel showed four different types of presence detector, including IP, ultrasound, high-frequency and the HPD1 human presence detector that uses a camera and recognition software to count the number of people present.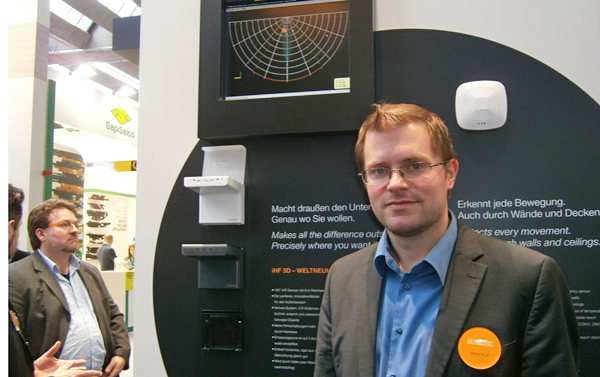 Beautiful Switches
There were beautiful KNX switches everywhere, from linoleum finishes, to plastics, ceramics, stone and metal, with and without displays and push-buttons, touch-sensitive, with and without temperature sensors and more. Whatever your customer requirements, there is bound to be a high-quality KNX switch to suit.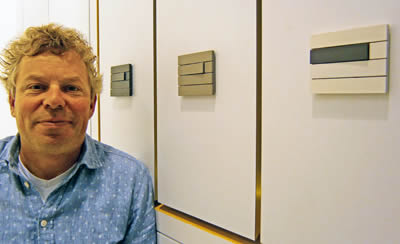 Conclusion
Light+Building 2014 was massive, not only in terms of physical size, but for the world of KNX. Everyone we met was bowled over by the sheer effort that had gone into the show, by the overwhelming number of companies behind KNX and the wealth of products and applications covered. Although the show is large with a huge number of visitors, it is not a scrum and there is always the opportunity to talk to the right people in a civilised environment.
Finally, well done to the event organisers, to all of those manufacturers and suppliers for their great exhibits and hospitality, to KNX Association for a magnificent effort and a great TOP event, and to all of those visitors for making it a truly great show. We have been enthused, and I am sure this will keep us going for at least the next two years!
Yasmin Hashmi is the Editor of KNXtoday magazine. The highlights covered here are by no means exhaustive, so for more coverage of the show, please refer to our Light+Building spotlight page.
You are welcome to comment on this article. See below.