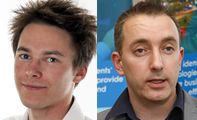 By Duncan Greene and Chris Topham, Abtec Building Technologies.
This year, there were two good reasons for us attending Light+Buidling: the KNX TOP Event in which we participated as a KNX Award Nominee; and to see as much building automation technology on the show floor as we could. Here is our roundup of the five main things we learnt:
1. Evolution Not Revolution
Our overall feeling from the exhibition was that there were very few new, revolutionary products or services. We saw a lot of products that had evolved from the last show; smaller, faster and often better. An example of this was the unveiling of ETS5.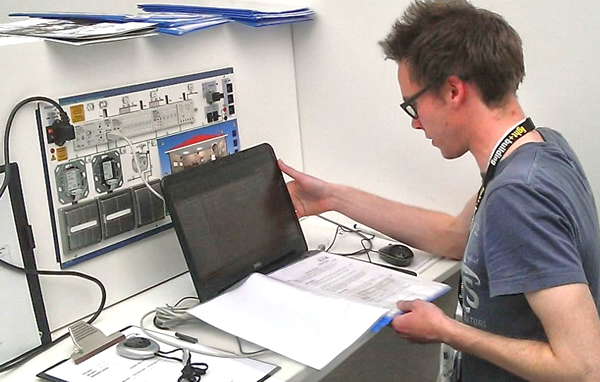 KNX Association has clearly listened to its users and developed a streamlined, more flexible tool. One of the important updates is the removal of project databases. This should make it faster to load and work on projects – a welcome step. ETS5 will also offer native support for RF and will have a new dongle with project storage space built in.
We always use large monitors when configuring projects with ETS4, so it was great to see that the ETS5 interface has a more intelligent use of space. Tablet support will be available too, albeit only Windows Surface at launch – ideal when commissioning on site.
2. KNX Continues to Take Over the World
The list of nominated projects for the KNX Awards, presented at the KNX TOP Event, is testimony to the fact that KNX is taking over the world. Europe, Asia, and now South America were well represented. This growth should be a catalyst for new innovation. We are sure that we will soon see new user countries developing new products and services around the KNX standard to meet their markets' needs. These services will benefit us all.

Growth also offers peace of mind to customers and clients. For example, multinational corporations will be reassured that they are investing in a worldwide standard and that their buildings' controls can be standardised on a global basis. There are obvious infrastructure challenges with the US, but from what we hear, KNX is even gaining a foothold there.
3. More Focus on Homes than Commercial Buildings
Our gut feeling was that some manufacturers were pushing home automation services over commercial buildings as there appeared to be more stands targeting the home. Do manufacturers view the commercial market as more settled, with growth coming from residential? That could be a challenging view to take if they do.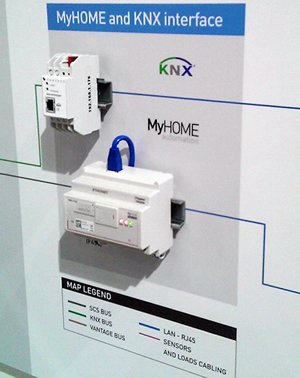 We looked at the variety of ways home automation can be achieved, and it is quite confusing. KNX control is no longer just for the high-end residential market. There were plenty of KNX services offering total home automation, including security, lighting, heating and audio/visual control, that were targeted at those of us who are not oil or gas oligarchs. Then below these, were the companies offering partial automation, such as lighting and heating only. Finally, there were companies offering single elements of control, such as Wi-Fi lighting control or automatic heating control, each with their own proprietary protocols. It is great for consumers to have a choice, but too many choices can lead to confusion and inertia.
4. Security – is this the Elephant in the Room?
There was even more talk about the 'Internet of Things', with most of the control devices on show connected to the web in some way. We are all for connected devices as they offer fantastic benefits such as the remote configuration of set points or harvesting control output data. However, no-one spoke about network security.
It is estimated that by 2020, 75 billion devices will be connected to the Internet . We seem happy to plug an HVAC unit or home fridge into the Internet, yet at the same time, we all know the dangers of surfing the web without appropriate device security.

The specifications of KNX version 2.1 are the first to contain KNXnet/IP communications security built in. We see this as a growing and serious issue. We have even developed training for building service engineers that covers the simple steps to take to secure devices and applications connected to the Internet. Perhaps at the next Light+Building Exhibition we will see more on security.
5. Philips Connected Office Lighting – a Game Changer?
Perhaps the only industry game changer we saw was Philips Connected Office lighting. Whilst there is nothing new in what it does – network controlled lighting, built in PIR harvesting occupancy and temperature level (but bizarrely not ambient light levels, so it does not automatically dim if ambient light levels are strong enough) – it is how it does it that could be a game changer.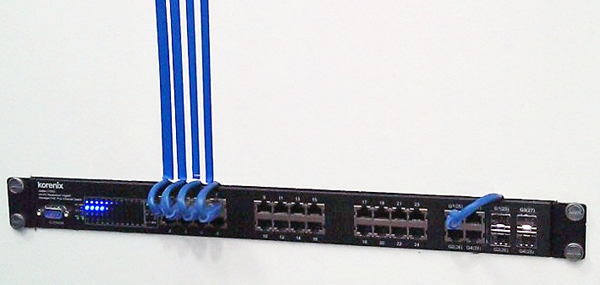 Power over Ethernet could be a great way forward, not only for environments where DC would be preferable, such as oil and gas platforms, it could require fewer cables to install too. With each luminaire requiring an individual IP address and switch port however, that cost saving could soon be eaten up by the number of additional managed switches required to run the system.
It is interesting to note that Philips has opted for the worldwide standards of IP and Ethernet to power the luminaire and transmit data. Yet guess which worldwide standard it has chosen to control the luminaire? None. It has decided to build its own protocol. We will leave you to think about what this could mean for KNX.
Duncan Greene is a Project Engineer for Abtec Building Technologies, and Chris Topham is Head of Marketing for Abtec Group. The Abtec Group includes Abtec Building Technologies Ltd, a building automation organisation and Abtec Network Systems Ltd, an IT networking specialist for the construction industry.