By Sophie Thomas, Ivory Egg.
Fresh off the plane from Frankfurt and the world's largest trade fair for lighting and building technology – Light+Building 2014, the Ivory Egg team is full of enthusiasm for what we have seen.
With two 'first-timers' in the Ivory Egg group, namely Nikita Thompson and Matt Emberson, and our long-lost colleague Colin Price in tow, sprits were high ahead of the show, as we were all keen to see what was new. We had heard a few rumours from some manufacturers, and needless to say, we were not disappointed!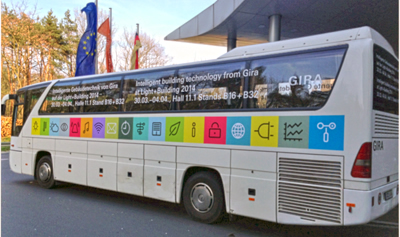 The Messe saw a record-breaking number of visitors this year, topping 211,000, and this overwhelming figure certainly reflected an increase in the number of visitors who were interested in KNX.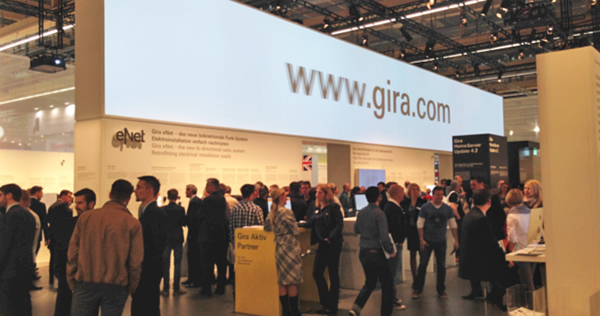 KNX Everywhere
Moving between Halls 8 and 9, the hub of the building controls and automation action, you could not fail to notice the 'KNX City' dominating the Galleria space. The KNX City was a place to learn and train. To compliment the official launch of ETS5 at the KNX TOP Event – an awards ceremony and networking opportunity – those who were keen to learn more about the latest version of the programming software that is due to hit the market in October 2014, could satisfy their curiosity here.
KNX professionals were on standby, ready to talk all things KNX, with a backdrop of example KNX projects using products from some of the 340+ KNX manufacturer members worldwide. This was most definitely a zone of inspiration and motivation for current and future KNX partners.
The presence of KNX was strongly felt all around the fair, with Association booths comprising 'pods' for different exhibitors, crossing our sightline at each turn.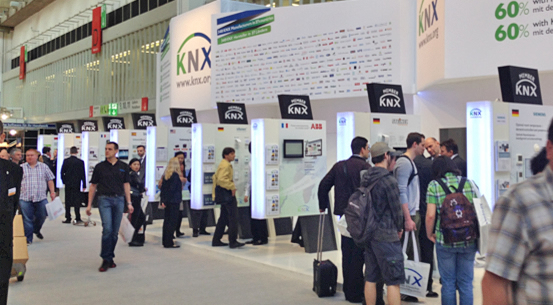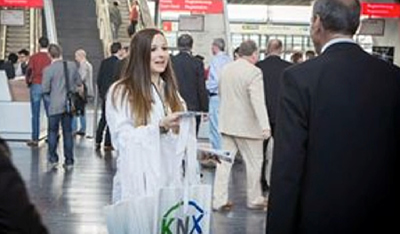 Also noticeable was the prevalence of the KNX logo on the many booths in halls 8, 9 and 11, reinforcing our feeling that KNX is now the protocol of choice.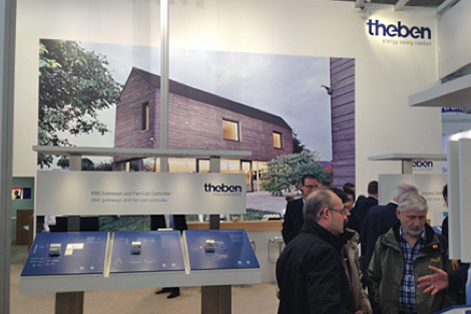 The Ivory Egg team was keen to get around and visit as many of the booths as possible, and this meant having a plan of action to ensure we covered as much ground as possible.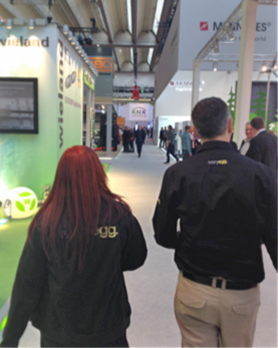 Switch Plate Trends
Within the first few minutes of tackling the vastness of the fair, it was plain to see that from a design perspective, natural elements such as glass, stone and metal with a high-end twist are most definitely in vogue when it comes to switch plate design, with a great emphasis on clean lines.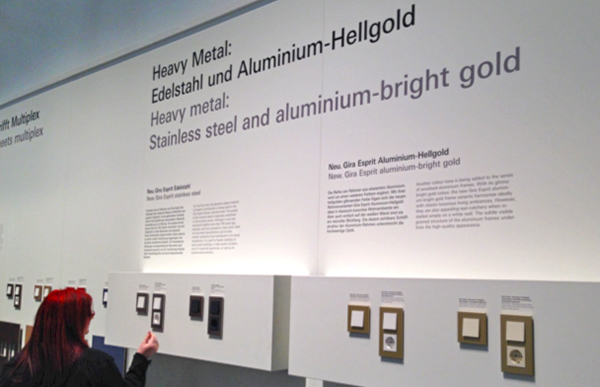 Also popular were switch plates and frames with vibrant colours which will no doubt be popular in commercial KNX projects such as educational environments.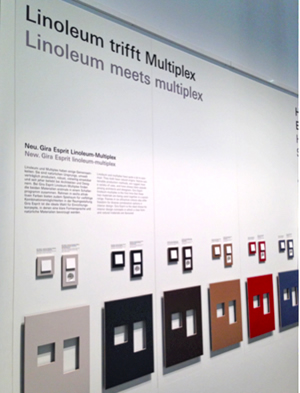 Interestingly, there was a significant increase in the number of manufacturers offering switches that are KNX compatible, with some still favouring the use of binary inputs to interface with KNX. Over the coming years, and certainly by the next Light+ Building in 2016, we hope to see even more native KNX switches.
User Interface Trends
The user interface has always been a key selling feature of control products and the beauty of KNX being an open standard means there are more options than ever. The popularity of tablet or phone control will certainly not be dying out any time soon though, and to our delight, Gira announced the launch of the G1.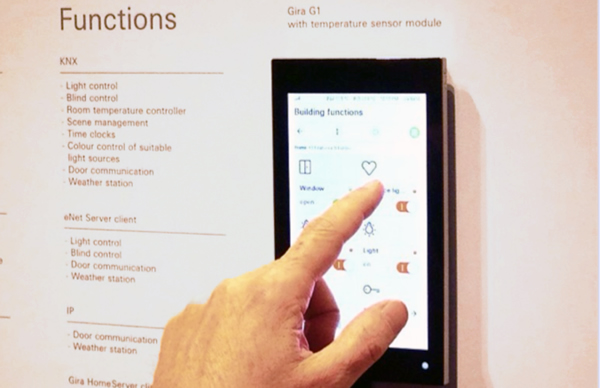 As Colin puts it, "Gira really pulled it out of the bag this time; when I heard about the concept of this product I had to ask myself why would anyone try and compete with Apple by launching a wall-mounted 6″ touchscreen? Well, when it's done this beautifully and with this much functionality then the point is moot. The G1 will be a hugely successful native KNX IP product, and is far and away the most advanced building control interface I've ever seen. The GUI design is very attractive and intuitive and allows seamless management of all of the expected controls. Easy to install, requiring just one European backbox and with built-in logic and a smart aesthetic, the G1 is the definition of intelligent control."
Logic Modules and Actuators
As the world of KNX grows and the applications of the protocol become ever more innovative and varied, manufacturers must keep up with KNX partners' demands for systems that go above and beyond. Bringing more KNX logic to the party is a step in the right direction, and here Nikita talks us through her favourite product launch at Light+Building 2014 that is sure to be a hit with KNX integrators.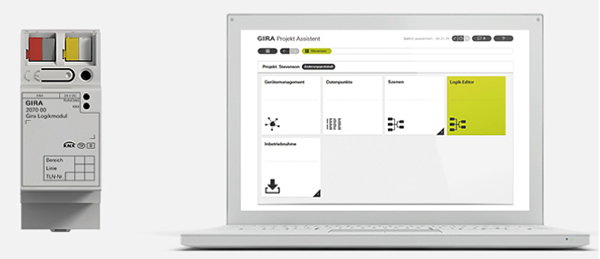 "From the functionality and the ease of programming we saw during the demonstration at the fair, the new release of Gira Logic Module is going to be welcomed with open arms, as it offers a number of logic blocks and sits directly on the KNX Bus. It will be an extremely handy device to cope with the extra functionality requested by end users that requires more logic than a standard application. This logic module uses the new Gira Project Assistant, allowing projects to be parameterised easily and modifications to be done quickly via drag and drop. With a release later this year, this is a product I am keen to have a 'play' with."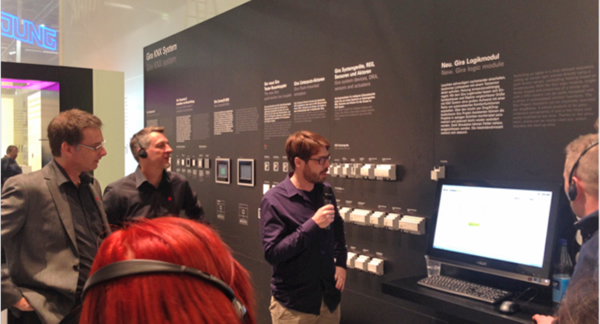 Another favourite is the new FIX range from Theben. This takes the well-known format of the MIX series and introduces fixed-width modules with a view to keeping the manufacturing cost down. This is an exciting development, especially given the MIX series is already very price competitive, so keep an eye out for an upcoming launch.
Another treat from Theben is the new HMG. Most integrators are already familiar with this product and how great it is at controlling heating manifolds, but Theben has taken the next step by including regulation in this actuator. In reality, this means that all that is needed for HVAC control is the room temperature and a set point to be sent over the bus – the HMG will do the rest.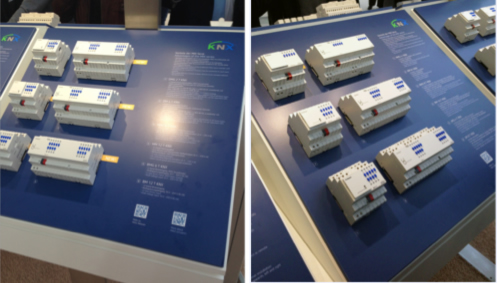 Audio Progress
AV control and distribution is big business in the custom installation realm, but there has been a perception that KNX has not been as strong in this field as it has with HVAC and lighting control. Those days are numbered, especially with another big player, Savant, releasing integration with KNX that was shown at ISE 2014, and Basalte introducing its Asano audio system at Light+Building 2014 with direct KNX integration – no gateway's needed!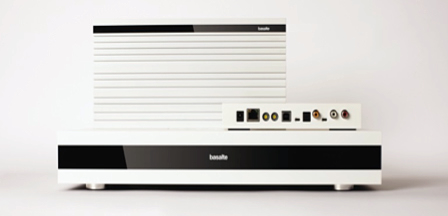 According to Scott, "Basalte has been busy launching a range of high-end KNX audio devices under the Asano brand. The system is now complete and includes some fantastic additions, allowing control of the Asano audio system and other KNX devices from a Bang & Olufsen (B&O) Beo4 remote handset. For engineers who use ETS on a daily basis, the ability to configure and control an entire multiroom audio system over ETS offers huge advantages in both set-up time and simplicity. For an end user, particularly a B&O user, the attractions are huge – high performance audio with a very simple user interface via beautiful Basalte wall mounted switches, B&O remote handsets and of course phone and tablet apps. It not only integrates with, but is an integrated part of your whole-home KNX building control solution."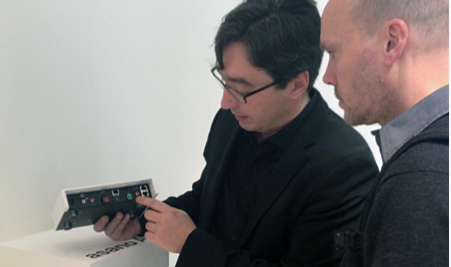 One of the major plus points in using KNX for building control is that there is no need to rely on a central control unit – this means there is no single point of failure. However many integrators choose to use products that can act as a 'brain' in order to achieve higher logic functions for projects that are more complex, and this brings many positives such as the option to access the building remotely for monitoring or security for example. New at Light + Building 2014 was the announcement of the Theben 'theServa.'

As Matt puts it, "My favourite feature of theServa is the simple and well-designed GUI that is light, intuitive, offers plenty of control and visualisation and suits the family home perfectly. Everything from lighting to climate control and blinds can be can be configured with simple-to-understand icons, and energy and load management can be easily visualised on a tablet, smartphone or PC/laptop. Other useful features include the possibility to integrate IP cameras into theServa as well as colour mixing of RGB LEDs and alarm management with SMS notification.
Conclusion
For first-time visitors, Light+Building 2014 certainly lived up to expectations. Undeniably there is a large focus on the lighting community, but this fair holds more than enough of a draw to attract the attention of those involved with KNX. It provides a great opportunity to see the ever-growing commitment that manufacturers have to producing KNX products, and encourages those who are contemplating working with KNX, be they systems integrators, M&E contractors, or facilities managers, that they are making the right choice.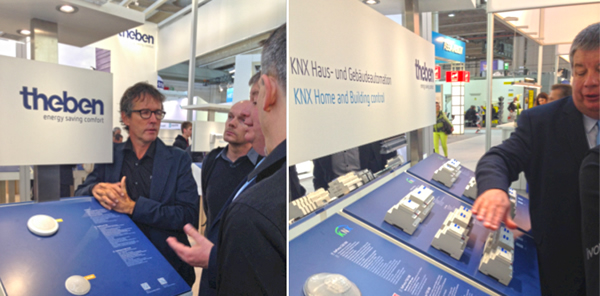 There is a solid and growing future for KNX. The innovations exhibited show an understanding of the end user's desires, while offering integrators more choice and functionality. All of this helps to spur the market on, and now that KNX has become the standard in China, it will be interesting to see what the next Light+Building will bring.
Sophie Thomas is the Marketing and Events Manager at Ivory Egg (UK) Ltd, a supplier of leading KNX products and provider of KNX training courses. For more information on other new product releases at Light+Building 2014, take a look at the Ivory Egg blog.
You are welcome to comment on this article below.