As part of Vimar's 'Well-contact plus' KNX product range, Eikon offers various functions all with a coordinated style.
Eikon keeps growing: four new lines of cover plates complement innovative technological features to provide a complete system where luxury finds its highest expression.
Four different designs
Elegance, excellence, prestige: there is no single image of luxury. It is a world of many interpretations that is constantly evolving. And when it comes to energy, this is the world of Eikon. Here every idea of luxury finds its ideal expression: technological, chic, sophisticated, essential. Four lines with different designs, sizes, finishes and features, but all sharing a common denominator: excellent energy management.
Infinite technological expressions
When the ultimate expression of aesthetics meets advanced features, the result is simply extraordinary: the four Eikon lines do not merely embody contemporary formal elegance, but personify and preserve cutting edge technologies. Like those which bring life to the By-me home automation functions: intuition and simplicity, supporting energy efficiency, full control and total safety. For total comfort, to fit every living desire.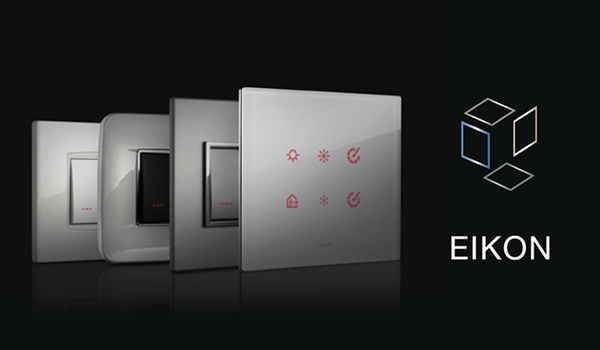 EIKON TACTIL – The future is now
A technological jewel as pure as a diamond, as light as a feather. To transform your everyday gestures into exceptional moments.
Love at first touch
Touch the smooth bright surface of the glass and linger for a moment on the precious glow of the crystal finishing. A simple gesture, which this sophisticated touch technology transforms into direct energy control.
Sensitive to your presence
Eikon Tactil is home automation intelligence, it reads your mind: the proximity sensor on the home automation system controller brings it to life as soon as you come near the device, one step ahead of your movements. The controls light up, ready for your touch.
Preciously transparent
Unique purity, this surprisingly precious material: Eikon Tactil crystal is an unmistakeable signature that stands for sophistication blended with extraordinary strength. In four colour variants, to match any style. The backlit home automation controls can be customised with RGB LED lighting.
EIKON EVO – Luxury is unveiled
A tribute to the beauty of the shapes, fine finishes and functional elegance. To give your rooms unparalleled charm.
Imperceptible seen from the side
An impeccable, lightweight, slim silhouette that stands out just a few millimetres from the wall, with axial buttons. Viewed from the side, Eikon Evo is unobtrusive and delicately appealing, in line with the latest interior design trends. An airy lighting point with a charming suspended effect. The design created for Eikon Evo in aluminium, wood and Corian® creates a subtle separation from any imperfections in the wall, producing a fascinating suspended effect that emphasizes the finishes and premium materials.
Masterful geometries
Shapes that are designed to catch the eye, in sizes that are unobtrusive on the wall: Eikon Evo flaunts a sophisticated and well-defined image that embodies the aesthetic principles of Vimar. A cover plate that gives prominence to the premium materials and finishes.
Unique materials
Eight different ways of being, living and interpreting luxury. The Eikon Evo styles are inspired by the latest living trends, embodying and enhancing them in a unique and personal way with original combinations of materials, colours and finishes. So you can freely choose a decor style to suit your personality.
EIKON CHROME – it's all in the details
A new definition of style where the details take centre stage. To stand out without imposing.
Instantly recognisable
Beauty is concealed behind the detail. Such as the chrome-plated, shiny and smooth Eikon Chrome frame that surrounds the buttons and controls. A distinctive feature that highlights a sophisticated look.
Both perfectly formed
Symmetrical, rigid lines or smooth, rounded edges? Eikon Chrome responds to all needs with its Classic and Round designs. Two ways of being and appearing that have been matched with different finishes and materials that, just like clothes, perfectly fit your chosen shape.
Eclectic materials
The materials are multiplied by five, the colours interpret with amazing exactingness many different living styles: the versatility of Eikon Chrome always keeps impeccable formal elegance. All thanks to the chrome frame and an innate propensity for refinement.
EIKON TOTAL LOOK – colour coordinated
The highest expression of simplicity, in shape and colour. For control with no compromise.
Essential colours
Light and bright white, elegant and refined anthracite grey, modern and technological Next silver: Eikon Total Look, with three different colours, expresses the beauty of the absolute. The buttons and devices perfectly match the colour of the cover plates and the frame around them, enhancing the monochromatic style.
Two-fold shapes
Two shapes, two different characters: Eikon Total Look Classic looks sharp, rigorous and linear while Eikon Total Look Round shows a softer, curvier and smoother side. To choose the design that best enhances your living style.
Distinctive material
Metal as a functional and aesthetic choice for a line where buttons and cover plates coexist in perfect colour harmony. In white, anthracite grey and Next silver, brightness is a material too.
Sensory technology – Energy management
Spectacular from any point of view
The technology functions are also superior in visual quality: the 10″ multimedia video touch screen communicates what is happening inside and outside your home with high-resolution images with matching, customizable graphics. In addition, the web interface offers remote control via smartphone, PC and tablet. So you always know what is happening even when you are not at home.
Precise in its communication too
Technology is also this: a 4.3″ touch video door entry unit with a wide screen display that enables total management of all the video door entry and home automation functions. To give you a wonderful welcome right from your threshold.
Attentive to your home's energy consumption
The functions applied to Eikon technology provide exact knowledge of the house's energy profile, managing and displaying both the production of energy and the total consumption of the whole house or of each single device. Greater energy awareness that allows you to avoid unnecessary waste.
Coordinated in every application
Technology that allows you to coordinate the appearance of every application perfectly: monitoring, controls and connection to any network. A coordinated, complete control centre, where design stands side by side with functional excellence.
International by vocation
Technology that knows no boundaries and adapts to the standards and modularity of each country. Of course, with the unmistakable touch of the all-Italian class of Eikon cover plates.
Choice of colours
Three different colours for buttons and controllers, from light white to rigorous anthracite grey, passing through elegant Next silver. In the name of a technology that has never been separated from design.
Complete control
A wide range of control devices for all your installation needs. Soft-action axial controls, with wireless and battery-free radio-controlled technology, in electronic infra-red or touch versions with home automation intelligence. The whole home obeys your commands, all functions can be coordinated in a scenario and be controlled remotely from a latest generation PC, smartphone or tablet.
Efficient comfort
Touch devices to manage widespread well-being, like music playing in all the rooms, universal dimmers to set the lighting and play with coloured lights, timer-thermostats ensuring just the right temperature at any time of the day, room by room, and modular lighting to see clearly in any situation. Efficient technology that guarantees maximum comfort.
Rational energy
Don't waste energy. Ever! Thermostats that adjust the temperature to actual everyday needs; devices that control electrical loads, monitor consumption and show produced energy; programmable timer-switches that switch the devices on at the right time. Rational management of all your home energy, because Eikon also means energy awareness.
Reliable safety
Excellent technology, silently protecting people and their homes, at all times. And if there's an alarm, you'll receive a text or an e-mail, wherever you are. Different kinds of anti-intrusion alarms; surveillance cameras for every room, gas detectors to report and block any leaks and interlocked sockets protecting against accidental contacts.
Surprising multimedia
Connection to the outside world, or pure enjoyment: technology also means this. Eikon offers extraordinary multimedia performance with is high quality speaker system, the wide range of data, audio, video and USB sockets and its compatibility with iPods, iPhones and mp3 players.
Worldwide standards
Wherever you are in the world, Eikon supplies sockets with different standards, modular controllers and cover plates to help you design, organise and manage energy in compliance with the systems used in over 100 countries around the world.