At light+building, ZVEH will again present its eHaus, powered by KNX.
At the Light+Building 2014, a new, even more modern edition of the the eHaus will be shown in Hall 8.0, Stand J60.
Energy Efficiency and Energy Management in Focus
The eHaus is a 100-square-foot model home that is a prime example of networked, intelligent building. The focus is especially on the issues of energy efficiency, energy management, power generation and energy storage. eHaus shows how energy savings in buildings can be exploited and presents itself as a solution to the global issue of energy turnaround.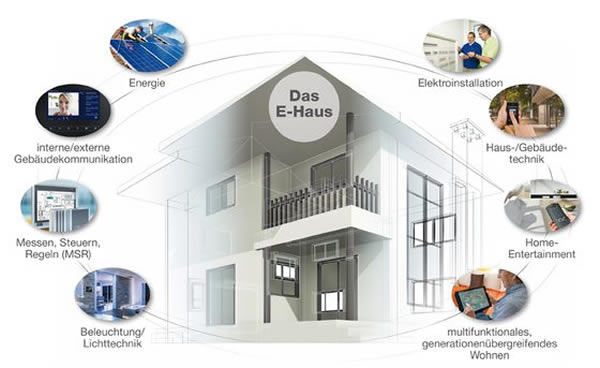 Practical and "live" experience
The highlight: All functions are already available in practice. Thus, the eHaus offers a look at current technology and what is possible in the immediate future. All the systems are available as a "live" experience all areas can be entered. The eHaus is designed to be as transparent as possible with glass shelves offering visitors a direct insight into the functioning of the systems and products used.
Guided tours of the eHaus
The experts of the electrical trades conduct regular tours of the eHaus and are available to answer questions.
About 50 partners from industry
The E House is organized by the German Association of Electrical and Information Technology Trades (ZVEH) and about 50 partners from industry support the project. All products and systems that are used are linked based on KNX the worldwide standard for building automation.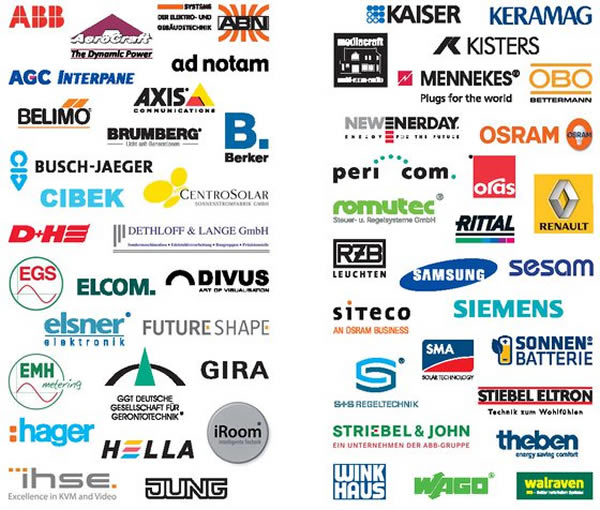 The main systems in the eHaus:
Energy
Air-/Water-heat pump for heating and cooling
Photovoltaic and small wind turbine, fuel cell
Maximizing power consumption/intelligent energy management
DC- and AC-coupled electricity storage systems
networked charging station for electric vehicle
House-/Bullding
Kitchen with energy-efficient networked home appliances
Bathrooms including mirrors with integrated LED TV
Underfloor heating with individual room control
Window ventilation with burglary safe parallel guide
electric transparency control of windows
Operation of the complete equipment via Smartphone and Tablet PC
Electrical installation
crosslinked by KNXnet / IP and Modbus / TCP
Transparent installation technology in the floor
Fire protection switch for detection of arcs
Fire alarm for the PV system
Installation box for information and communication technology
Lighting / Lighting Technology
only energy -saving LED lighting systems
Control of light-/room scenes by KNX
lighting technology digital control using DALI and DMX
Operation of lighting technology on Smartphone and Tablet PC
Internal / external building communication
Telephone with video image on wall panels, Smartphone and Tablet PC ( SIP / VoIP)
Access Control / arming device with code and chip
Alarm system with tablet operation
Surveillance over controllable webcam with smartphone, tablet PC and PC
Home entertainment
UHD Smart TV
Mirror with integrated LED TV
Multiroom Audio System
standardized operation, control and visualization of all devices by Smartphone and Tablet PC
Multi-functional, cross-generational living
customized user interface for Tablet PC, Smart Phone, PC
Full remote control of all functions (such as lights, windows, heating)
Inactivity monitoring, connection to emergency call center
Sensor Pad, motion sensor, remote monitoring
Shut down appropriate consumer when leaving the apartment
Measuring, Control, Automation (MSR)
Sensor eg. for temperature, humidity and CO₂
Drives for air-and water-bearing media
Manual operation level of Control Engineering with Modbus connection
Visualization process graphics on tablet PC and PC