ComfortClick is pleased to present the new version of ComfortClick Manager, the most comfortable building automation software for system integrators and DIYs. We have been working closely with our users to deliver new functionalities, improve ease of use, and increase flexibility of ComfortClick Manager.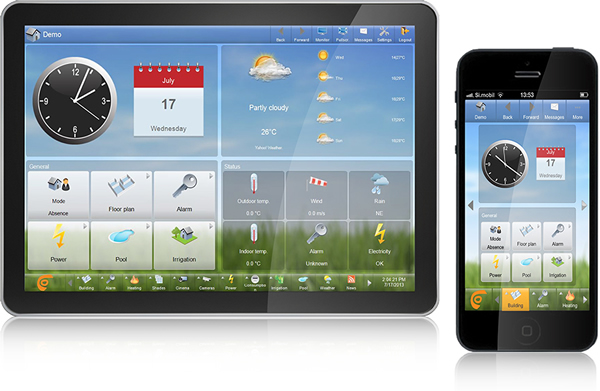 Some of the main new features are:
• ComfortClick Manager supports a wide range of different systems and devices: KNX, Modbus, DSC alarm, Global Caché, IRTrans, XBMC, SMA Solar Technologies, IP video cameras and GSM modems.
• ComfortClick applications for iOS and Android are available free of charge in App Store and Google Play. With only one license you can use the client applications on any number of controlling devices.
• CMPhone – new application for IP (video) door phone system integration. You can see the guest in front of the entrance, talk to him or her and open the doors using your favourite Android device.
• Refreshed, fully customizable GUI which is even more intuitive. Use your own backgrounds, colors and icons or choose from extensive icon library and different skins that come with the software. GUI is automatically adjusted to the size of different controlling devices (e.g. iPhone, Android devices).
• Simplified configuration process – template project with a wide range of application examples is included in the installation package. You can start using ComfortClick without any special training.
• Multilanguage support – English, German, French, Italian, Norwegian, Polish, Portuguese, Romanian, Swedish, Slovenian, Russian, Turkish and Thai.
• Messaging function – email messages can be exchanged between individual users. Especially useful for apartment buildings – users in individual apartments can communicate with concierge. Another messaging function is the transfer of internal emails and alerts to user's email account and mobile phone. Example: energy consumption monthly reports.
ComfortClick Manager is available for download from company's web site. By installing the software you will receive a fully functional version, which will enable you to test it with your building automation projects.
About ComfortClick
Company ComfortClick is a system integrator and building automation software developer. We provide the complete spectrum of services regarding building automation, ranging from consulting to implementation of larger projects including hotels and apartment buildings. The knowledge gained with individual projects is implemented in the development process of ComfortClick Manager software which is one of company's key activities.
For more information please contact us via email info@comfortclick.com or skype: comfortclick or call us on + 386 1 510 15 60, or visit: