By Casto Cañavate, KNX Association.
In today's energy-conscious world, people are looking for intelligent technology to help them reduce their power consumption. KNX is a building control protocol and a worldwide standard that has been adopted by numerous manufacturers of systems for all aspects of commercial building and home control. It supports all communication media, including twister pair, powerline, RF and IP/Ethernet, and can be used in both new and existing buildings.
KNX in the Home
KNX is flexible and can be adapted for changes of use and extensions, and it can help reduce energy costs significantly. As an example, a single family home in Austria, with high energy-saving standards, was implemented with KNX technology by Innsbruck-based integrators Riwitec. The building is a residential home with a total area of 150 square metres, and was designed to be as energy-efficient as possible.
The functions controlled through KNX included lighting, shading, HVAC, data monitoring, energy management, visualisation, interfaces to other systems, remote control and data logging.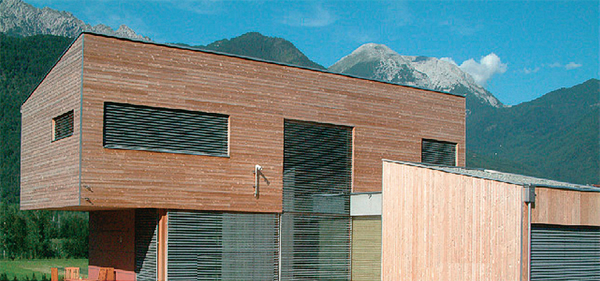 From the outset, the owner had a clear idea of what he wanted, namely modern, comfortable and energy-saving technology that would stand the test of time. It was important to him to have central control of functions and a heating control system that would support standby operation.
The expandability of the system with audio and video control was also a requirement, along with access control of certain areas with visual display, automatic sun shading control, individual room temperature control of the underfloor heating system and a controlled ventilation system. Thanks to the systems used and the KNX control of them, the cost of heating this 150 square metre home have been kept incredibly low, at between 250 – 300 Euros per year.

Optimised Control
The south-facing facade of this home helps to reduce the heating demand in the winter but requires a good shading system during the summer. Depending on the time of year, there are solar gains for up to 14 hours a day. The building is heated with an air/water heat pump, which is directly connected to the KNX control system and heat storage within the floor slab.
The heating system not only provides the ventilation, but also the domestic hot water and the heating supply. A cross-flow plate and frame heat exchanger recovers 90% of the energy from the mechanical ventilation system. The challenge for the KNX control system was the interaction between the shading and the heating system – only through the smooth interaction of these could the low heating energy costs of this building be achieved.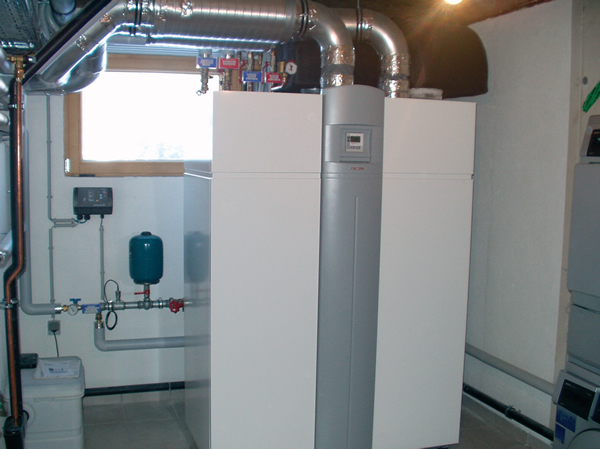 KNX Integrates Many Applications
The KNX certification process ensures that different products from different manufacturers used in different applications will operate and communicate with each other. This is exemplified by the Innsbruck installation, in which lighting, shading, heating, ventilation and cooling system functions are integrated with KNX products. Dimming and switching actuators were used for the lighting system and were installed in sub-distribution cabinets. The sun-tracking and temperature-controlled shading system were integrated with a weather station, and occupancy simulation was programmed in. Lighting scenes can be accessed via push button sensors, touchpanel or PC, and the blinds have been included in the lighting scenes.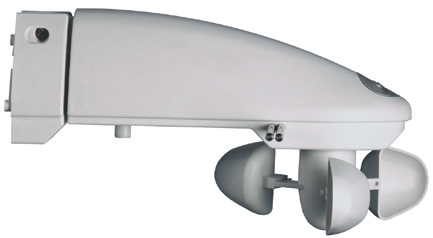 The individual room control can be set to comfort, standby, night reduction or party mode. There is underfloor heating controlled via Theben actuators and push-button sensors with integrated room thermostats. A Gira Homeserver provides not only a visualisation system and access control to the house, but also an interface to the Internet which allows the use of email and SMS functions for the KNX system. And to top it all, a KNX multiroom audio control system was also installed.
Energy Savings
When compared with traditional energy control methods, using KNX to automate a building's lighting, heating, air conditioning and ventilation systems as well as other systems, can result in significant savings in energy costs. Indeed KNX has been shown to result in savings of up to 60% and more for lighting, and up to 50% for individual room control. KNX can be used with presence detectors for the control of lighting, shading, ventilation and heating, and KNX systems can be programmed to provide individual room control as well as timed automation.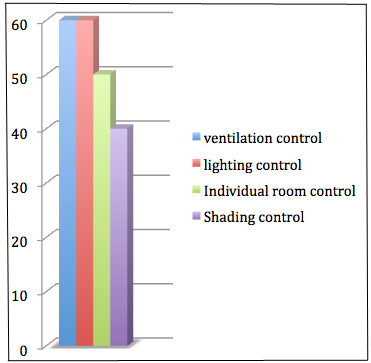 In the case of retrofit in which a building has been modernised in terms of energy efficiency and electrical installation, KNX control technology can still contribute to the efficiency gain by at least 5-20%.
Conclusion
Automation using KNX offers many benefits. It is a flexible electrical installation that can be adapted for changes of use and extensions. It offers more efficiency in the management and maintenance of the building, increased security for material assets and people; and a higher level of comfort and well-being in the workplace. Perhaps most importantly however, is its energy-saving record. The demand for energy management will only increase, and by offering proven KNX technology to satisfy this need, system integrators will ensure a healthy future for their business too.
Casto Cañavate is the Marketing Manager for KNX Association. KNX is the worldwide standard for home and building control.