Yasmin Hashmi reports on KNX Association's impressive presence at the recent IoT Solutions World Congress held at the Fira Barcelona, 31 January to 3 February 2023.
The IoT Solutions World Congress (IOTSWC) 2023 was collocated with ISE 2023 at the Fira Barcelona, Spain. KNX had a large presence at both events, and was keen to show off its IoT credentials to an eager audience. As KNX Marketing Manager, Casto Cañavate, explained, "The IoT expands the possibilities for connecting new applications for dynamic, innovative solutions to smart homes and buildings. It is important to be present at the IOTSWC because we want to promote our revolutionary new open-source KNX IoT software stack, show off our new startup companies and meet new ones."
KNX Association had a KNX Startup Pavilion at the IOTSWC, featuring 5 startup companies, each with a fascinating array of new products and applications. KNX Association staff also gave presentations in the main auditorium, and hosted the KNX IoTech Forum on the last day of the show.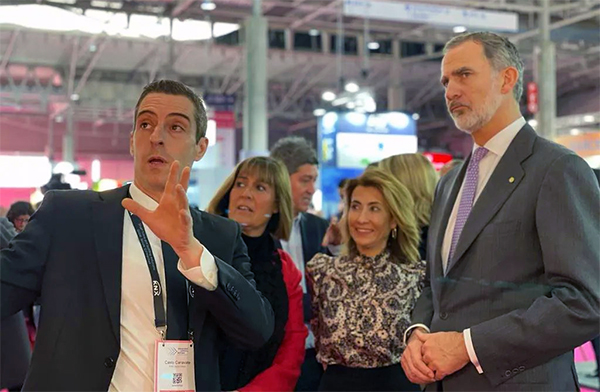 KNX Startup Pavilion
Responsible for System & Tools for KNX Association, Roberto Davico fronted the KNX Startup Pavilion in at the IOTSWC, where he provided hands-on sessions for those interested in developing KNX IOT-based solutions. He showed what materials and tools are available for third parties to start integrating their (software) solutions in KNX; with step by step guidance on how to configure embedded devices and how to interact with the KNX programming tool ETS.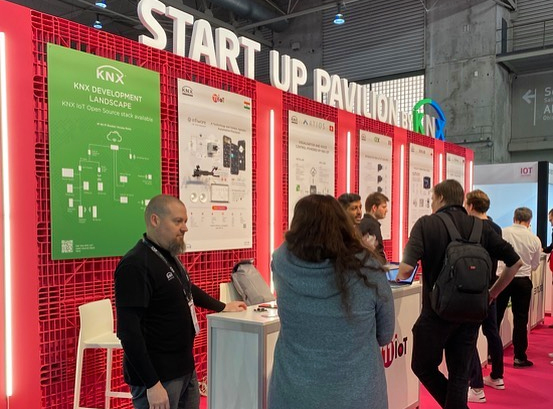 From Switzerland, Atios was showing its KNX Bridge with Apple HomeKit support, and its Smart Core stand-alone device for controlling up to 12 x 16A loads using Apple HomeKit. Integration of Matter, which allows compatibility with Google Home, is currently being developed, as is a free update for the KNX Bridge allowing it to act as an IP Interface for ETS.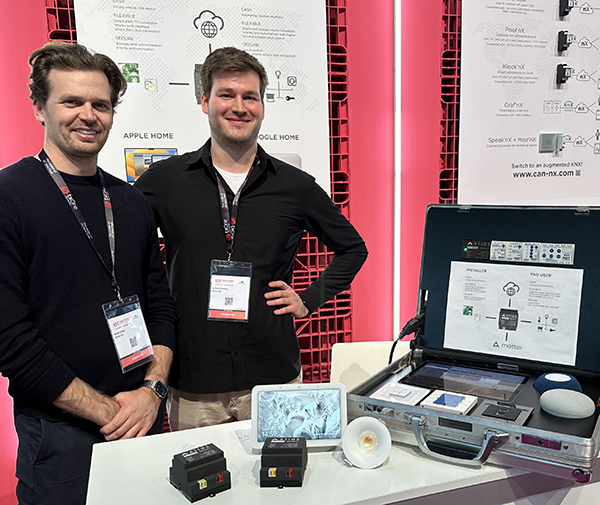 From India, 11IoT demonstrated the infiware multiprotocol router communicating between KNX Classic and the IoT via an IP interface. It also showed visualisation software and the ability to use smart assistants such as Goggle Home, Amazon Alexa, and Apple HomeKit.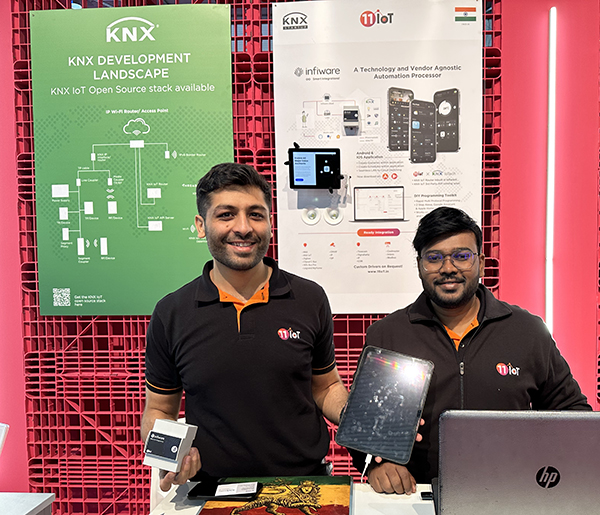 From Poland, Simlab was showing the Simon visualisation software for home asset management that allows customers to connect IoT devices with KNX into one ecosystem. It uses a 3D scan system to create a digital twin of the home, providing on-screen control over switches and sensors, display of files such as manuals, receipts etc associated with domestic assets such as art, appliances and furnishings to be called up, and alerts, such as insurance/warranty renewal, to be put in a calendar. In addition, it provides a ticketing system to alert a facilities manager of maintenance issues, etc.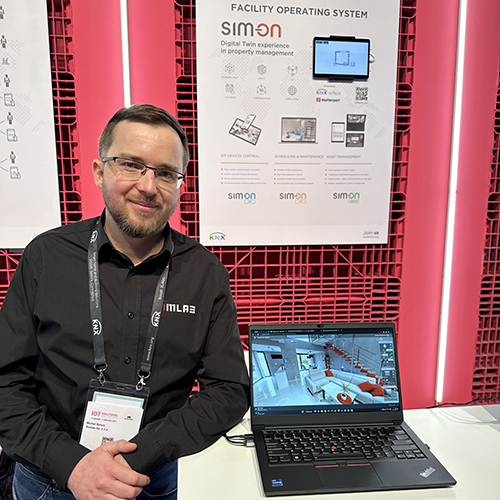 From France, Can'nX was showing a range of new products including the Klock'nX smart astronomical clock that can be programmed using a web interface to create events; and the Aste'nX for simulating natural light according to the time of day, which is particularly useful for places where there is little or no natural light. In addition, the company had a demo unit comprising the Mod'nX 4 input module in combination with the Kloud'nX KNX IoT router and the Speak'nX speaker for technical alarms using audio, display and smartphone push notifications.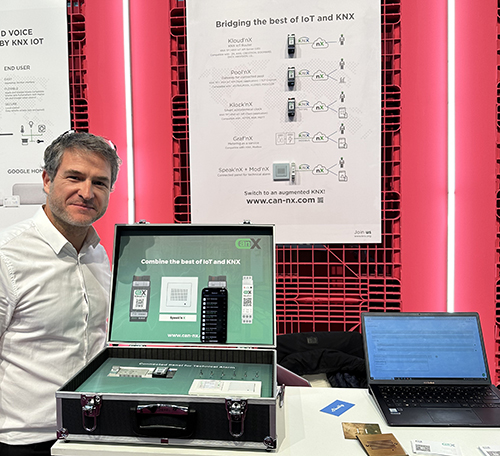 From Germany, Solaregy was presenting its RaffSun photovoltaic blinds system that turns unused window surfaces into sources of green energy whilst also shading against harmful sunlight. It is used in combination with the Solaregy eControl intelligent control system that automatically varies the angle of the slats to generate the maximum electricity yield, and allows the product to be integrated via the IoT with building automation and smart home systems via its new KNX API application.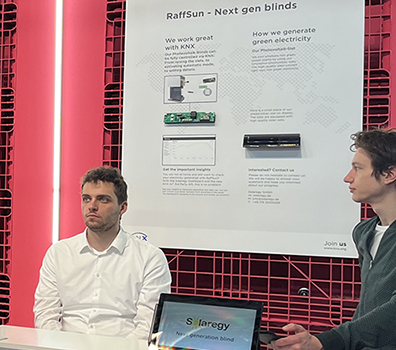 On the last day of the show, the KNX IoTech Forum showcased these cutting-edge startups in a full programme in the main auditorium. Presentations from KNX Association staff included System & Tools Support, Roberto Davico hosting a KNX IoT API applications workshop, followed by CEO Heinz Lux explaining the importance of IP technology and how KNX is leading the industry. Membership & Business Development, Jesus Arias, then showed how KNX IoTech enables the largest IP development ecosystem of its kind, after which System & Tools Support, Christophe Partoens demonstrated KNX IoT Point API technology (i.e. KNX IoT devices). Roberto Davico also provided a demonstration of KNX IoT API technology, where an application client can be developed using the KNX IoT Proof of Concept.
Jesus Arias gave an overview of the KNX Startup Incubator programme, followed by a presentation by RIoT Executive Director, Tom Snyder on the benefits of KNX having joined RIoT to boost the KNX Startup Incubator.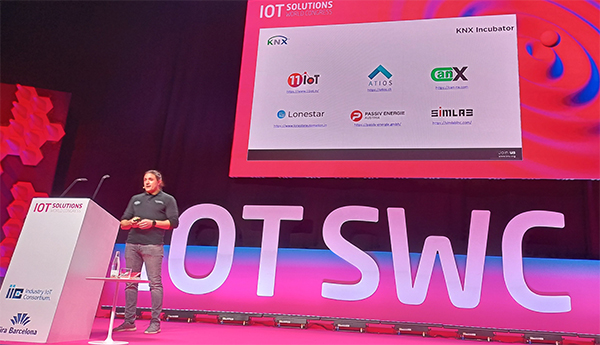 There were presentations from the various startups, plus Cascoda CEO, Bruno Johnson on fast device development using the open-source KNX IoT software stack and Cascoda's Development Kit for KNX IoT Point API. Lorenzo Piro, EMEA Business Director for Aruba, a Hewlett Packard Enterprise company, explained the importance of IP infrastructure in homes and buildings to support KNX, as a leading technology in interoperability over IP. The event was wrapped up by Jesus Arias, who invited delegates to join the KNX IoTech After Party.
KNX addressing the world
In his inspiring keynote 'The future of IoT in Home and building automation', KNX Association CEO and Spokesman, Heinz Lux, explained the three keys advantages of KNX IoT technology (aka KNX IoTech); namely connectivity, interoperability and communication. He pointed out that control systems such as Google Nest, Apple HomeKit, Amazon Alexa and Philips Hue are separate systems and difficult to bring together – which is where KNX, as a worldwide standard, is the natural solution, with over 30 years of experience, 500 manufacturers cooperating towards the same goal and over 8000 certified compatible devices.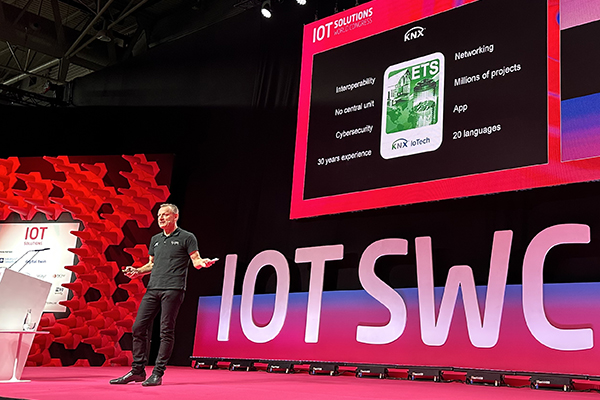 Heinz went on to explain that for the IoT, rather than routers and gateways, we need to use a 'grammar' between devices, i.e. semantic communication, and that this can be done through the KNX programming software, ETS. He concluded by stating that KNX IoTech is going to revolutionise the building control sector, that ETS has everything we need for the IoT, and that KNX is five years ahead of any smart home/smart building technology.
KNX Marketing Manager, Casto Cañavate, provided a thought-provoking presentation entitled 'Setting up the Future for the IoT industry in Home and Building Automation'. He started off by pointing out how the adoption of the smart speaker and the smart thermostat has dramatically increased awareness of the potential for homes to be smart, and how the IoT promises to connect all devices together in one big eco system, but currently, the market is hyper-fragmented.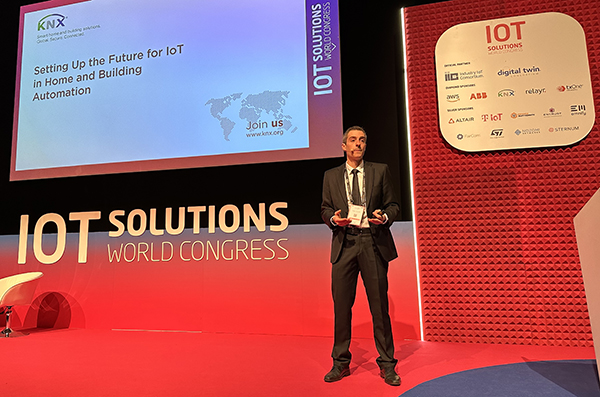 He also raised a number of questions about security, data sharing, whether devices are truly cloud-based or not, open or closed, whether they can be updated, whether they have a long life cycle and whether they are interoperable. He gave an example of how adding one third-party product to a control system is easy, adding a second might be fine if they are truly interoperable, but adding a third or more could start to get more complicated, and so on.
Casto then went on to explain how KNX answers all of these points positively, how security is part of KNX's design, how the KNX Association has embraced the IoT and wants to maintain the highest standards, and how KNX IoT has been introduced as an open source software stack that is freely available on GitLab. This puts it in a prime position to harness the energy of large corporations and startups to use the IoT to make homes and buildings smarter and more sustainable through energy management.
Conclusion
The IOTSWC was a great platform for the KNX Association to promote KNX IoTech. It is showing inspired leadership by providing the free-of-charge open-source KNX IoT software stack, and offering help to new startups on how to get started.
My takeaway from the event was that until now, I had never truly appreciated just what an incredible achievement KNX is. From an engineering point of view, KNX has always made sense to me as a worldwide standard and as a robust, decentralised system, but when you think about it, how amazing it is that nobody investing in KNX is abandoned – at the heart of KNX is backwards compatibility, right to the start of KNX over 30 years ago! Now that's what I call a long life cycle. Should you need to add or replace a product, there are now over 8000 different KNX devices that have gone through the strict certification process, that are guaranteed to work with legacy and new systems. Of what other technology could you say the same?
And managing to get upwards of 500 manufacturers to put egos and rivalries aside and work for the common good, not just over a handful of years but over decades, is a phenomenal achievement, let alone setting up more than 500 training centres and getting 100,000 KNX professionals trained.
The IoT promises a lot, but demands interoperability between systems that is sustainable. KNX is addressing this with its trademark professionalism and energy. These are not empty words – KNX has a proven track record and the right culture to provide a framework for the IoT long into the future, whilst maintaining the highest of standards.
Yasmin Hashmi is the Editor of KNXtoday magazine.