Two in one
JUNG upgraded the KNX system devices and combined two essential areas. The new power supply with IP interface facilitates operations more efficiently.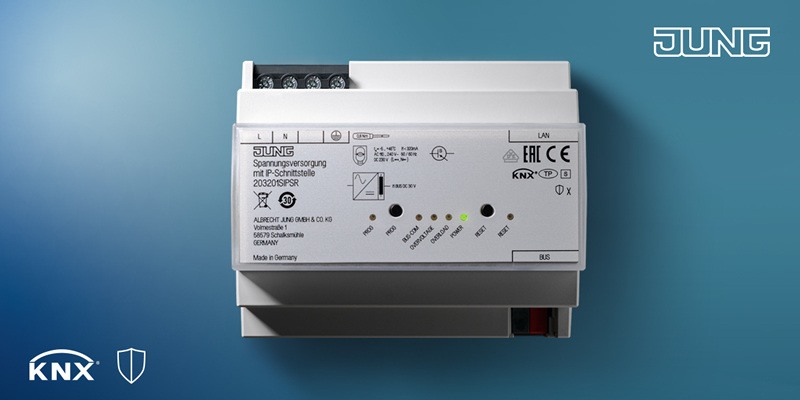 By combining power supply and IP interface, JUNG unites two crucial system devices in a single component, allowing professional installers to implement KNX installations more cost-effectively.
The power supply with IP interface has a reduced installation width of 6 rail units, an outlet to supply KNX users and a status display as well as a reset button allowing installers to quickly restore the desired operating modus. In addition, the device has an application- oriented logic to detect a presence in the room by means of a hotel-card switch, respectively motion detector. This facilitates the choice of components already in the planning phase. On top of all this, the power supply with IP interface works energy- efficiently: its wide-range input with high efficiency (88 percent) can be used in areas within this power input.
Moreover, the new power supply with IP interface links the local network to the KNX components. Naturally, the new power supply with IP interface is secure thanks to KNX Data Secure and KNX IP-Secure.
The advantages at a glance:
KNX Data Secure
KNX IP Secure
Power supply of KNX users
Application-oriented logic
For more information visit:
www.jung-group.com/en-DE/Products/Systems/KNX-building-technology/IPS-Remote