When it comes to commercial properties, today's building management systems (BMS) deliver actionable insights that can help building owners and operators make better business decisions.
Schneider Electric's EcoStruxure™ BMS platform leverages advances in IoT, mobility, sensing, cloud computing, analytics, and cybersecurity to bring the power of digital transformation to commercial buildings, lowering engineering and maintenance costs and helping reduce buildings' carbon footprint.
Now it is easier than ever to integrate KNX installations into the EcoStruxure ™ Building Operation environment with the SpaceLogicKNX BMS IP gateway.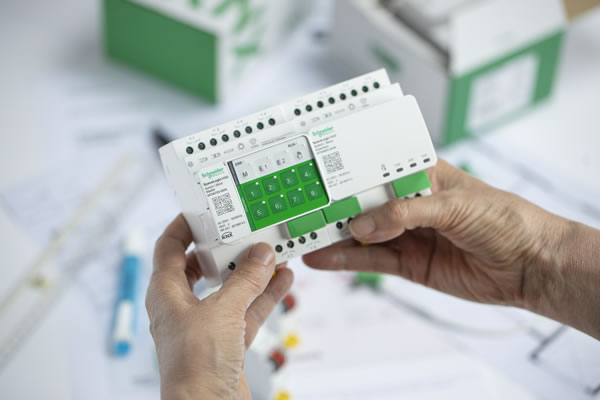 One device, three functions for fast, simple configuration and commissioning
The SpaceLogic KNX BMS IP gateway is a bidirectional multifunctional device that serves as a KNX IP router, KNX IP interface, and DPSU choke power supply. It allows professional installers to deploy KNX installations faster, more cost-effectively and integrate them into building management systems.
An application embedded in the device makes configuration, commissioning simple and straightforward.
Multifunctional capabilities eliminate the need for additional IP routers and KNX power supplies.
100% compatibility and seamless integration
The high cost of retrofitting enterprise buildings with the controllers and other devices needed to implement a BMS is no longer an obstacle.
The new SpaceLogic KNX BMS IP gateway is a BTL-certified Application Specific Controller (B-ASC) and BACnet Gateway (B-GW), guaranteeing seamless integration with any BACnet client.
Schneider Electric research shows that using B-ASCs can reduce installation time and labor costs by 75% compared to conventional direct digital controllers. This cost-effective BMS integration solution can rapidly bring the benefits—increased occupant comfort and productivity—of zone-by-zone or room-by-room control of temperature, humidity, lighting, and ventilation to any commercial building.