In Part 2 of this two-part series, Yasmin Hashmi asks KNX members for their views on the wider challenges facing the industry, and what solutions they are bringing to the table in terms of connectivity.
The climate emergency is real, and there is no time to lose. Saving energy through installing a PV system and a battery is a great start, but there is so much more we can do using KNX. There are brilliant and creative minds working on solutions that can make all the difference, whether it be within a single household or across an entire city. The more ambitious the level of control with KNX however, the more likely the need to integrate and communicate with other protocols.

Valerie Becker, Head of Home Automation – Wiring Devices & Door Communication at Schneider Electric, sees a need for a holistic integration of various devices and systems.
"The KNX standard provides a good basis on which to build. Currently, different protocols are used for e-mobility, heat pumps, inverters, etc, so in order to increase a building's energy efficiency and simplify load management, it is advantageous to use standardised interfaces such as Modbus, Zigbee or OCPP in conjunction with a KNX backbone. Indeed, Schneider Electric has developed and published its KNX IoT 3rd-party API to interface with any third-party system/application."
The Schneider Electric KNX IoT 3rd-party API in conjunction with the Simlab SIM-ON digital twin home operating system has been presented as the first KNX IoTech solution (see Part 1).
Valerie adds, "Schneider Electric focuses on the full range of KNX possibilities with the Merten and Schneider Electric brands. Our portfolio includes sensors, actuators, system devices and gateways. Our Wiser 4 KNX and spaceLYnk are particularly suitable for energy saving in residential and functional buildings respectively, as they act as controllers and interfaces to various communication protocols such as BACnet, Modbus, EnOcean and soon also Zigbee. Various energy consumers can be brought together in this way in order to achieve maximum input, prevent the load peak from being exceeded and intelligently track and manage consumption."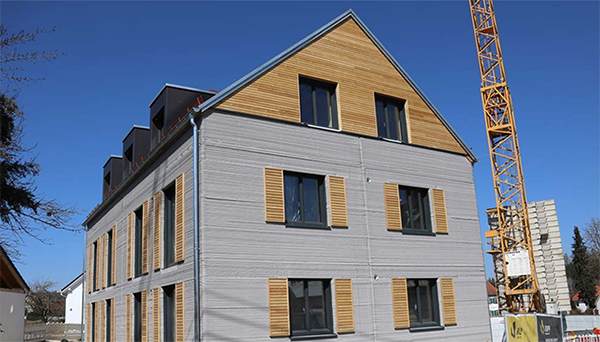 Nicolas Detournay, CEO & Founder of ELAUSYS suggests that KNX integrators have a key role to play in today's buildings in term of energy management.
"One of the challenges facing the KNX integrator is collecting information from the many different subsystems which are not directly compatible with KNX. The time and cost of implementing such a solution can quickly become very high and have a significant impact on the project's budget. The key therefore, to providing a fully-integrated energy management system without tremendous effort, is to have the right KNX gateways for all of these subsystems."
Nicolas goes on, "Our KNX gateways offer a plug-and-play solution to integrators who can focus on their application rather than the communication to these systems. Our KNX gateway for solar panel inverters for example, provides a simple solution to transfer all relevant data from inverters to KNX. It is compatible with inverters from brands including SMA, SolarEdge, Fronius and Huawei. The solar panel inverter can be fully integrated with KNX for energy management, and data can be used to optimise energy consumption, monitoring, trending or to trigger specific actions in the KNX installation."
The solar inverters gateway provides real-time insight on energy production and consumption in the building. Indeed if the solar inverter is equipped with a power meter, the gateway not only provides the energy production but also the energy consumption of the building. As Nicolas puts it, "Our gateways have been recently upgraded to include advanced logic functions including mathematic operations, logic gates, sequences and trigger functions based on specific data values or a weekly calendar. By using these embedded logic functions, integrators can now easily implement their energy management logic using a single KNX device."
In practice, ELAUSYS KNX gateways for solar inverters are used in several projects for the purpose of energy optimisation. "Integration of solar production together with the water heating system is one of the most efficient ways to store the energy," Nicolas explains. "The system will automatically heat water when the solar energy production is sufficient. In the same way, charging the electric car will be done during periods of higher production."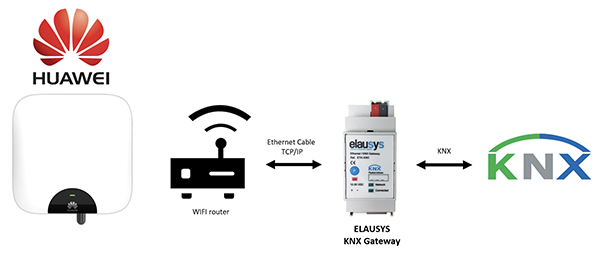 Detlef Boss, Managing Director of ise Individuelle Software und Elektronik GmbH, says that integrating energy sources with automation is the way forward.
"It is becoming increasingly important to integrate renewable and decentralised energy systems, including energy management systems based on KNX, in addition to traditional automation requirements. A fully comprehensive consideration from the planning phase of the building according to standardised planning processes is becoming essential."
He adds, "ise Individuelle Software und Elektronik GmbH develops creative solutions for the integration of third-party systems into the KNX-based smart home. With the SMART CONNECT KNX e-charge II, charging stations from different manufacturers can be used conveniently and consistently with KNX and can even be integrated in mixed operation. This offers great flexibility in terms of brands and models. Using simple logic, surpluses from photovoltaic systems can now be used for charging electric cars, and grid consumption can be reduced or even avoided."
ise also offers a solution for heating control. As Detlef notes, "In addition to the energy-efficient individual room temperature control that KNX is known for, we can now include the actual heat generator under KNX control thanks to products such as the SMART CONNECT KNX Vaillant."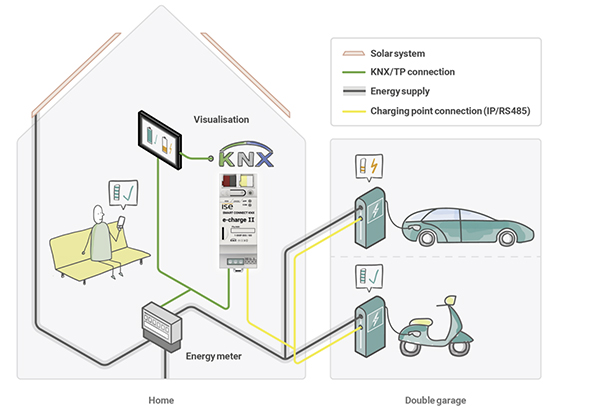 Rene Rieck, Global Product Manager for Alexander Meier GmbH, is keen to focus on interconnectivity and the IoT.
"The lack of connectivity and communication between the growing number of devices of any building system technology and the IoT world in commercial, industrial and residential environments is a main challenge facing energy management. This is why we have developed the EisBaer Home Energy Management System (HEMS), which connects all electrical consumers and household appliances with KNX. EisBaer's multiprotocol engine offers almost 50 interfaces to different systems used in the building automation industry, including KNX, BACnet, Modbus, OPC, OCPP, DMX, DALI, CAN Bus, Zigbee, Z-Wave, EnOcean, HomeConnect, MQTT, LoRaWAN and many more."
Rene adds, "Eisbaer is used in numerous landmark commercial, industrial and residential projects, some of which involve more than 30,000 KNX devices. It was also recently an award-winning solution for Team Local+ (from the University of Applied Sciences, Germany) at the Solar Decathlon 2022."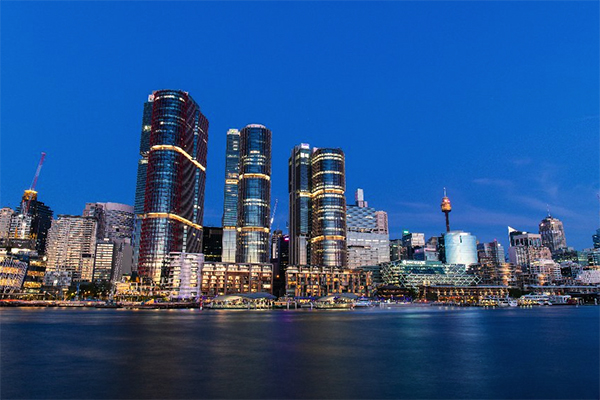 Conclusion
In parts 1 and 2 of this article, we can see that KNX manufacturers recognise the challenges facing KNX systems integrators in reducing and optimising energy consumption in buildings, and are providing devices and solutions from basic metering through to autonomously-learning buildings.
KNX Association shows no lack of ambition in this area, and with developments such as the new KNX IoT protocol which provides additional mechanisms for more enhanced energy management, the direction of travel is clear. Every saving adds up. We all have our part to play, and if we work together, we can really make this happen.
Yasmin Hashmi is the Editor of KNXtoday magazine.