KNX has become the most important standard in building automation and is mostly used in the professional sector. At the same time, many devices, especially in the area of heating and ventilation, only offer Modbus as an interface. Even modern applications such as charging stations for e-mobility or inverters for PV systems usually support the Modbus protocol. Thus, an integration of many sectors can only be achieved via a gateway. While Modbus RTU uses a two-wire solution (RS-485), Modbus TCP is based on a network interface (LAN). KNX users can be sure that even data from different manufacturers will always fit together. With Modbus, the specification unfortunately leaves a lot of freedom, so that values such as temperatures or power consumption can be coded completely differently depending on the device.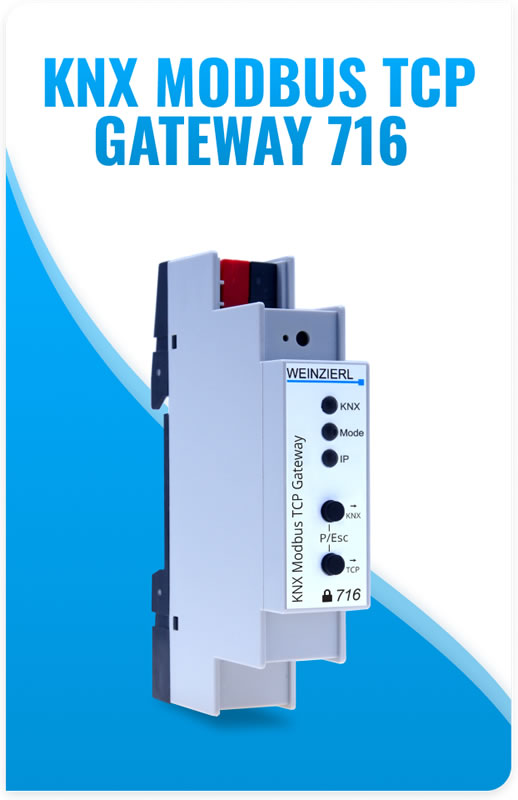 The KNX Modbus gateways from Weinzierl allow a simple and very flexible mapping of Modbus data to the standardized KNX data point types. All settings can be made comfortably via parameters in the ETS. For the import as well as export of complex configurations a DCA (Device Configuration App) is available, which can be loaded in the ETS.
The new KNX Modbus TCP Gateway 716 secure from Weinzierl allows easy integration of Modbus devices into KNX installations that support the TCP protocol over IP. The application of the device is a further development of the proven KNX Modbus RTU Gateway 886.
The gateway can act as Modbus master but also as slave. Modbus data is mapped to KNX communication objects according to the KNX data point types and vice versa. The assignment between KNX objects and Modbus registers is done flexibly via parameters in the ETS® software.
In addition to the Modbus protocol, the device also supports KNXnet/IP tunnelling with up to 8 simultaneous connections. This means that it can be used as a programming interface for the ETS. The device has a width of only 1 Unit (18 mm). Multicolor LEDs on the front of the device visualize the connection and operating status. Power is supplied exclusively from the KNX bus. For a secure access the device supports KNX Security.
For further information, please visit the Weinzierl homepage:
www.weinzierl.de
Send your questions directly to Weinzierl:
info@weinzierl.de