Theben KNX RF flush-mounted actuators and media couplers allow simple and wireless extension or retrofitting of KNX-based smart home systems. Thanks to KNX Data Secure, the wireless actuators are reliably protected against interception and tampering.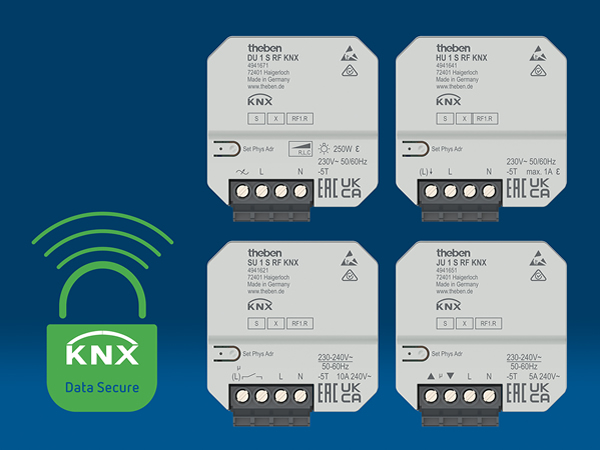 Theben RF flush-mounted actuators with KNX Data Secure are available as blind, switching, dimming and heating actuators for any application in smart building and smart home systems using KNX technology. In addition, the push button interface with four inputs for potential-free push buttons and one input for a temperature sensor also complies with this standard. The range is rounded off by media couplers for connecting KNX wireless devices to the KNX bus twisted pair. Product variants are available for use in the VDE-certified LUXORliving smart home system. They can be used to extend and retrofit LUXORliving installations in a tamper-proof manner thanks to KNX Data Secure.
High transmission power, range and reliability
The transmission power of the current device generation has been increased by 200%, which has in turn boosted the range by 100%. This optimisation ensures stable communication and improves the penetration of ceilings and walls. In addition, any KNX wireless actuator can be used as a repeater in order to extend the range even further.
The KNX wireless actuators use what is known as system mode and communicate on the 868.3 MHz frequency band according to the RF1.R KNX standard. The LBT method ("listen before talk") prevents collisions between transmitted commands. This means that each device registers whether the band is free before sending the information, making transmission extremely reliable.
Added security with KNX Data Secure
All KNX wireless actuators are located in one wireless domain. This means that only devices with the same domain address are able to exchange information with each other. Wireless protocols can be tapped into relatively easily in current KNX systems. The encryption of KNX RF flush-mounted actuators according to the KNX Data Secure standard effectively prevents interception and tampering with the transmitted data and guarantees maximum data security.
Easy installation and flexible use
Theben KNX RF flush-mounted actuators can be installed directly in existing flush-mounted boxes and combined with every known switch system. This saves a lot of space and makes the wireless actuators almost invisible. Also, smaller distribution boxes can be used. Integrated binary inputs allow easy connection of external contacts, such as buttons, switches, window contacts and temperature sensors.