The IP infrastructure plays an important role in the reliability and availability of all building functions. This is driving the requirement for a cost-effective IP infrastructure within the distribution board or de-central installation boards.
The ABB IP switches are two industrial-grade, 8 Ports, Fast Ethernet (100 Mbits), unmanaged switches (with and without PoE) designed for installation in electrical distribution boards, and rapid mounting on DIN-Rails.
The switches are suitable for all applications, segments, and markets in which distribution boards with DIN-Rail devices requiring IP connectivity are used.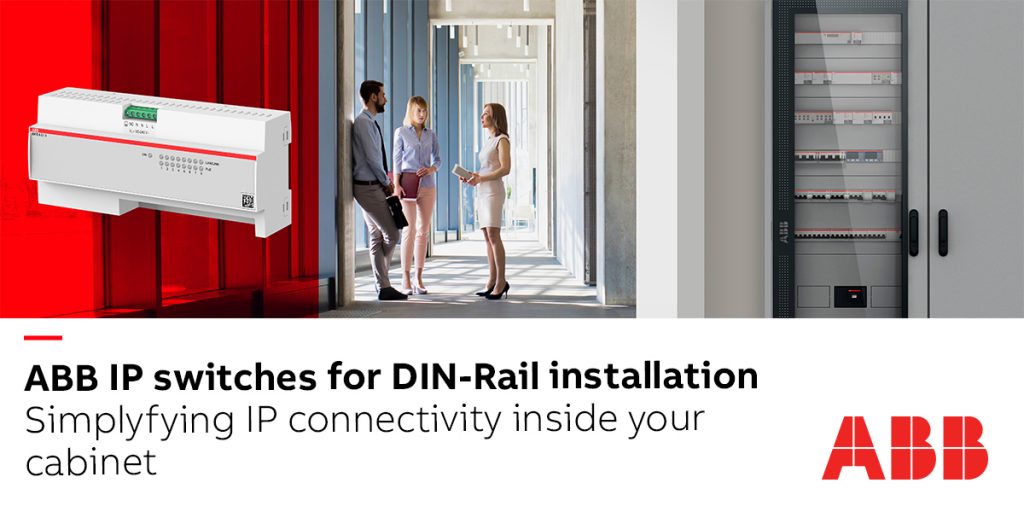 Main Benefits:
Special Design – The MDRC device is suitable for installation in standard electrical distribution boards. The IP connection ports are secured under the distribution board cover preventing unauthorized access.
Easy installation – Plug-and-play installation, no commissioning required
Compact technology – The PoE variant provides supply voltage on all its 8 ports without the need for an extra external power supply.
Visit the microsite to learn more:
new.abb.com/low-voltage/products/building-automation/product-range/abb-i-bus-knx/products/system-infrastructure-and-interfacing/abb-ip-switches-for-din-rail-installation