KNX has proven itself in self-contained installations, but as control networks expand across different trades and the Internet of Things grows, Yasmin Hashmi explains how the future clearly lies in IP
KNX was created over 30 years ago to facilitate the integration of diverse applications from different vendors of smart home and building technology, into one common project. Of the many strengths that KNX possesses, the two most visionary, that overarch everything, have to be 1) the delivery of reliable, robust and seamless interoperability between products from different manufacturers; and 2) backward compatibility between systems. In effect, they amount to the same thing – guaranteed interoperability across brands and time. In other words, as KNX strives forward, it will not abandon you. It will not leave you behind. Rather, it will support you into the future with even more possibilities for interoperability, be that within the realm of classic KNX twisted pair (TP) connections, or the wider and faster world of IP networks.
The founding members of KNX Association recognised from the outset that standardisation was key to growing the building control business. They also recognised early on that if KNX was to expand into larger computer-based networks and prepare a pathway from smart homes and buildings to smart cities, it would have to fully engage with IP. Hence the launch of KNXnet/IP in 2007, when KNX Association created a standardised KNX/IP telegram. Since then, development of the Internet of Things (IoT) has only served to accelerate matters.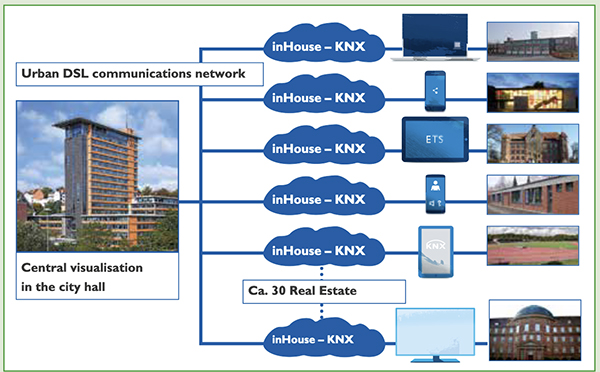 The story so far
In opening its doors to IP and the IoT, KNX Association was aware that connecting to the outside world would inevitably increase security risks. Hence the development of KNX Secure. This international standard comprises two parts: KNX IP Secure which extends the IP protocol in such a way that all transferred telegrams and data are completely encrypted; and KNX Data Secure which effectively protects user data against unauthorised access and manipulation, by means of encryption and authentication.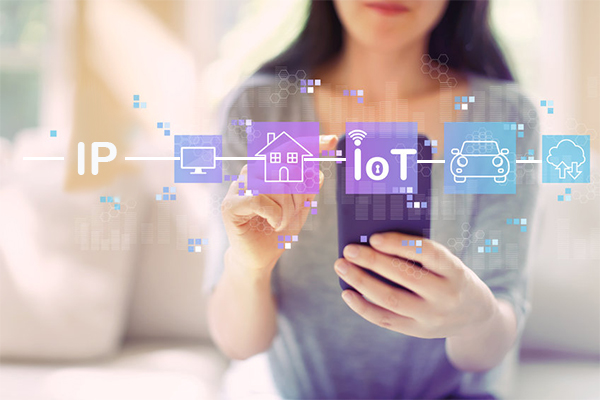 To further expand integration possibilities, KNX Association has launched the newly-approved standard KNX IoT Third Party API. This combines cloud integration with bidirectional communication between KNX and third parties, whereby cloud applications can subscribe to information on demand, and therefore minimise data transfer to the cloud and associated costs.
What's next?
Meanwhile, the plethora of home and building automation solutions, be they proprietary or open protocol, combined with widespread use of the Internet, has seen a growing requirement by the market for systems to provide a well-documented way to interact with them, using mechanisms that are state-of-the-art in the IT industry. In answer to this, the KNX Information Model has been approved as a European standard (EN50090-6-2), an ontology that is able to express relations in a KNX installation to support the following use cases to request/query data, such as:
– How is the building structured with floors, rooms and other?
– Where is equipment installed in a location?
– What overall functionality is hosted on the equipment?
– Which application function affects which building structure elements such as a room?
– Which (data) points belong to an application function and what is the purpose of these points (thanks to semantic information tagged to it)?
– Which function points (group addresses) control a specific point?
– Etc.
This results in better-documented projects for KNX professionals and other IT professionals wishing to connect with KNX over IP and also allows machines to better understand KNX data.
KNX Association is also developing the KNX IoT Point API, even as open-source technology to lower the hurdle for the development of devices and make it fully agile, allowing the construction of true IP networks which can integrate a scalable number of devices. 2022 will see KNX Point API supporting IPv6 field level sensor/actuator (group) communication, thus enabling installations to exchange KNX data with devices using media such as Thread or Wi-Fi. In other words, next to the trusted KNX TP and RF networks, via appropriate media couplers, KNX installations will be extendable with devices that also exchange KNX data over IPv6 networks and are also configurable by ETS and part of ETS projects.
New business opportunities
When all of the above possibilities, such as KNX classic, KNX net/IP, KNX IoT Third Party API, and KNX IoT Point API, are combined with the semantics offered by the KNX information model, the result is a network with limitless possibilities, allowing KNX systems to readily interact with other worlds and open up so many new business opportunities.
Hence KNX Association is promoting Services with KNX, so that professionals can extend their portfolio with new services, and end-customers will be able to see all of their needs integrated through the whole project. These third-party services could include automatically alerting external carers or maintenance providers for example, or managing energy by allowing the client's local power generating system to communicate with their regional energy supplier, or interfacing with meteorological services to optimise comfort and efficiency.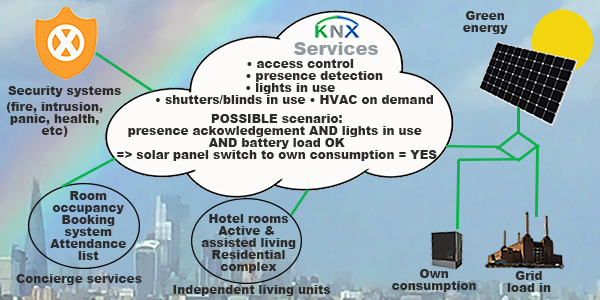 Implementation so far
KNX over IP is already taking place. There is a range of KNX IP products and solutions available, from IP interfaces, routers and servers to voice assistant and visualisation systems. There are also numerous projects, both residential and public/commercial that involve IP as a transport medium.
As the above underlines: KNX never sleeps and at all times ensures full backward compatibility with every extension of the system. With KNX, you are safe AND ready for the future.
If you want to find out more about KNX over IP, there is plenty of useful information available at www.KNX.org