STEINEL's sensor-based Smart Workspace solution makes it possible to recognise the use and utilisation of office space, analysing it and optimising it on the basis of data. In addition, flexible workplaces and meeting room bookings can be organised in a smart and Covid19-friendly way. The basis of this solution is the HPD2 KNX optical sensor. It provides digital information on how many people are in a room or area of a room.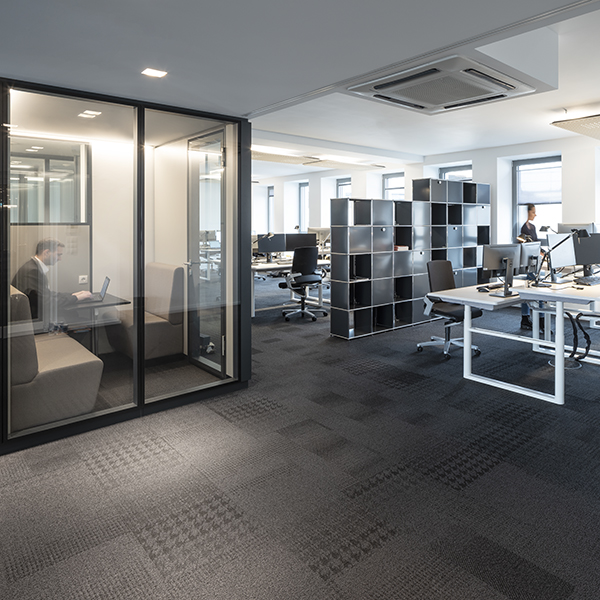 New Work – Office life in transition
Attractive office space is scarce and expensive, especially in metropolitan areas, but they are important for attracting employees. On the other hand, digital workstations, the absence of employees due to business trips or holidays, and the increasing importance of home office play an important role in determining the amount of space required. Companies are faced with the challenge of optimally utilising existing space and adapting it as needed.
Smart Workspace – Covid19-compliant solution concept for the office area
With Smart Workspace, STEINEL is offering a unique Building Intelligence solution concept for the office sector that includes hardware, software and services. The solution was developed together with technology consultants Campana & Schott. For flexibly organised workplaces, the desk-sharing solution provides support in the search for a free workplace. 
The search for and booking of a free meeting room also takes place as a smart solution within the framework of the digital workplace. Functions that enable compliance with pandemic-related requirements on hygiene and distance rules as well as the tracking of possible chains of infection provide additional security for workplaces. The Smart Workspace solution is based on STEINEL's HPD2 KNX optical sensor. 
HPD2 KNX counts present persons
Thanks to its optical sensor technology, the HPD2 KNX presence detector detects the presence of people in a room, regardless of movement. It can also count how many people are in up to 10 defined zones. A single presence detector can monitor a maximum area of 100 sqm. This information is made available to the Smart Workspace solution in real time. Real images of people are not output.
Desk sharing
If workplaces are organised flexibly, this means that there are fewer fixed workplaces than employees are available. Every employee who comes into the office must therefore look for a free workstation. Installed on the wall or in the corner of the room, the optical presence detector presence detector HPD2 KNX monitors the existing workplaces. In digital form it provides the Smart Workspace solution with information on where there are actually free workstations. At the same time software can easily be used to limit the number of seats that can be booked in order to maintain the minimum distance. Employees can use the app to find a free workstation on their way to work. 
Meeting room management
The search for a free meeting room is part of everyday work and is usually quite time-consuming. Embedded in the Smart Workspace solution, the optical presence detector HPD2 KNX monitors one meeting room at a time. The search for and occupancy of a room is done via software. Digital assistance systems in the form of a chat bot and digital signage in each meeting room support the employee and save valuable working time. With a web-based solution, reservations can be made from anywhere. In addition to improved booking and utilisation of the rooms, the capacity of the available rooms can be flexibly limited via software to protect against possible infection. In this way, minimum distances can be adhered to without any problems.