Until now quick return on investment from sustainable energy has been a challenge. However, project manager, EPZ Elektroplaner, turned to ABB to achieve just that. ABB's simple to use, flexible, state-of-the-art technology has transformed the landscape by installing a complete energy management system for multiple homes – across all utilities – brought together through an intelligent system with automated billing.
Setting new standards, only the best would suffice for Grossmatt, Switzerland, a prestigious upscale self-consumption community set on a sunny slope high above the shimmering Lake Zug amidst breathtaking views encompassing the foothills of the Alps and the striking Mount Rigi. The 29 high-quality apartments across 5 buildings built by Aula AG were sold in record time.
With funding provision for self-consumption communities available through the European Union's "Clean Energy for all Europeans" and the 2021 framework for collective self-consumption and renewable energy communities1, now is an optimum time to invest in sustainable energy.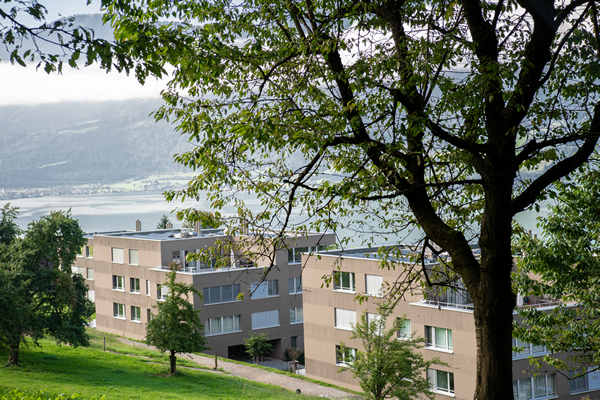 Highest quality demanded
In keeping with the quality of this exquisite development, the installations had to meet the highest standards with all apartments automated with ABB i-bus®KNX technology. Both the solar energy generated by photovoltaic systems on the roof and the charging stations for electric cars installed in the shared underground car park had to be distributed and precisely billed to the apartment owners via an "association for own consumption" (ZEV).
ABB's quality, range of equipment and local knowledge won through
"With this list of requirements, we quickly highlighted ABB as a possible supplier," Franco Marty, of Marcel Hufschmid AG, electrical installation project manager appointed by Aula AG, explains. "A single point of contact for installation and future maintenance was key for us, and especially one with local knowledge who could quickly be on-site. Based on previous projects, we had complete confidence in ABB's product quality, and we could therefore guarantee high quality products, service levels and local knowledge".
ABB supplies everything from a comprehensive portfolio for KNX building automation and state-of-the-art ABB Welcome2 door communication systems to low-voltage distribution and energy consumption meters, ABB Sidus3 switches and sockets, and electric vehicle charging stations.
Swift return on investment requires fully automated, all-in-one consumption billing option
"Achieving a swift return on investment when developing a system capable of registering the consumption of electricity, heat and water across several houses in a self-consumption community could only be achieved through a fully automated, all-in-one consumption billing option." said Patrick Iten, owner of EPZ Elektroplaner AG, the electrical planner appointed by Marcel Hufschmid AG.
Intelligent monitoring minimizes bills
In Switzerland each village or community is responsible for its own utilities, with surplus fed into the national grid. To minimize bills, ABB's monitoring system automatically identifies whether solar power generated electricity is more economically consumed on-site or fed into the grid.
The ZEV solution implemented in Grossmatt is particularly sophisticated. The roof-mounted solar panel generated electricity is distributed equally to the owners, whose energy consumption is precisely determined – and automatically billed – with data-secured via blockchain4".
The Grossmatt ZEV runs on ABB equipment: over 50 EQ5 electricity meters measure how much solar power the photovoltaic systems produces while energy consumption meters in the apartments determine how much electricity the owners use. The same applies to those who use one of the ABB EV charging station AC Terra6 charging stations, with EisBär SCADA load management systems7, installed in the underground car park.
"The residents of Grossmatt use KNX to control the lighting, heating, ventilation and blinds," says Patrick Iten, owner of EPZ Elektroplaner AG, "The latter are automatically raised in strong winds to prevent damage. In total, we installed and programmed 300 KNX actuators, 580 Sidus KNX sensors and 145 room temperature controllers – each from ABB – across 29 apartments and all communal areas".
The ABB system used barrier-free digital communication via standardized protocols such as MBus, ModBus, KNX and OCPP for the charging stations.
Uniquely heat, hot water and electricity are managed together
Grossmatt is the first time the energy management system, heating and hot water, and automated building systems have been combined into one digital technology. The SMISSLINE TP power distribution bus system provides a versatile and flexible means of distributing power to a wide variety of electrical devices. It guarantees a safe and flexible solution for line and person protection.
Each of the five buildings has its own brine water heat pump for heating and the provision of hot water. Consumption is accurately monitored by the System pro M compact® InSite which consolidates all consumption and metered values and transmits them securely to the consumption cost billing service provider. Consumption is automatically billed through ABB's EQmatic8 data-concentrator/converters which transparently measures both ABB and non-ABB equipment.
Ingenious dynamic load management
The EisBär SCADA dynamic load management of the electric car charging stations at Grossmatt offers an innovative use of this intelligent solution for energy monitoring. The current total consumption from the supply network is measured via a meter. This supplements the self-generated solar power when required. This feed-in from the external grid is measured with ABB EQ meter and has – as everywhere – an upper limit due to the criteria of the grid connection.
Dynamic load management calculates the difference between this maximum energy consumption limit of the development and the current consumption by consumers such as heat pumps, washing machines and cookers, with the difference made available to the charging stations. If more energy is needed in the home, the load management system reduces the available power of the charging stations – and increases it when more is available again, for example when less heating is needed, or more solar power is produced.
Sustainability
Consideration was given to every detail that could reduce energy consumption, from the automatic room temperature control to maximization of the solar system self-consumption.
A major benefit in terms of cost, disruption and futureproofing, unlike third party suppliers, ABB's sustainable, proven and durable ABB i-bus® KNX systems do not have to be completely replaced after 5-8 years.
Safety is paramount
Safety is paramount and this was assured throughout all facets of the complex, from the power supply being secured through intelligent load management thanks to the application of innovative block-chain technology to maximizing security in energy cost billing, to the ABB-Welcome door communication system that announces visitors on mobile phones.
Marco Savia, ABB Electrification Product Marketing Specialist said: "We focused on a quick return on investment by targeting two key areas, both underpinned by our innovative technology. First, we brought together the management and billing of all the utilities, electricity, hot water and heating, something that has never been done before. Alongside this we reduced the ongoing running costs, for example by ensuring a high self-consumption rate and low administration costs, all achieved through automation."
To find out more, visit the Beyond Connected website.
Notes:
[1] Collective self-consumption and energy communities: Trends and challenges in the transposition of the EU framework, Working paper, December 2020; https://www.rescoop.eu/uploads/rescoop/downloads/Collective-self-consumption-and-energy-communities.-Trends-and-challenges-in-the-transposition-of-the-EU-framework.pdf
[2] Door entry communication, ABB Welcome, includes remote control via the ABB Welcome App and is a perfect extension for an ABB smart building system with one control-panel for all systems
[3] ABB Sidus Switches and sockets are a high-quality, durable Swiss specific design
[4] Explaining block chains – source: https://new.abb.com/news/detail/4223/blockchain-basics-and-beyond
[5] Electrical Energy Meter EQ for electrical consumption and solar production, with Swiss Metas certification, offers a comprehensive portfolio for all applications
[6] EV charging stations, AC Terra, are robust, compact charging stations
[7] EV charging station AC Terra charging stations can be supplemented with EisBär SCADA dynamic load management systems for larger numbers
[8] EQmatic data-concentrator/converter integrate third party water and heat, measuring both ABB and non-ABB equipment transparently and enabling further processing by higher-level systems