Andy Ellis looks at practical ways to integrate the domestic boiler with a KNX system using OpenTherm and other interfaces, and discusses the benefits of providing intelligent control of heating and hot water.
Those familiar with KNX will be aware of the extent and flexibility of control offered by the numerous manufacturers of KNX components. Indeed, when it comes to heating, there are plenty of different types of thermostat, temperature sensor, valve and relay to cater for all manner of heating design. In fact it is pretty safe to say that KNX is able to control any heating set up, whether it be underfloor, radiators or an interface to an air-conditioning system.
So why is it, that when we have so much possibility for KNX control, the main component of any domestic heating system, namely the boiler, so often gets driven by a 'call for heat' relay with no feedback. And why is any hot water control usually left out of the equation altogether?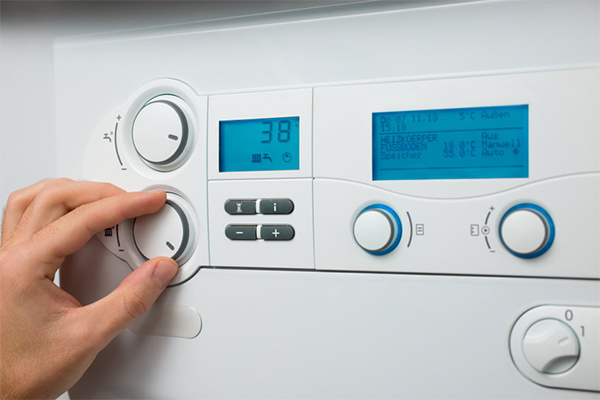 Interface and control of the boiler
Traditionally, boiler manufacturers have produced a standalone product – a device that switches on and off when it is called upon to do so. In the relentless drive for greater efficiency however, the need to interface the boiler with heating control and gather more information about the environment in general, means that manufacturers require a universal means of sharing data.
A universal system of communication between modulating HVAC appliances and room thermostats is OpenTherm. Membership is open to all companies and organisations which are active in the manufacture, distribution or installation of heating systems and components. Opentherm itself is a simple two-wire system, and the protocol is available to members of the OpenTherm Association only.

It is estimated that by 2023, 80% of all heating installations will involve OpenTherm technology, so it is encouraging to know that KNX manufacturers such as Theben manufacture an OpenTherm interface.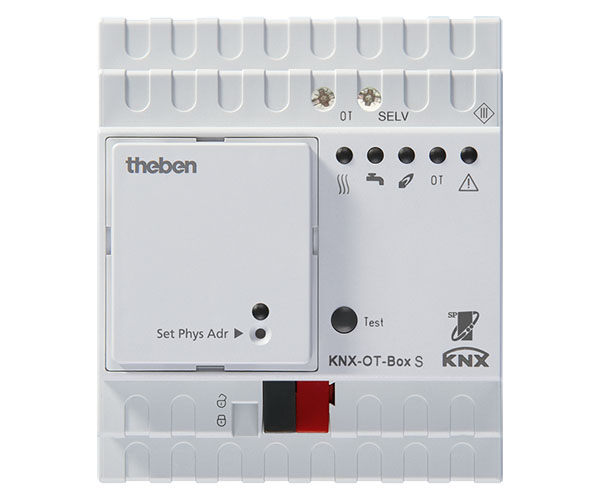 Other manufacturer-specific boiler interfaces and gateways to KNX are available, and tend to be used in commercial installations. These include:
ABB iBus.
BAXI (Potterton) Paramount (achieved via ModBus interface).
ETA – Pellet condensing boiler.
Hoval (via its TopTronic e system controller).
Stiebel Eltron.
Vaillant (via its eBUS system).
What are the benefits of a boiler interface to KNX
If you take the price of a KNX-to-OpenTherm interface and compare it to the price of a relay and the added wiring involved, the cost is very similar. The advantages of interfacing with OpenTherm include:
Bidirectional exchange of data between the OpenTherm boiler, which means that any boiler errors can be reported on the KNX bus.
Heating and hot water can be directly activated from KNX.
In order to achieve maximum efficiency, the KNX installer can customise flow and temperature control.
Weather-compensation.
Energy optimisation of domestic hot water with solar support.
Legionella protection program.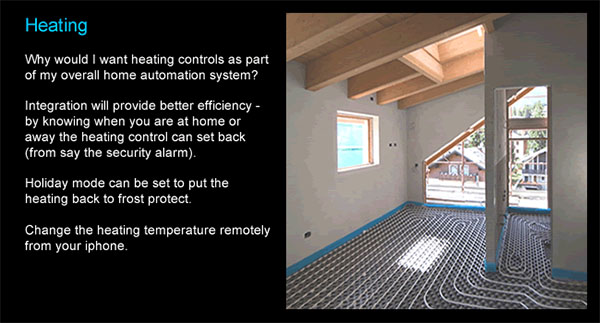 The correct implementation of the above will lead to overall greater setup efficiency and with the ability to monitor the KNX bus longer term, then fine tuning of the system can take place to maximise return over the longer term.
Conclusion
Although most boiler manufacturers are members of OpenTherm, the first step in taking control of your boiler through KNX is to find out whether your boiler actually supports OpenTherm. If not, then look for a manufacturer-specific solution to interface with KNX.
For a similar price to a set of relays, having control of the boiler (including hot water) means that you can regulate the flow, receive feedback with error codes and be in control of the whole heating system, not just part of it. This in turn makes the long-term continuous monitoring of consumption and subsequent fine-tuning easier, allowing you to truly optimise efficiency over a period of time.
On top of this, you will be able to up-sell the benefits of a KNX app with a set of easily-adjustable timers for the hot water and heating, and of course, add the inevitable service and maintenance contract which not only provides reassurance of long-term support to your customers, but a reliable revenue stream for you.
Andy Ellis is the founder and managing director of Household Automation Ltd, and its sister company Knxion Ltd, providers of building automation consultancy, design, installation and aftercare services to clients who are involved in building residential and commercial properties.
www.household-automation.co.uk