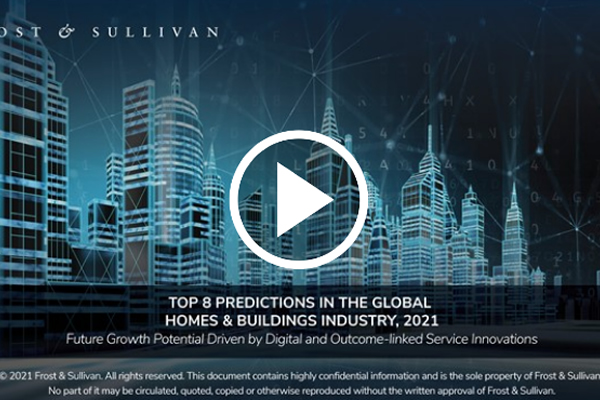 As homes and buildings industry participants deal with the continued slowdown and fundamental shifts brought by the pandemic, there are distinct pockets of industry opportunities. Although the effect of the pandemic was severe in the traditional markets such as HVAC, lighting and building automation, the technology-based software markets driven by the penetration of internet of things (IoT) at the field level of buildings, emerging adoption of artificial intelligence (AI)-driven solutions at the management level, and cloud-based remote services were resilient during the pandemic. Frost & Sullivan sees increased awareness of the value creation from these technologies among building managers and customers. The H&B industry will continue to evolve with the penetration of advanced technologies delivering energy, cost benefits and, above all, value-based outcomes.
In this webinar recording, John Raspin, Melvin Leong and Anirudh Bhaskaran help homes and buildings industry participants align their post-COVID-19 strategies with growth opportunities, strategic imperatives, key use cases and best practices identified by Frost & Sullivan.
The following questions are addressed:
• What are the key growth opportunities for industry participants to navigate in the post-COVID-19 environment?
• What are the industry best practices to overcome the impending challenges?
• What are the potential competitive companies for each growth opportunity?
• Which technologies and applications gained momentum and witnessed fast-paced adoption after the pandemic and why?
www.brighttalk.com/webcast/5564/481785/top-8-predictions-in-the-global-homes-buildings-industry-2021