The JUNG KNX touch display Smart Panel 8 is the solution for the visualisation of the KNX system. A server is not required. The Smart Panel 8 enables the control of the building functions and it can be installed in existing housing (e.g. switch boxes according to EN 60670-1 or JUNG built-in housing EBG 24).
The new Smart Panel 8 can be mounted in landscape or portrait format using existing flush-mounted housing. It is thus ideal for retrofitting.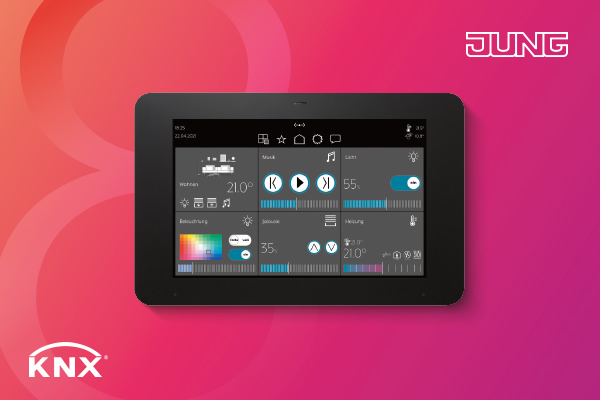 Quick start with Smart Vision
The app interface of the Smart Panel 8 is called JUNG Smart Vision. The specialist configures it using Windows software. It is characterised by its simplicity as it operates with a WYSIWYG editor ("What you see is what you get"). Lighting, shading, temperature, music, alarms and much more: the setup can be implemented together with the client as they can already see when configuring the Smart Vision what they will operate on the Smart Panel 8. After the configuration, the programming is carried out with the help of the ETS (Engineering Tool Software) and DCA (Device Configuration App). The KNX Smart Panel 8 is a particularly simple introduction to smart home visualisation and can also be operated with the Smart Vision app. The app for Android and iOS is available to download from the App Store.
Simple operation of numerous functions
Regardless of whether you use it via the app or directly on the device itself, the Smart Vision app interface can be operated intuitively. The room view of the lounge, bedroom etc. is located in the main menu. In landscape format, this start screen displays a maximum of six rooms in the grid. Vertical scrolling displays further rooms or tiles with functions. If you select a room, the elements or functions are available to select. This can be e.g. switching on the ceiling light. Timers, astro function, sequences and logical connections and much more can be created in one element. Up to 300 elements and rooms can be created in total. The JUNG KNX Smart Panel 8 is ideal for the residential sector, small commercial premises or presentation rooms.
The touch display KNX Smart Panel 8 at a glance
• Overall dimensions: 225 x 145 millimetres
• Screen size of 8 inches or 203 millimetres
• Resolution: 1280 x 800 pixels
• Wall installation or depth: 16 millimetres
• Proximity sensor
• Graphical user interface for visualisation and operation of KNX devices
• Integrated bus coupling unit
• User management
• App access via smartphone or tablet with the JUNG Smart Vision app by up to 10 users
For further information, visit www.jung.de/sp8.