Our U.S. Correspondent, Philip Juneau, discusses how a KNX system in a renovation or retrofit application is the most cost-effective, time-efficient and future-proof platform, assuring transparency and operational effectiveness for the building owner.
In today's world, we are faced with a multitude of technology choices, ranging from how we purchase our goods, navigate ourselves to reach our destinations and manage our building and technological infrastructure – all which encompass our dynamically-changing ecosystem. This means that for quite some time, we've been exposed to cutting-edge developments in the areas of communication, entertainment and automotive technology, which has drastically changed and shaped our lives and has the potential to continue to do so at an exponential rate.
However, upon evaluation of the technology development in buildings over this same period, we discover a completely different situation. For example, we still open our doors with conventional keys that have no interface to a building control system that automatically turns on lighting, HVAC, etc, and when we can't find our keys, the porchlight occupancy sensor switches the lights off and we are suddenly left there, in the dark. Whilst we are away all day at work, the heating might automatically keep our homes at a pleasant temperature, but it doesn't notice whether we left the living room window open when we went out, or that we left the upstairs lights on. Only the electricity meter, counting away quietly in a safe, tucked-away space, notices that.
Therefore, existing building control systems need to catch up at an exponential rate in order to realise their true potential. For example, networked sensors and actuators have long since been a standard feature of motor vehicles, whilst buildings are lagging behind significantly. Today's built environment requires some major changes in field application and approach over the next few decades, so it is imperative that buildings be flexible and scalable, based on a common network and engineering approach using proven technology that is available today.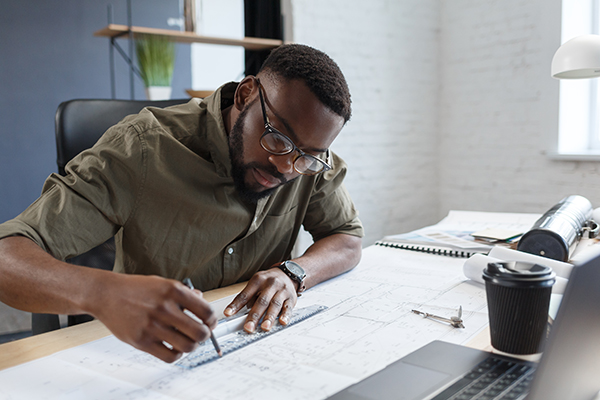 This doesn't mean that if your home, office or specialised facility is already built and equipped, it is either too cost-prohibitive or unfeasible to upgrade the original installation. On the contrary, this is where the KNX protocol can put the minds of all building owners and operators at ease.
A KNX backbone ties it altogether
KNX has been around for thirty years already, and despite it always evolving to be at the cutting edge of control, a KNX system installed decades ago will still be perfectly compatible with KNX devices today. Indeed, all KNX approved products are assured to be robust, adaptable, scalable, backwardly compatible and, most importantly of all, cost-effective.
The KNX platform or 'backbone' connects ALL sensors and actuators in the building with one streamlined data and power cable, enabling them to share information with each other. Each device can communicate with every other connected device. For example, a light switch can communicate to a dimmer actuator and tell it how bright to set the luminaire; a motion sensor can tell the actuator for the corridor lighting that someone has entered the corridor, or tell the room thermostat that the room is no longer occupied, so it can turn the temperature down.
The following are examples of sensors that can send information to the bus:
Lighting/dimming switches.
Presence detectors that detect presence irrespective of occupant movement.
Window and door contacts (for security and HVAC control).
Water, gas, electricity and heat meters.
Electrical power measurement sensors (e.g., true RMS voltage, current, phase imbalance).
Temperature sensors for indoor and outdoor air systems.
Temperature sensors in heating and hot water hydronic circuits.
Logic modules for preselecting room temperature setpoints.
Brightness sensors for indoors and outdoors, e.g., for constant lighting control.
Weather sensors for controlling window shading.
Fault and system status messages for white goods (washing machine, clothes dryer, dishwasher, cooker, etc).
Leak sensors to monitor critical liquid storage or other applications.
Level measurements of water or oil tanks, wood pellet storage for biomass, etc.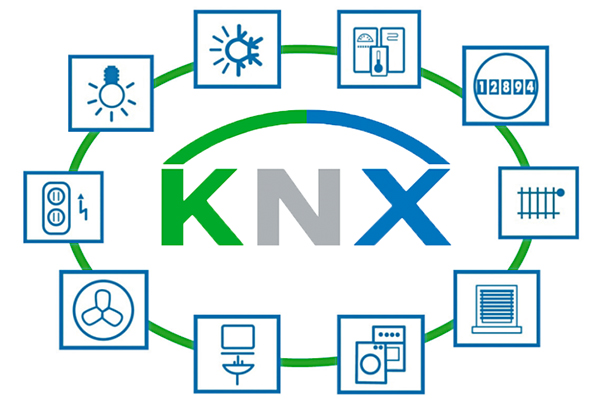 It is important to understand that the backbone communication is for both low-voltage power and data communication, all in one. This provides the following benefits:
Manufacturer-agnostic non-proprietary worldwide standard.
Future-proof system being both backwards and forwards-compatible.
Avoids high voltage (120V) power feeds to the switches, with communication and power all through one KNX-rated cable.
Reduces the number of wall-mounted devices by combining multiple functions in one device (e.g., light switch and HVAC thermostat all in one device), saving materials and labour costs.
Wide range of building applications open to streamlined interface and communication.
Thousands of certified products available from numerous compliant manufacturers to apply whatever design is desired and allowing customers multiple options.
Standardised programming software tool for high productivity on projects and maintenance/service
Worldwide training and support – open to all who wish to become KNX-certified.
With just the above benefits alone, one can see the financial gains with low-risk implementation, secured investment and ease of service.
Retrofit-ready and built to last
KNX uses one cable for both device power and data communication. This means that it can be easily installed either above plenum ceilings, in new conduit, or inside existing conduit alongside mains power if need be. No other wired communication protocol can claim this. This makes it completely suitable for electrical installers who need to upgrade a home or office building from high-voltage switching to low-voltage with KNX.
An additional benefit with KNX for retrofit is that, irrespective of what has to be controlled, KNX is likely to have a component or a certified data communication gateway for it. A great example is when BACnet (ANSI/ASHRAE Standard 135) is being for HVAC, and needs to be brought within the control sphere of a KNX system that might be retrofitted to control lighting, shading, security, etc. So, no matter the standard being used by the existing equipment, component or system, KNX will be able to interface with it.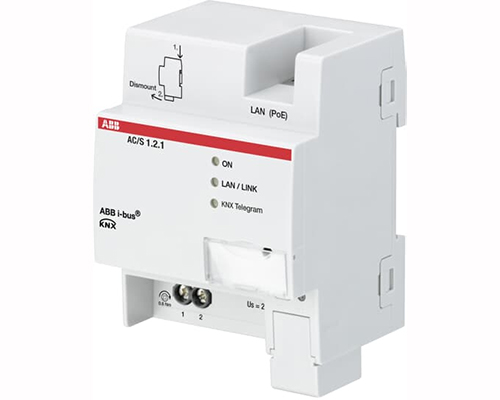 Last but not least, many established manufacturers using proprietary control, now have a KNX gateway, with more coming on board. They are shedding their inability provide intelligently-converged building technology by embracing an open protocol that provides them with countless possibilities that are easily extendible and adaptable. This is a clear indication that KNX is the way forward and will be here to stay for the foreseeable future.
All under one glass
'All under one glass' is a term coined by a great friend and respected colleague of mine, whose simple analogy captures the message about building integration and streamlined communication so well. Integration is all about bringing one or more building monitoring and control applications together and allowing them to share information about controlled spaces and, with intelligent integration, can be achieved without complicated and expensive gateways to proprietary systems. As KNX is both a standard and an open protocol, the proprietary element is completely eliminated in a KNX system, providing streamlined and robust data communication between all connected devices.
KNX should be the main protocol or bus technology to easily integrate the various building trade control applications together such as lighting, shading, HVAC, security, electrical distribution, etc, all on the same network. Even though there are multiple manufacturers' products on the same KNX bus, the protocol communication requirements and software programming tool, ETS, will be common to them all. Therefore, there are no worries regarding integration of the different building systems nor finding a qualified installer or systems integrator to further build upon your future-proof installation.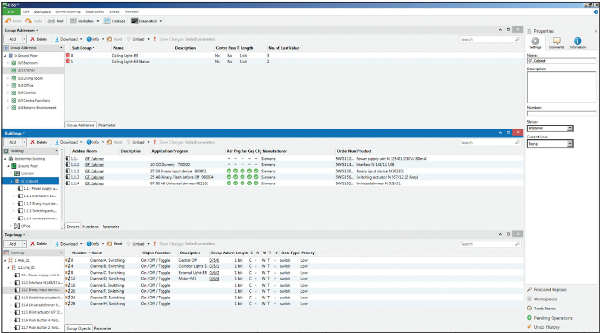 Summary
As KNX is a highly-regarded worldwide standard which is supported by at least 500 manufacturers with over 8000 certified KNX products, there is no reason why its adoption here in the USA should not be exponential. Building owners and operators can now make decisions based on technical merits, rather than be forced to purchase a proprietary product or system that hinders data communication and may not be supported in the future. Whether you are starting from scratch or wishing to improve your existing building automation system, there has never been a better time to invest in KNX. It is well-engineered, proven, robust and here for the long term.
Philip R. Juneau is Chief Commercial Officer for Automated Technology Company (ATC), and Vice President of the KNX USA National Group. ATC's mission is to transform today's buildings into tomorrow's net-zero infrastructure by ensuring the highest levels of safety, comfort and efficiency for the overall well-being of its occupants and the overall environment.